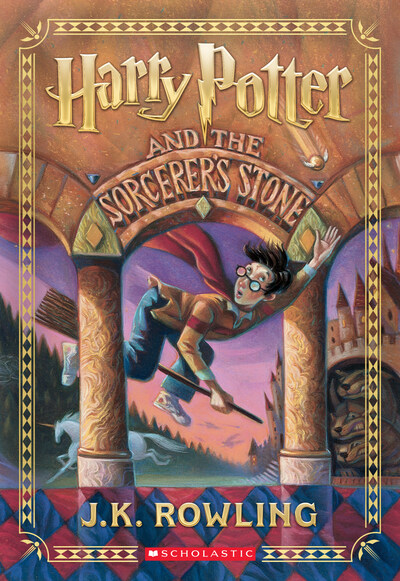 EMPIRE STATE BUILDING TO LIGHT UP IN HOGWARTS HOUSE COLORS TO MARK THE 25TH ANNIVERSARY OF HARRY POTTER AND THE SORCERER'S STONE
Anniversary Campaign Highlights Include 25,000 Book Donation for National Literacy Initiative, "Welcome to Hogwarts" Fan Contest, Free Book Club Kits to Libraries, and New Publishing
This month, Scholastic, the world's largest publisher of children's books, officially marks the 25th anniversary of the U.S. publication of Harry Potter and the Sorcerer's Stone. The seven-book series by J.K. Rowling has cast a spell on kids and adults alike and has turned an entire generation into readers. Harry Potter started the midnight book party phenomenon, smashed publishing records, and to date is the bestselling book series of all time with 600 million copies sold worldwide. To mark the milestone anniversary, Scholastic released today a commemorative video featuring Harry Potter fans from multiple generations. The video will also appear on a billboard in Times Square starting today. On September 27th, the Empire State Building's world-famous tower lights will shine in Hogwarts House colors representing Gryffindor red, Slytherin green, Ravenclaw blue and Hufflepuff yellow. For more on the impact of the Harry Potter book series, check out "25 Harry Potter Facts."
"The magic lives on each year as new young readers begin their Hogwarts journey. For twenty-five years and counting, the adventures of Harry, Ron and Hermione, continue to captivate readers of all ages," said Ellie Berger, President, Scholastic Trade. "Scholastic is proud to be the publisher of J.K. Rowling's Harry Potter—a cultural phenomenon that has inspired kids and families to discover the power and joy of reading."
As part of its anniversary celebration and in time for back to school, Scholastic, in collaboration with the Scripps Howard Fund, will donate 25,000 copies of Harry Potter and the Sorcerer's Stone to students and teachers in Title 1 schools across the U.S. Additionally, complete boxed sets featuring all seven Harry Potter books will be gifted to school libraries in underserved communities. The book giveaway is part of the Scripps Howard Fund's "If You Give a Child a Book …" national literacy campaign, which provides free books for low-income students. The Fund is a leader in supporting childhood literacy, journalism education and community giving.
"We are so grateful for this opportunity to put even more books into the hands of children who need them most. This joint effort with Scholastic will ignite imagination through the magic of beloved stories like Harry Potter," said Liz Carter, president and CEO of the Scripps Howard Fund. "Every child deserves access to age-appropriate books. By fostering a love for reading at an early age, we can pave the way for brighter futures and boundless possibilities."
Scholastic also announced today its "Welcome to Hogwarts" National Contest where kids are invited to answer the question: What class would you take at Hogwarts and why? Three grand prize winners and their companions will receive a magical trip to experience The Wizarding World of Harry Potter™ at their choice of either Universal Studios Hollywood or Universal Orlando Resort, a Harry Potter book boxed set, and a classroom set of Harry Potter books to donate to a school of the winner's choice. Additionally, 25 first prize winners will receive a complete set of all seven Harry Potter books, as well as a classroom set of Harry Potter and the Sorcerer's Stone to donate to a school of their choice. For more details on how to enter and for official rules, visit www.scholastic.com/hp25contest.
To bring communities together and to encourage kids and families to start their own magical reading journey, Scholastic this month will be distributing thousands of free Harry Potter "Welcome to Hogwarts" Book Club kits to both public and school libraries around the country. Each kit will feature fun activities, discussion guides, Hogwarts House stickers, and bookmarks to engage new readers and existing fans alike. To access free downloadable activities online, visit www.scholastic.com/HarryPotterBookKit.
This month, Scholastic will release a new paperback boxed set of the complete Harry Potter series. Earlier this summer and in time for summer reading, Scholastic released the classic paperback editions of the first seven Harry Potter books with refreshed covers featuring the iconic Harry Potter logo hand-drawn by original U.S. illustrator Mary GrandPré. In addition to the paperback anniversary editions and boxed set, new publishing from Scholastic includes The Official Harry Potter Cookbook (September 5, 2023 publication); Harry Potter and the Prisoner of Azkaban, designed and illustrated by MinaLima (October 3, 2023 publication), and The Harry Potter Wizarding Almanac (October 10, 2023 publication).
Twenty-five years after the U.S. publication of Harry Potter and the Sorcerer's Stone by J.K. Rowling in September 1998, there are more than 230 million Harry Potter books sold in the U.S. alone. For more information about the Harry Potter book series, visit mediaroom.scholastic.com/harrypotter.