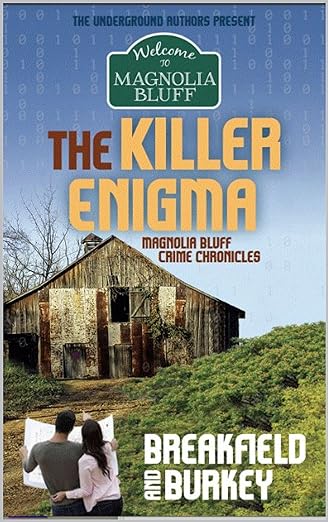 The Killer Enigma By Charles Breakfield and Rox Burkey
Enough is Enough – JJ rumbled when the Paparazzi invaded dinner
When JJ and Jo recognize privacy doesn't exist for them, they head back to Magnolia Bluff to check on their friends and recapture the small-town anonymity.
They reject the status of urban legends in favor of acceptance and a quiet, peaceful life. A supermodel needs time and space to recharge herself between jobs, and he needs time to adore his wife.
Does Magnolia Bluff hold the answers to their prayers, or will a dark past overtake them?
Past, present, and future collide in a perfect storm no one expected. JJ and Jo need to take action. Chief Tommy Jager states he likes them, but he can't wait for them to get back to their day jobs.
Who will live or die to prevent the truth from being exposed? The answers may be in the graveyard with the fresh flowers.
Their friends are targets – Their dreams are broken – They must figh
The Killer Enigma: Magnolia Bluff Crime Chronicles-Book 16 eBook : Breakfield, Charles, Burkey, Rox: Amazon.ca: Kindle Store
ABOUT THE AUTHORS:
Charles Breakfield is a technology expert in security, networking, voice, and anything digital. He enjoys writing, studying World War II history, travel, and cultural exchanges. Charles is a fan of wine tastings, winemaking, Harley riding, cooking extravaganzas, and woodworking.
Rox Burkey is a technology professional who excels at optimizing technology and business investments. She works with customers all over the world focusing on optimized customer experiences. Rox writes white papers and documentation, but found she has a marked preference for writing fiction.
Together these Texas authors create award-winning stories that resonate with males and females and young and experienced adults. They bring a fresh new view to technology possibilities today in exciting stories. Visit their website for more information and free stuff. Https://www.EnigmaSeries.com