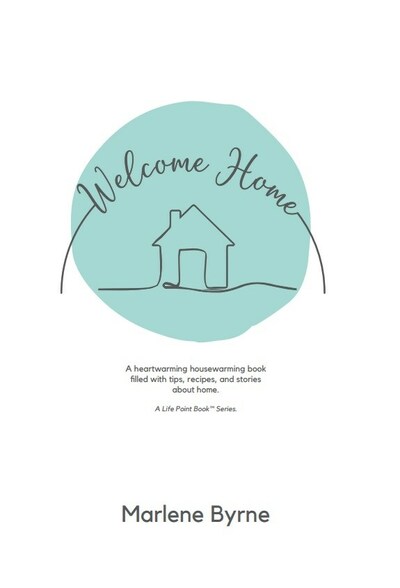 Good Stories Publishing launched the new book Welcome Home from author Marlene Byrne, kicking off a series of books about significant life moments, Life Point Books. Welcome Home, a hardcover coffee table book, is a heartwarming, housewarming collection of home maintenance tips, recipes, and beautifully told stories to help new homeowners make the journey from house to home.
Welcome Home is an ideal resource for young homeowners who are learning home maintenance and repair for the first time.
"Young couples do not typically have the maintenance knowledge their parents and grandparents did," said author Marlene Byrne. "I wanted to provide simple tips to remind them of important things like knowing how to shut off their main water valve, or switch a circuit in their electrical box."
Welcome Home also helps new homeowners with food suggestions. The book has recipes from easy snacks on moving day to delicious ideas for celebrations with friends. The simple recipes help make the first meals in the new house easy and healthy. There are even suggestions for hosting the housewarming party for friends and family.
Alongside tips and recipes are stories from other homeowners who have journeyed over the threshold of a new home for the first time. This beautiful coffee table book even includes space for new homeowners to record their stories and document the first few days in their new home.
Welcome Home is meant to remind those you love to enjoy the journey as they turn their new house into a home. If you are looking for the perfect housewarming gift for the new homeowner in your life, Welcome Home is available for purchase on Amazon. Visit lifepointseries.com/books for more information.
About Marlene Byrne
Marlene Byrne has been writing, in one form or another, her whole life. As CEO of Celtic Chicago, a full-service advertising agency, she used her writing skills for clients. Now she focuses her efforts on writing books and telling inspiring stories. Her work is published through Good Stories Publishing.
More information on Marlene Byrne and her work can be found at www.marlenebyrne.com or at www.goodstoriespublishing.com.