The Shoppe of Spells by Shanon Grey
Book Review by S. English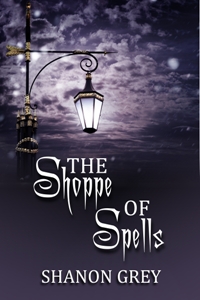 Morgan gets a double shock when, first she discovers she is adopted and her parents are dead, then she is told they left her partial ownership in their business.  The catch? She has to share it with the man who owns the other half of the business, Dorian Drake.
Dorian makes no secret of his hostility toward the new arrival, but the heat turns up when their attraction becomes over-powering.
But that's just the start of it. Morgan finds that she has the ability to control a portal to another dimension, a power Dorian also has.
Danger is right around the corner of course of this would be a dull read indeed, but I assure you it is anything but dull!
The author infuses southern charm and fun characters into a well woven story with great conflict and enough layers to keep you turning pages.
You can read an excerpt here
If you like romance, intrigue and the paranormal with a hint of fun in it this is the book for you.