Shay Brandenberger has never had it easy.  Her family struggled to keep their ranch and now she has inherited that continuing struggle and may lose.  She was left at the alter in total humiliation and heartbreak. Then she married, had a child and then had her husband abandon them.  Just when things look like they can't get much worse, in walks Travis McCoy, the man who left her at the alter.  Her humiliation only continues to grow when she finds out that an annual town event will include a marriage reenactment starring her and…Travis?!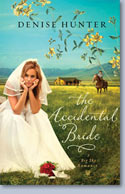 When the fake marriage is accidentally made real things really start to change. But, for better or worse?
I wasn't sure I would be able to get into this book for the sole reason that I find it hard to believe that in this day and age anyone could "accidentally" marry.  But, the characters are immediately engaging and endearing so I gave it a try and found that I could, indeed, buy into how that happened.
The book is Christian fiction and follows the guidelines of good Christian fiction, but without being preachy. I always appreciate that as I'd rather have the story dictate how I perceive things as opposed to Bible verses when it comes to fiction writing. I believe that people who love a good romance will enjoy this book, regardless to whether or not you like Christian fiction specifically.
Denise Hunter has a talent for endearing her characters to the reader. The Accidental Bride is the second in the The Big Sky Romance series.  The first book in the series is A Cowboy's Touch. You do not have to read the first one to read and understand this book. These are set in Montana and are contemporary fiction.
I enjoyed the book and feel that the overall message really hits home.  It's about romance, forgiveness and being able to accept help even when it isn't the help you prefer. But, it is also about living your life according to what people think of you, or, rather, NOT living your life that was since Shay has always done that and it has cost her dearly. Good morals.  Good characters. Good story.