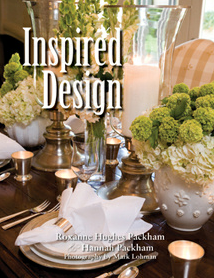 It was a very special show. Not only because the book, Inspired Design captured my interest and is now one of my favorite conversation pieces in my home, but also because we had a special blessing happen tonight that was totally unexpected!
Our regularly scheduled guest, Twila Paris, was unable to call in and we didn't know until right as the show started. But, Roxanne Packham, the author of Inspired Design along with her teenage daughter Hannah, was scheduled for the show next month. But, by a strange twist of fate, Roxanne got the date mixed up on her calendar and called in to the show tonight! God knew we were going to need help and we got it! This refreshing, entertaining and inspiring show is certainly one of my favorites.  No scripts, no preparation, just a group of women talking about design, Christ, family and what inspires us!
Find out about the Teenage Blessing Tea Party which is going to really touch your heart! The book is beautiful and full of great ideas and inspirations! And so is this show! I hope you'll listen in and we invite you to leave your own comments or questions or stop by and check out Roxanne's amazing ministry at www.inspired31.org. You're going to inspired!
[soundcloud]http://soundcloud.com/readersentertainment/inspired-design-faith-based[/soundcloud]