A sexy Texas Ranger? Count me in! Foster Justice by Colleen Shannon is definitely on our list for both naughty and nice girls!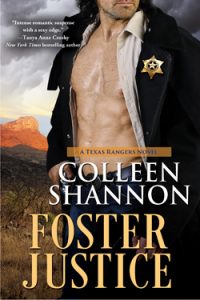 One Riot, One Ranger…
That's the Texas Ranger motto, but when Chad Foster's rebellious brother goes missing, it's time to put his elite training to use investigating a crime that strikes much closer to home. Turning Los Angeles inside out to retrieve Trey and save their ranch from a ruthless land grab is a no brainer, even if it puts his badge at risk. His only lead is a heart-stoppingly sensuous exotic dancer with a very tempting butterfly tattoo, the woman who helped scam his brother out of their ranch. But staying on top of this redhead's every suggestive word and sensual move means putting his case—and his heart—right in the line of fire . . .
A Texas Ranger, complete with quarter horse, is as out of place in downtown L.A. as a lawman is in the bed of a suspect, but with both their lives at risk, Chad has to put his trust in the one woman who could bring him down for good, and pray that somehow hard evidence is really just a pack of lies. . .

Excerpt from FOSTER JUSTICE
Damn you Trey…He was too humiliated at his own reluctant arousal to get up and leave, even if he had that luxury, which he didn't. While he might be convinced those paintings in Kinnard's gallery were by Trey, they weren't signed—by design, perhaps? And Kinnard denied Trey being there, so Chad had no choice but to follow his only other lead. No need now to follow Corey's theory and go to the tattoo parlors because he only had to go down La Cienega Blvd. a ways to see that butterfly lit on a pole. So for the first time in his life, he'd entered a strip club.
At least now he knew why they called it Gentleman's Pleasure. She was a pleasure, all right. To look at, no doubt to smell, and touch. And feel.
He was glad for the long tablecloth and the dark corner, but he kept his face blank as he watched the show. Texas Rangers were good at sitting stony-faced pretending disinterest while they grilled their suspects. He wasn't sure if he was angrier with himself or this redhead who'd brought him halfway across the country. Still, his eyes just about popped out of his head as he remained glued to the stage.
She had seemed so classy when he met her earlier at the gallery, fully dressed, if a bit frosty. It was an all fired shame, as his granny would say, that a woman with the perfect features of a Botticelli angel and the body of a Victoria's Secret model was just a no'count who danced naked for a living.
Well, almost naked.
About the Author –
Colleen Shannon grew up in West Texas where the skies are as limitless as the tales told by its many colorful residents. Surrounded by oil men, lawyers and drillers in a community that has produced two presidents and many national leaders and businessmen, Colleen grew up reading and writing stories of every kind. After college when she married and was expecting her first child, she used a scrap computer to write her first romance. She sold it herself in less than a year, and at the age of 26 began a new career and never looked back. The strength of her first book led to her nomination by Romantic Times as Best New Historical Author. She went on to win and/or be nominated for numerous other awards, including a Kiss Award for all three heroes of her Fairy Tale trilogy written for Dorchester Books.
Her fifteen single title releases have appeared on numerous bestseller lists. She has well over a million books in print. Colleen's latest interests include mainstream thrillers and screenplays. However, she truly enjoys exploring the myriad possibilities between men and women, and she expects to celebrate her love of romance and action with many more novels.
Her newest release is from Kensington, a romantic suspense, her first published contemporary. It is planned as the first in a series about modern Texas Rangers, another interest of Colleen's because her ancestor, a Texas Ranger, was one of the first people buried in Brown County cemetery, Texas. Another one of her ancestors was a signatory to the Texas Declaration of Independence.
Colleen Shannon graduated cum laude from the University of Texas at Austin with a B.A. in Archaeology and more recently earned her Master's in Real Estate Development from the University of Southern California.
http://www.colleenshannonauthor.com/
https://www.facebook.com/RomanceWriter
https://twitter.com/bookwriter2001
Amazon: http://www.amazon.com/s/?field-keywords=978-1-60183-293-1
Nook: http://www.amazon.com/s/?field-keywords=978-1-60183-293-1
Kensington: http://www.kensingtonbooks.com/book.aspx/30547