We posted last week about the fun new line from Harlequin that featured Professional Bull Riders (PBR). This week, Reader's Entertainment is excited to give you a little glimpse in the these real life rodeo cowboys!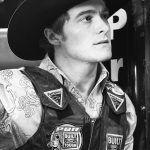 Cowboy Up!
Reese Cates
World Finals Qualifications: 3
Hometown: El Dorado, Ark.
Twitter: @reesecates
Bio: A third-generation bull rider (his father and grandfather both rode professionally), Reese says he was riding horses before he could walk (his mother, aunts and grandmother were all barrel racers). Growing up and rodeo-ing with Chase Outlaw, the two are still the best of friends and now compete in the PBR together. When he's in top form, Reese sometimes hangs out and trains with Chad Mendes and Urijah Faber (top UFC fighters who are also PBR fans), and says that Mixed Martial Arts (MMA) workouts help keep him in shape for bull riding. In his down time, Reese likes hunting with Chase and San Diego Padres pitcher Andrew Cashner, fishing and spending time at home with family in Arkansas.
Reese is appearing on bestselling author Tina Leonard's newest release — Heart of a Bull Rider! – Releasing April 21st!