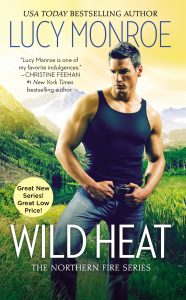 Sometimes old flames are the hottest of all . . .Northern Fire Series #1
From bestselling author – Lucy Monroe
Alaska is heating up with Lucy Monroe's new Northern Fire Series.  The first book in the series is Wild Heat and it is hot as it is cute, fun, funny and sweet.  Caitlin (Kitty) Grant thought she left the small town of Cailkirn, Alaska for good and good riddance!  She left her family and her best friend for the glamour of Los Angeles and a marriage to a man who would control her.  But when her husband was away she filed for divorce to escape his abuse and came back home a shell of her former self.
Tack MacKinnon grew up with Caitlin and they were insuperable.  But, she left without a word and never contacted him again once she married, leaving him broken hearted, but wiser.
Caitlin's journey has her questioning her life decisions, regretting her past mistakes and surprised to find Tack has filled out, grown up and is beyond sexy.
Tack doesn't want to be hurt again, but he wants to help and he has some sexual healing to offer.
But nothing is that easy when it comes to Kitty and Tack and their Wild Heat.
About the Author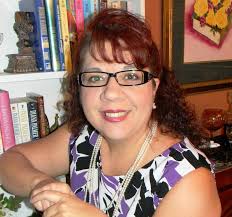 Lucy wrote more than one million words of romantic fiction before selling her 13th manuscript to Harlequin Presents. She has recently signed a three book deal with Grand Central, launching a brand new contemporary stand-alone romance series called the Cailkirn Chronicles. Set to publish in Spring 2015 back-to-back (April, May and June) the series takes place in Cailkirn, a small Alaskan town where the temperature might be cold, but the men are hot! You can find more about Lucy at her website.
You can find this title at Amazon.