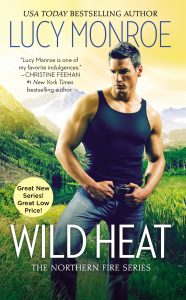 Wild Heat by Lucy Monroe Review
Leaving an abusive husband in LA, Kitty Grant comes back home to Cailkirn, Alaska with more than her fair share of regrets.  The way she left her best friend Tack McKinnon is one such regret.
Now Tack is successful, sexy and though he's forgiven her, he hasn't forgotten that she was his greatest heartbreak.
As Kitty starts to re-learn who she is and what she wants from life, Tack offers help in a way that could melt all the snow in Alaska.
I love the small town and all the interesting inhabitants there.  Meddling and match-making are the sport to watch and lots of shenanigans push Kitty and Tack together regardless of their  assurances they could never be a couple.
Tack is so great with Kitty who was abused by her ex-husband and as he helps Kitty learn the ropes of having her own life again, he learns a thing or two he never suspected.
This is pure romance with a fun town that you will learn to love.  You fall in love with the main characters and hold out hope that everything will turn out for them.  It's romance, so you can guess how it turns out.  But, you love all the eccentric and sweet townies too!  It's an addictive series and I can't wait for the next book!