Faking It by Leah Marie Brown
Vivia Grant couldn't be happier. She has her dream job and is about to marry her dream man. Does it really matter that she's led him to believe she's a virgin? After all, being in love makes every experience feel like the first time anyway! But an unexpected encounter with an ex-lover is about to expose her embarrassing lie…
When Vivia's fiancé discovers the truth, he ends their engagement—via text—and uses his connections to get her fired. Unemployed and heartbroken, Vivia begins planning her new future—as a homeless spinster. But her best friend has a better idea. They'll skip the Ben & Jerry's binge and go on Vivia's honeymoon instead. Two weeks cycling through Provence and Tuscany, with Luc de Caumont, a sexy French bike guide. Too bad Vivia's not a big fan of biking. And she's abysmal at languages. Will she fib her way through the adventure, or finally learn to love herself—and Luc—flaws and all?
Excerpt
All right, I'll admit it; I have told more than one man he was my first lover. I don't know why I started lying about my sexual history, but I think it could have something to do with my name.
What's in a name? If you're looking for the poetic answer, check out Shakespeare. If you want a real-life example of the importance of a name, of how it helps shape the personality and sexuality of an individual, read on.
I'm Vivia Perpetua Grant. I know what you're thinking. What in the hell sort of name is Vivia Perpetua?
I'm a little shaky on the details, but apparently old Vivia Perpetua was a noblewoman who lived a thousand years ago and was imprisoned because of her faith. I'm not sure if she was known for her modesty or her virtues. Either way, my grandmother—God rest her soul—raised my mother to believe that Saint Vivia Perpetua had been the superlative woman, someone who knew that chastity and humility paved the road to Heaven, just as wantonness paved the road to Hell. Saint Vivia Perpetua spent her last few morally-correct moments on earth in a Roman amphitheater being torn limb from limb by a boar, bear, or leopard. I don't remember which wild animal mauled the martyr, but that's not really the point.
My mother named me Vivia Perpetua because she believed naming me after some long-dead, mostly forgotten saint would motivate me to spend my life collecting unused eyeglasses for the blind or doling out mosquito netting to malaria-plagued Africans. Not that there is anything wrong with those efforts, but please. Even more important than my mother's desire to raise a socially conscious do-gooder was her desire to raise a young woman who would guard her chastity until matrimony.
It didn't work.
I never dabbled in drugs—not even a puff on a joint, despite the fact one of my friends promised me smoking pot would make me popular and increase my breast size—but in high school I cranked Aerosmith and had sex. I've been out of high school for ten years now. I still like rock and roll and I still like sex.
In fact, I love sex.
My mother could have named me something more normal. I could've been one of a million Jennifers or Amys, and it wouldn't have made one bit of difference. But no. She had to saddle me with Vivia Perpetua and a load of baggage about sex. I have more baggage than the Louis Vuitton flagship store on 5th Avenue in New York City, which I visited once with my best friend Fanny Moreau who works as a Regional Merchandiser for LVMH. Fanny is gorgeous, smart, talented, and has sophistication oozing from her otherwise immaculate pores. She's French, so I'm pretty sure the sophistication gene is hardwired into her DNA. Fanny never lies about her sexual history. She is confident and blunt.
Like when I first met her. She told me her name was Stéphanie Elise Girard Moreau, and I told her mine was Vivia Perpetua.
"How horrible," she gasped, as if I had just confessed to having been born one half of a blind and deaf Siamese twin. "I cannot call you this name. To me, you shall be Vivian."
She pronounced the name in such a seductive way it made me wish my name was Vivian.
"Like Vivien Leigh?"
"Exactement." She smiled. "Only less tragique."
We were best friends from that moment on. We talk every day, and we share all of our secrets.
The first time I told her I'd lied to a lover about my sexual prowess, she said, "Honestly Vivian," pronouncing the end of my name with her charming nasal accent, "I do not understand why you lie about such things. If a man won't accept you for who you are, he is not worth the Dior Gloss."
Fanny and I are addicted to Dior's Addict Ultra Lip Gloss, but at $25.00 a tube, we're careful to use it on only the most delectable and Dior-worthy dates. It has become our code-phrase.
"Was he Dior-worthy?"
"I  thought he would be, but he spent sixty-eight minutes talking about his ex, suggested I pay half of the bill, and then tried to use a Groupon to pay for his half."
"Chérie, I hope you saved the Dior."
About the Author: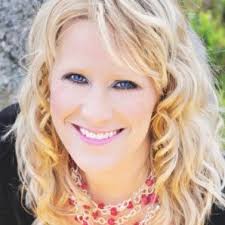 Leah Marie Brown has worked as a journalist and photographer. An avid traveler, she has had adventures and mishaps from Paris to Tokyo. She doesn't buy cheesy tee-shirts or useless bric-a-brac, but prefers friendships and memories as souvenirs from her travels. She lives a bike ride away from the white sand beaches of Florida's Emerald Coast with her husband, children, and pampered poodles. She is hard at work on the next novel in The It Girls series, but loves to hear from readers. Please visit her website at www.leahmariebrown.com Follow Vivia on Twitter @Chic_Traveler and Pinterest as Vivia Perpetual Grant, Perpetual Virgin.
You can purchase Faking It at Amazon.