Get Ready to Play Rough
Shay Beckham grew up idolizing her brother's best friend, star quarterback Joe Reilly. There was no one in their Texas town who had the moves to match Joe on or off the field. Years later, he's still a player who has what it takes to drive any hot-blooded woman wild. But Shay isn't a kid with a bad case of hero-worship anymore. She's grown-up and independent, with her feet on the ground and a serious head on her shoulders. If she could just say the same for Joe.
It's been fifteen years, but Joe Reilly hasn't forgotten the skinny little kid who used to follow him around like a shadow. What he can't get over is that the skinny shadow has grown into one hell of an incredible woman. One any man in his right mind would kill to get his hands on. And one who seems to be completely immune to him. He knows he and Shay could have something special together. If he could only convince her he's about more than just the game.
Excerpt
Traffic was still not moving. Shay bit down on her frustration, sighed again, and unzipped the front pocket of her carry-on. She'd grabbed a sports magazine in the airport, planning to check the ads her company was running, but hadn't bothered to read it on the plane. Maybe she could use it to pass the time now.
Flipping it open, the first thing she saw was Joe Reilly's face smiling at her in full living color. Crap. Joe Reilly. Her childhood hero, her teenage crush, and the star of her adult erotic fantasies. The same Joe Reilly who'd called her squirt and pest when she tagged after him and Hank. The football idol who had been a babe magnet since his voice changed.
The man she'd been secretly in love with all these years, a love that stilted every other relationship she'd had. When was she ever going to admit that it was an impossibility? That she needed to stomp on it, bury it, and move forward?
In Texas, where football was the number one religion, high school stars wrote their own tickets. As the star quarterback for the Granite Falls High School Coyotes, Joe had had women hanging over him like so much drapery. During his outstanding career in college and then in the NFL, it seemed every time she turned on the television or checked sports online she saw his picture with one female or another. She was sure he had a black book that rivaled an encyclopedia in size. She might as well have been chopped liver for as much attention as he ever paid to her.
About the Author: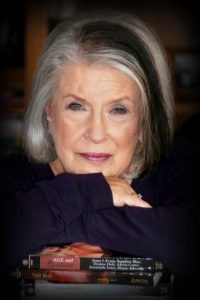 Known the world over as The Oldest Living Erotica Author, Desiree Holt proves every day that she is more than the sum of her years and more than the grandmother who plays with Barbie and Ken dolls: She is The Hardest Working Erotica Author, producing one novel or more each month and receiving rave reviews.
She is a winner of the EPIC E-Book Award, a nominee for a Romantic Times Reviewers Choice Award, winner of the first 5 Heart Sweetheart of the Year Award at The Romance Studio as well as twice a CAPA Award for best BDSM book of the year, winner of the Holt Medallion, multiple winner of the Whipped Cream Book of the Week Award and is published by five different houses. She has been featured on CBS Sunday Morning and in The Village Voice, The Daily Beast, USA Today, The Wall Street Journal, The London Daily Mail and numerous other national and international publications.
"Get out the ice water and fan…Desiree Holt delivers smoking hot alpha heroes and red hot romances." Lea Franczak, USA Today Happy Ever After blog
Learn more about her and read her novels here:
www.desireeholt.com
www.desiremeonly.com
www.facebook.com/desireeholtauthor
www.facebook.com/desireeholt
Twitter @desireeholt
Pinterest: desiree02holt
Google: www.desiree02holt
LinkedIn: www.LinkedIn.com/desiree01holt