If you love inspirational, feel-good stories that celebrate life, love, and faith, join me on Thursday, July 16th at 6pm EST. My guest will be award-winning author, Lyn Cote.  A RITA finalist, and a Carol Award winner, Lyn has written over 40 books in Inspirational, Contemporary and Historical romance.  She joins me to discuss her latest novel, Blessing, Book 2 in the Quaker Brides series.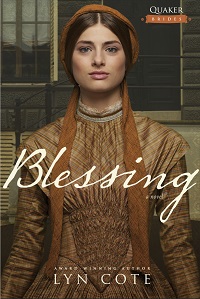 Book Blurb:
An impetuous love swept Blessing Brightman away from the Quaker community, into the highest ranks of Cincinnati society. But behind the glitter of ballroom and parlor, her spirit slowly eroded in an increasingly dangerous marriage. Widowed young, determined never to lose her independence again, Blessing reclaimed her faith and vowed to use her influence to fight for women's rights and abolition.
Gerard Ramsay, scion of a wealthy Boston family, arrives in Cincinnati hoping to escape his father's clutches with a strategy that will gain him independence. His plan is soon complicated, however, by the enchanting widow. Never before has a woman spoken as if she's his equal—or challenged him to consider the lives of others.
In a city nearly ablaze with racial tensions quickly dividing the country, can two people worlds apart possibly find common ground?
Click on the book cover image above for details on Lyn's upcoming show!