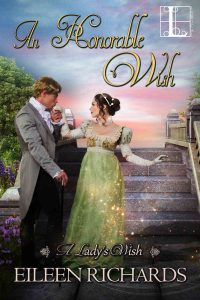 An Honorable Wish by Eileen Richards
LOVE MAY BE THEIR GREATEST GAMBLE…
 
Tony Matthews spends his time in London's most notorious gambling dens, frittering away his fortune. But when his latest victory leaves a man ruined, Tony knows he's reached his lowest point. Determined to make amends, he returns home to his family's country estate with plans to settle down and marry at last. And he hopes the lovely Juliet Townsend will help him—if only he can keep his disgrace a secret.
Juliet's secret wish has always been for Tony to love her. The only bright spot in her dreadful London season was dancing with him—before he disappeared to the card rooms. Now, he's returned, but has he truly changed? Or will gambling always be his mistress, even if she becomes his wife? And does Juliet dare risk her heart by finding out?
EXCERPT:
The opening of Chapter Two 
Juliet found a quiet corner in which to hide and observe. The others sipped their tea and talked idly. Lady Danford had her chair near the fire. Nathaniel and Tony sat near their grandmother and Sophia was slumped in one of the chairs by the window. Juliet opened her book on the latest farming techniques. Considering how far they were from Town, Nathaniel had a surprisingly well-stocked library.
"I miss London. I can't believe we had to come back early all because Juliet can't breathe the air and Anne is breeding. Again." Sophia spit out the words.
"Sorry to spoil your fun, Sophia. Just let me die next time." Juliet pushed her spectacles further up on her face and turned back to her book. She didn't regret having to come back from Town early. The place was loud, filthy, and smelly. London's only redeeming quality was the number of bookshops.
"I missed Lady Etherton's ball."
Juliet winced at the whine of Sophia's voice. It was like needles in her eyes. "Althea sent me the details, if you'd like to read them. You didn't miss much."
"Gossip from the wallflower wall? No, thanks." Sophia flounced back in her chair and proceeded to stare out at the garden. "The last thing I want to hear is what a laughingstock the family is. You are the only girl I know who allows her stuffing to pop out of her bodice."
Heat crept into Juliet's face. She glanced at Tony, who had spewed his tea. Brilliant. Now he was remembering their dance. Never again would she try to fix the cards she had been dealt. She buried her nose deeper into the book.
Tony set down his teacup. "Is that what that was? I thought all ladies kept their handkerchiefs in their bodice."
"Most ladies have something in their bodice with which to hold it in," Sophia cackled.
Juliet cringed, unable to believe that Sophia had actually uttered that statement aloud.
Juliet loved her sister; she really did. On most days. The rest of the time was up for discussion. This was one of those times. She wanted to hit Sophia with her book just to shut her up.
"Juliet, I've invited Simon Bartleby to tea today," Nathaniel said.
Please, dear God, not him. Juliet groaned behind the book. The man was an arrogant, puffed-up prig.
"Good Lord, why?" Sophia said with a frown. Juliet had to agree.
"He wants to borrow some of my agricultural journals. It seems Horneswood is changing hands. The new owner wants to make some changes." Nathaniel sipped his tea.
Horneswood was sold? Juliet sat up and closed her book. This might be just the thing the Williams family needed.
"Does he know who the new owner is?" Tony asked.
The funny tone in his voice caught Juliet's attention. She studied him as he avoided her eye.
Nathaniel shook his head. "I don't know the particulars, except Chelsworth lost it in a card game. Foolish man."
Sophia laughed. "That sounds like something you'd do, Tony."
A dark flush stole over Tony's cheeks. "I'd not stoop so low."
There was something different about Tony. His tone sounded almost vicious to Juliet. "No one believes that you would."
Buy Links for An Honorable Wish
Amazon
B&N
iBooks
Kobo
About the Author: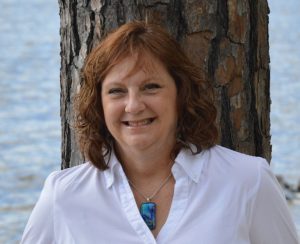 Eileen Richards has been writing for most of her life. Poetry, totally inappropriate answers to essay questions in school, and interesting error codes during her 30 year IT career has prepared her for the manic world of publishing. She writes sassy regency romps set in the small villages of England where the rules are bent a bit and gossip rules the day.
Eileen resides with her husband and their diva of a greyhound in North Carolina.
You can learn more about Eileen at:
Website
Facebook
Pinterest
Twitter