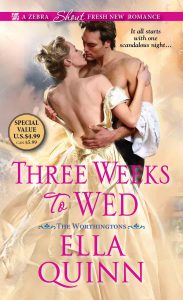 Three Weeks to Wed by Ella Quinn
In the first book of her dazzling new series, bestselling author Ella Quinn introduces the soon-to-be Earl and Countess of Worthington—lovers who have more in common than they yet know. The future promises to be far from boring…
Lady Grace Carpenter is ready to seize the day—or rather, the night—with the most compelling man she's ever known. Marriage would mean losing guardianship of her beloved siblings, and surely no sane gentleman will take on seven children not his own. But if she can have one anonymous tryst with Mattheus, Earl of Worthington, Grace will be content to live out the rest of her life as a spinster.
Matt had almost given up hope of finding a wife who could engage his mind as well as his body. And now this sensual, intelligent woman is offering herself to him. What could be more perfect? Except that after one wanton night, the mysterious Grace refuses to have anything to do with him. Amid the distractions of the Season he must convince her, one delicious encounter at a time, that no obstacle—or family—is too much for a man who's discovered his heart's desire…
"Oh, the tangled webs we weave…especially when our hearts are involved. Three Weeks to Wed is a delightfully heartwarming escape into the sparkling world of the Regency.  Ella Quinn weaves magic." —Cathy Maxwell, New York Times bestselling author.
EXCERPT:
Tears started in Grace's eyes, and her voice trembled. "I am not sure I should tell anyone. I—I don't know what you will think of me. In fact, I wouldn't blame you if you cut my acquaintance. Oh, Phoebe, I've done something so stupid and incredibly wrongheaded. It wouldn't surprise me if you cut my acquaintance."
Phoebe tightened her grip on Grace's hands, holding them firmly. "My dear, dear friend, we've known each other since we were children. Even if it turns out that I do not agree with what you've done, I'd not turn from you."
Grace regarded her friend. She really didn't have anyone else she would even consider telling. "I am in love."
Phoebe's laugh was a musical tinkle. "Grace, falling in love isn't the end of the world. It complicates things for you, to be sure. Yet there must be something that could be worked out."
Removing her hands from Phoebe's, Grace hid her face in them for a moment, before finally meeting Phoebe's steady gaze. "You don't understand. He doesn't know who I am."
Phoebe tilted her head, puzzled. "I think you'd best start at the beginning."
Grace nodded. If nothing else, maybe she'd feel better if she could talk about it. She told her friend about the night at the inn, and when she burst into tears, Phoebe held Grace until she was calm enough to continue. "I thought, if I could have just the one night, I'd know what it was all about, and never being able to marry wouldn't bother me so much."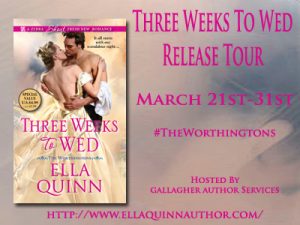 "Grace, are you—?"
That was the only blessing. She wasn't breeding. "No."
Phoebe let out a sigh of relief. "Well that is something at least." She rubbed her forehead. "All of this makes much more sense now. My dear, there is no easy way to tell you what I'm about to say . . . Worthington is searching for you."
Grace sat up with a start. Why would he do that and what if it got out? "Oh no. He can't be. This is terrible. Phoebe, how do you know?"
She handed Grace another cup of tea. "He came to see Marcus when I was on morning visits and described you. Marcus, of course, has never seen you, so he was unable to help him. Later he gave me Worthington's description. I knew who it was immediately. Worthington is a very good artist and has an eye for detail. I just couldn't, for the life of me, figure out why he wanted to find you."
Grace's chest tightened, and she had trouble breathing. The thought that he wanted her as his mistress was too horrible to consider. "Why—why is he searching for me?"
Phoebe raised her brows sympathetically. "He wants to marry you."
All the breath in Grace's body left in one fell swoop. Marry her? Oh no. This couldn't be happening. "I—I shall have to find a way to avoid meeting him." Rubbing her temples, she tried to think. Unfortunately her brain seemed unwilling to cooperate. "I don't plan to go about much. At least not to entertainments where gentlemen are likely to be."
Phoebe regarded her dubiously.
Grace really was going to have strong hysterics. "What?"
Phoebe took Grace's hands again. "It's been my experience that gentlemen in love turn up just where one does not expect them to be."
You can purchase Three Weeks to Wed at:
Amazon
Barnes & Noble
Kobo
Apple
Google Play
Books-A-Million
Kensington Books
About the Author: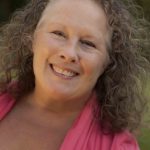 Bestselling author Ella Quinn's studies and other jobs have always been on the serious side. Reading historical romances, especially Regencies, were her escape. Eventually her love of historical novels led her to start writing them. She has just finished her first series, The Marriage Game, and her new series will start in April 2016.
She is married to her wonderful husband of over thirty years. They have a son and granddaughter, one cat and a dog. After living in the South Pacific, Central America, North Africa, England and Europe, she and her husband decided to make their dreams come true and are now living on a sailboat cruising the Caribbean and North America.
She loves having readers connect with her.
Website: www.ellaquinnauthor.com
Facebook: www.facebook.com/EllaQuinnAuthor
Twitter www.twitter.com/ellaquinnauthor
Blog http://ellaquinnauthor.wordpresscom