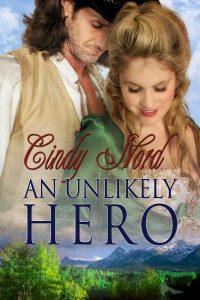 Tue. July 26, at 8:30 p.m. eastern as Book Lights host Debra Parmley chatted with bestselling historical romance author Cindy Nord about her newest debut book, An Unlikely Hero, book three of her best-selling four-book The Cutteridge Family series. Cindy Nord, a former Civil War Re-enactor, and Debra Parmley a Medieval and Renaissance Re-enactor, know what it is to step into the clothing and the lifestyles of the characters they write about in their historical romance novels. Listen as they chat about the joys of writing historical romance, as well as the research necessary behind the words in order to make their characters leap off the pages & burrow straight into readers hearts.
About AN UNLIKELY HERO (book three in the bestselling 'The Cutteridge Family' series)
He's a hard-as-stone man with a broken past…and she's a reminder of all he's lost.
Rugged army scout Dillon Reed has met his match in spoiled Boston debutante Alma Talmadge, but an unwanted assignment escorting the beauty across the wilds of America soon evolves into a journey of monumental change for them both. With killers hot on their trail, the odds of staying alive are stacked against them…and yet, falling in love was nowhere in their plans for survival.
Cindy's husband Tom Nord during the filming of North & South (with actor Patrick Swayze). Tom was in charge of the CW Reenactors in the beloved mini-series, as well as the movies, GLORY (with Denzel Washington) & Gore Vidal's LINCOLN.
Cindy at a book signing at Colonial Williamsburg.
About Cindy:
Say hello to Bestselling Historical Romance writer, CINDY NORD…author of NO GREATER GLORY, book one in her bestselling, award-winning four-book 'The Cutteridge Family' series, a USA Today Lifeblog 'Recommended Read', as well as the #1 Civil War Romance at Amazon for over one full year! WITH OPEN ARMS, book two, as well as #1 bestselling western historical romance, continues the journey of characters that appeared in the first novel. And book three, AN UNLIKELY HERO, just debuted on July 1st, and by that evening had surged onto the coveted 'Top 100 Romances at Amazon' list thxs to her beloved readers. She is now hard-at-work crafting BY ANY MEANS, book four in her series, which is set to debut the winter of 2017. Cindy is also honored to be a contributor alongside many NYTimes writers in the delightful non-fiction anthology SCRIBBLING WOMEN & THE REAL-LIFE ROMANCE HEROES WHO LOVE THEM [all proceeds from the sale of this book go to the 'Women In Need' shelter in NYC]. A member of numerous writers groups, Cindy's work has finaled or won countless times in competitions — including the prestigious Romance Writers of America National Golden Heart Contest. A luscious blend of history and romance, her love stories meld both genres around fast-paced action and emotionally driven characters.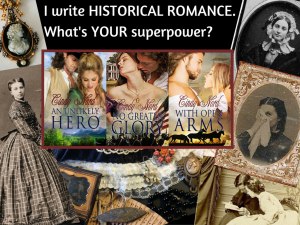 CONNECT with Cindy via her SOCIAL MEDIA LINKS:
Webpage:   https://www.cindynord.com
Amazon Author Page: https://amazon.com/author/www.cindynord.com
An Unlikely Hero buy link:   https://amzn.com/B01HMVIAYW
No Greater Glory buy link:   https://amzn.com/B008GWOI9S
With Open Arms buy link: https://amzn.com/B00KT23WO0
Barnes & Noble NOOK link (With Open Arms) buy link:   https://www.barnesandnoble.com/w/with-open-arms-cindy-nord/1119742281?ean=9781619225435
Barnes & Noble NOOK link (No Greater Glory) buy link:   https://www.barnesandnoble.com/w/no-greater-glory-cindy-nord/1112120177?ean=9781619212435
Barnes & Noble NOOK link (An Unlikely Hero) buy link:   http://bit.ly/29irk5j
Apple/iBooks (All Three Books) buy links:   https://itunes.apple.com/us/book/an-unlikely-hero/id1128489909?mt=11&ign-mpt=uo%3D4
Facebook 'Coffee Klatch' site:   https://www.facebook.com/cindy.nord.9
Twitter:   https://twitter.com/cnord2
LinkedIn:   https://www.linkedin.com/profile/view?id=25784664&trk=nav_responsive_tab_profile
Google+: https://plus.google.com/u/0/+CindyNord9/posts/p/pub
Pinterest: http://www.pinterest.com/cnord2/
and for more about host Debra Parmley visit www.debraparmley.com
Book Lights – Shining a light on good books!