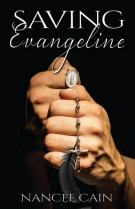 This week we welcome Nancee Cain. I met Nancee just before her first book was published, and I'm so excited to be sharing her latest work.
Welcome Nancee, tell us a bit about yourself. Where you're from, where you live? Do you have one of those day-jobs?
I'm Nancee Cain and I live in a small, rural town in Alabama. I'm a nurse/counselor in the field of addiction by day, writer at night.
How long have you been writing?
In Junior High School I wrote awful, angst-ridden stories with the sole intention of making my friends cry. Since then I've written several awful books that remain hidden under my bed covered in dust dinosaurs. In 2015, my first paranormal romance, Saving Evangeline was published.
Briefly describe your writing day.
I usually write for an hour in the morning and hopefully an hour in the evening. I find I'm much less disciplined in my writing lately. Social media and reality TV are my crack cocaine. My name is Nancee and it's been twenty-four hours since I last watched a Real Housewife of…
Tell us about your latest release?
My next book is Tempting Jo, and if all goes according to plan, it will release September 15, 2016. It's a stand-alone paranormal romance novel, but several characters from my first book make an appearance. If you like snarky, bad boy angels try my books!
Here's the blurb for Tempting Jo: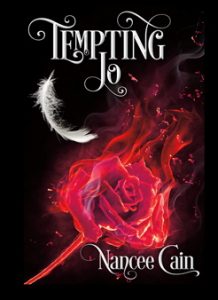 Forbidden love is hell…
Confident and quirky, Jo Sanford thinks her boss is God's gift to women–and she couldn't be further from the truth. Devilishly handsome, Luc DeVille will stop at nothing to lure his administrative assistant right into his arms–and bed.
Over Rafe Goodman's dead body…
Rafe, Jo's best friend, refuses to sit by and watch as Luc tries to win the heart of the woman he's always protected. After all, Rafe is her guardian angel. Suddenly, Jo's caught in the middle of a battle between good and evil. But the closer she gets to the fire, the hotter it burns. Now, Jo's going to learn that when love battles lust, Heaven and Hell collide.
Are your characters entirely fictitious or have you borrowed from real world people you know?
I better plead the 5th on this one.
Would you share one detail from your current release with readers that they might not find in the book?
Rafe knows all the words to every sitcom theme song from the 70s and 80s.
Who has been the most difficult character for you to write? (Any of your books)
Evangeline from Saving Evangeline was hard because the story starts with her at a very low point in her life. Luc from Tempting Jo was hard because he wanted center stage in both books. He was cut from Saving Evangeline for that reason.
If you could be one of your characters for a day which character would it be? Why?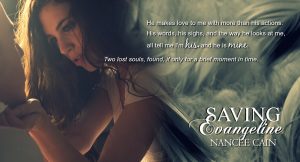 Madge. She's such a character! I love how she takes care of everyone, her sense of humor, and style. She keeps those boys in line!
What's next?
I have several contemporary romance novels completed and Luc keeps bugging me for his own story, but I'm undecided on it.
All writers are readers. Are there any particular authors that have influenced how you write and, if so, how have they influenced you?
My first fan letter was to Debra Anastasia. I read her book, Poughkeepsie and fell in love with her hilarious, yet touching story. She sent me a sweet note back with signed swag, which I treasure to this day. I searched for her at RT in New Orleans and pierced her eardrum with my excited squeal upon meeting her. Since then we have become friends and she has been so encouraging and helpful in my journey as an author. I can never thank her enough for her love and support.
If you could have dinner with any writer living or dead, who would it be and why?
Sylvain Reynard. I adore his books and he's such a mystery! I stalk, er, follow him on social media and I'm always shocked when he responds. Maybe one day he'll follow me back on twitter and facebook. A #1fangirl can dream!
If you could ask your favorite author a question what would it be?
Sylvain Reynard, have you alerted the Canadian Mounted police to stop me at the border should I decide to come visit Canada someday? And the second part of that question would be, Helena Hunting, will you vouch for me if he has?
Do you have a secret talent readers would be surprised by?
If I told you, it wouldn't be a secret! I don't think I have any secret talents. I do like to take pictures and I've been told I have a good eye, but I'm a point and shoot automatic camera user. I'm the Queen of Pinterest Failures. I'll see a craft or recipe and think, "I can do that." The end results are usually cringe worthy.  My daughter still flinches at the pictures of her Halloween costumes.
Your favorite go to drink or food when the world goes crazy!
Coffee
What is the one question you never get asked at interviews, but wish you did? Ask and answer it.
Do you believe in love at first sight? Yes. (I married him, too!)
Website: http://www.nanceecain.com
Blog: https://nanceecain.wordpress.com/
Goodreads: https://www.goodreads.com/Nancee_Cain
Newsletter: eepurl.com/bhFMtX
Facebook: https://www.facebook.com/NanceeCainAuthor/
About the Author:
During the day Nancee Cain works as a nurse in the field of addiction to support her coffee and reading habit. Nights are spent writing paranormal and contemporary romances with a serrated edge. Authors have always been her rock stars, and she's been known to stalk a few for an autograph, but not in a scary, Stephen King way. Her husband swears her To-Be-Read list on her e-reader qualifies her as a certifiable book hoarder. Always looking to try something new, she dreams of being an extra in a Bollywood film or a tattoo artist. (Her lack of rhythm and artistic ability may put a damper on both of these dreams.)