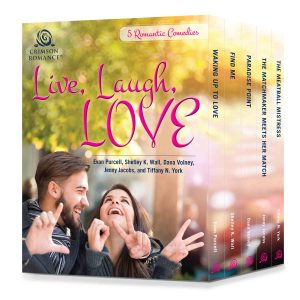 LIVE, LAUGH, LOVE by Shelley K Wall
5 Romantic Comedies
Love not only captures your heart but tickles your funnybone in these five fabulous romantic comedies. The hilarious antics and wacky hijinks will leave you in stitches.
Waking Up to Love: Fans of While You Were Sleeping will love this debut tale! When Scott McInney's mom gets a slight case of amnesia, he convinces Ramona, the identical twin sister of his runaway wife, to step into her heels. Ramona reluctantly agrees to help out, but when the pretending gets too real, will Scott figure out that he might have married the wrong twin?
Find Me: Amanda Gillespie never bargained on seeing Jackson Holstenar, her former coworker and mortal enemy, again. But he just happens to be best buddies with the great new guy she's seeing. Three's definitely a crowd, but as they bicker and surprisingly bond, old feelings rekindle. Now Amanda must decide if the Mr. Right she thought she found is the one she really wants.
Paradise Point: Liv Barnette needs coffee, she needs food . . . hell, she needs a new life. So inheriting fifty percent ownership in Paradise Point marina is a lucky break she'll embrace with open arms. The sexy downside? Sharing her windfall with Army Ranger Adam Lark, who will go to any extreme to see her gone . . . or so he thinks.
The Matchmaker Meets Her Match: Matchmaker Rilka Arpad has seen enough bad behavior to wonder how anyone can withstand a first date, never mind forever. Her new client, war veteran Jeremy Ford, is officially the worst – announcing boldly at their first meeting that he just wants to get laid. But it turns out that Jeremy wants more than a one-night stand . . . and he wants it from Rilka!
The Meatball Mistress: Big-haired Brooklynite Cara Manzoni's life has become a cliche – she found her fiance cheating with her hairdresser and now she has no apartment, no job, and nowhere to go. When she flees to the Jersey Shore, she winds up at Ryan Garridy's struggling Italian restaurant. Ryan thinks fiesty Cara's trouble with a capital T, but her Sicilian meatballs are to die for! Can this secretive stunner save more than just this commitment-phobic restaurateur's business,
EXCERPT:
Jackson scowled when Carter winked at Amanda and threw the box onto his shoulder in a fireman's hold. "Piece of cake. You look amazing by the way."
Amanda slammed her trunk closed and dropped a hand into the pockets of her tight cargo shorts. She shot Carter another megawatt smile. "Thanks. I wasn't really sure what was appropriate for this kind of thing." Jackson felt his face flush. Seriously? She was flirting?
Steam started to rise from his already sweating forehead. Couldn't she see what an idiot/asshole Carter was? Surely Jackson wasn't the only person to notice his complete lack of personality.
Amanda tucked a hand into Carter's arm and walked alongside as he toted her things.
At the trail head, the organizer handed out maps to everyone then told them to be back at five. "The sun goes down at six so if we don't have a full headcount at 5:15, we'll send out a search party." The man laughed then waved his hands like Moses sending his flock into the ship, two by two. Carter dropped into step by Amanda and her friend. It was a dumb move since the path wasn't wide enough. Then Jackson had a thought.
He and Carter had competed in almost everything since they were kids. Technically it started right after Carter's sister died but he never brought up specific dates. Carter was strong and built like a college quarterback. He worked hard to stay fit and hated that Jackson's natural athleticism often beat out his own work ethic. Jackson sidled up to his friend. "Have you looked at the map yet?"
Carter glinted into the sun above Jackson's head. "No, why?"
Jackson unfolded the paper. "There are four trails. Each one is different and they're classified by difficulty. Let's take this one here and first one to the summit buys the other a beer."
Carter glanced at the map. "You do realize that the drinks in the cooler are free and they have beer, water, and juices? Technically, we're not buying anything."
Jackson slapped Carter on the back. "Such a smartass. Okay, then first one up to the summit and back wins. That means the first to reach that cooler full of drinks."
Carter's eyes flickered with interest. "What do I win?"
"Assuming you actually make it down first, you win…I don't know. What about…"
Amanda twisted the cap off a water bottle with a click. "Skinny dipping in the river behind those trees while the rest of us cook and clean up."
Gulp. Jackson leaned into her ear and whispered, "Would that be with or without you?"
Her hair whipped his cheek as she stepped into a power walk. She glanced over her shoulder. "Without. This isn't a team event. See you in my dust, Jax."
Hmmmm. That idea backfired. Beating Carter would be easy; the guy never bested him at anything. Beating Amanda though? He could do it but she might hate him even more.
Four more steps and she vanished into the trees. The image of Amanda skinny dipping stopped him dead for a couple of seconds. Long enough for Carter to dart past and disappear behind her. Oh, hell no. If anyone was going to be in that ice-cold, fish-infested water with—or just watching—Amanda, it wasn't going to be Carter.
You can purchase Find Me – Live, Laugh and Love at:
Amazon
AUTHOR BIO:
Shelley grew up in Missouri, graduated from Oklahoma State University, and took post graduate courses from OSU and the University of Wyoming. She's a member of RWA, Sisters In Crime (SinC), The Literary Guild, and Houston Writer's Guild. She writes daily, striving to perfect a voice that supplies enjoyable and romantic reads. She has yet to meet a person she doesn't like or a job that's not worth enjoying. She writes with humor, drama, and a desire to share life's precious moments. Shelley currently lives in Texas with her family.
URL for website: http://shelleykwall.com
https://www.facebook.com/skwallbooks
Twitter @skwallbooks