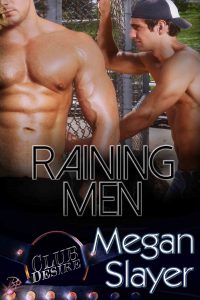 Raining Men – Club Desire Book 8 by Megan Slayer
Sparks fly in the midst of a glitter rain.
Tyrone Zade fell for his Dom the first time they were together. He knew Sir was the only one for him. He needs the spanking and domination to level himself out. He knows his heart and what he desires. When he visits Raining Men night and sees Leo in the glitter shower, he can't hold back. But can this baseball player who isn't out yet, be true to himself and the game he loves?
Leo never planned to settle down. Hell, he never planned on taking on a permanent sub. He lives his life freely and doesn't report to anyone. But he's lying to himself. He's seen the other Doms pairing up as well as others finding love at Club Desire and when he's with Ty, his life balances out. Can he accept the sub he needs and the life he wants, or will he allow fear to win and push Ty away?
Anything can happen when it's raining men.
EXCERPT:
I want to belong here. Tyrone Zade shook his head. No, he wanted to belong to someone at Club Desire. He wiped his hands on the legs of his leather pants and blew out a long breath. He'd loved coming to the club each of the four times he'd visited. He knew what he liked and what he wanted to do when he got there. No names or major details—just playing. Most of all, no sex.
He'd adhered to his rules for the last four months and kept his visits to once every four weeks, coinciding with when he'd returned to town between games. Talking to anyone about his job wasn't an option. He wanted to keep his career as the first baseman for the Red Devils separate from his need to be spanked and tied down. Hell, until he'd spoken to Rocke Houseman, he hadn't felt confident enough to visit the club in the first place. Once he'd realized people would do what he needed and keep quiet, he'd known he had to go to Club Desire.
Ty straightened his shoulders. He'd paid his admittance for tonight's special event. According to the signs, the club was throwing a Raining Men party. He'd seen the advertisements for the recurring bash a more than once but had never been in town at the right time. Tonight was perfect for a lot of things, especially meeting his Dom outside of a scene.
He stepped into the main playroom and scoped out the situation. People milled around, watching porn movies being projected onto the walls. On the main floor, three couples were in the midst of sex acts. Doms, some he recognized and others he didn't, orchestrated a few of the scenes along the edge of the space. He snorted. He wasn't sure why he'd expected to see a few women. Not tonight. Raining Men must've been aimed strictly at gay men.
Standing along the edge of the room was an option, but not a good one. If a Dom spotted him and decided he should be part of a scene, Ty would have to comply. He wasn't collared by anyone—not yet. He wanted his Dom, Leo, to do it, but they hadn't spent enough time together for such a situation to take place.
You can purchase Raining Men at:
About the Author:
Ty toyed with the black band around his wrist. On the baseball field, he knew just what to do. Get out there and play. But in the club, his confidence melted. Rocke had mentioned settling down, but part of Ty wanted to stay free. Why tie himself down to one guy, especially when he wasn't ready for the entire baseball league to know he was gay? And what if he couldn't find someone he wanted to settle down with? Why choose someone who might be only "good enough"? Or had he set his standards too high?
God, he'd crawled too far into his own head again. He was here to have fun. If he ran into Leo, good, but right now, he just wanted to dance and let loose for a little while.
Rocke strolled past him and grinned. "Get out there. You paid the hundred bucks. Get your money's worth." He headed over to two men at the bar.
Ty sighed. He'd come to the event to hook up with Leo and he'd never get anywhere standing along the edge. What was wrong with joining a group already together? Or finding someone for the night? Because they weren't Leo. But Leo probably didn't see him as anything other than another random sub.
He noticed a group of four men gathered on the couch. Glitter billowed around the room, except for where these guys were knotted together.
"Care to dance?" A man with a harness across his chest and a tiny g-string writhed beside Ty. "You want to. Come on before one of the Doms snaps you up."
Ty didn't argue as the guy pulled him into the middle of the room. Throbbing techno music nearly blotted out what the man said, but Ty wasn't paying attention. He'd noticed one of the individuals on the couch—Leo.
You can purchase Raining Men at:
Amazon
AllRomance Ebooks
Barnes and Noble 
About the Author: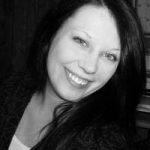 I've always dreamt of writing the stories in my head. Tall, dark, and handsome heroes are my favorites, as long as he has an independent woman keeping him in line. I love playing with words and letting the characters run wild.NASCAR, Ohio farmland, dirt racing, animals and second chance romance all feature prominently in my books. I also write under the pen name of Megan Slayer. I'm published with Total-E-Bound, Changeling Press, Liquid Silver Books, Turquoise Morning Press, Decadent Publishing and The Wild Rose Press. Come join me for this fantastic journey!
Find out more about Megan at:
http://wendizwaduk.com/
http://about.me/wendi_zwaduk
http://wendizwaduk.com/indexMegan.htm