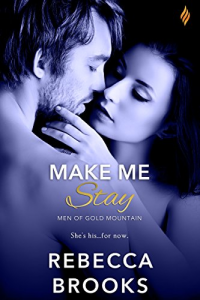 Tune in Tue. Nov. 1st when Book Lights Host Debra Parmley chats with romance author Rebecca Brooks about her new book, Make Me Stay
Listen here Tue. night 8:30 eastern!
About Make Me Stay:
Samantha Kane is about to solidify her father's legacy by developing sleepy Gold Mountain into the most profitable ski resort in the country. There's one man standing in her way though. One very sexy, rugged man. When she shows up to convince Austin Reede to sell, she has no intention of hiding her identity. But with a body like his, she'll take a few risks to get closer.
Austin was the fastest skier on the U.S. Olympic team, until he shattered his knee. Gold Mountain became his refuge—and now Kane Enterprises is threatening that home. When he meets Sam, he has no idea she's the one to blame, he just knows the attraction between them is one he hasn't felt in years. A scorching hot one-night stand is just what he needs. Little does he guess that it will change everything…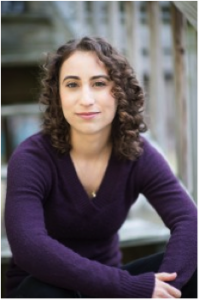 About Rebecca Brooks:
Rebecca Brooks lives in New York City in an apartment filled with books. She received a PhD in English but decided it was more fun to write books than write about them.
She has backpacked alone through India and Brazil, traveled by cargo boat down the Amazon River, climbed Mt. Kilimanjaro, explored ice caves in Peru, trekked to the source of the Ganges, and sunbathed in Burma, but she always likes coming home to a cold beer and her hot husband in the Bronx.
She likes outdoorsy guys with both muscle and heart and independent women ready to try something new.
Feel free to contact me, or for more info and updates, check out the News page.
Author Links
Facebook: https://www.facebook.com/rebeccabrooksromance/?fref=ts
Twitter: https://twitter.com/intent/follow?original_referer=http%3A%2F%2Frebeccabrooksromance.com%2F&ref_src=twsrc%5Etfw&screen_name=BeccaBooks&tw_p=followbutton
Instagram: https://www.instagram.com/rebeccabrooksromance/?ref=badge
Google+: https://plus.google.com/u/0/+RebeccaBrooksRomance
Buy Links
Amazon: https://www.amazon.com/Make-Stay-Men-Gold-Mountain-ebook/dp/B01LWI5U6W
Kobo: https://store.kobobooks.com/en-us/ebook/make-me-stay-5
iBooks: https://itunes.apple.com/us/book/make-me-stay/id1153572279
B&N: http://www.barnesandnoble.com/w/make-me-stay-rebecca-brooks/1124588844?ean=9781633757615
and for more about host Debra Parmley visit www.debraparmley.com
Book Lights – shining a light on good books!