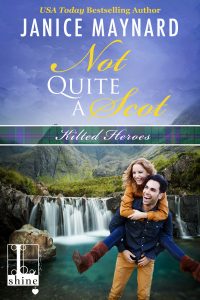 NOT QUITE A SCOT by Janice Maynard
In USA Today bestselling author Janice Maynard's sweet and sexy series, three childhood friends with a shared passion for the Outlander novels and TV show decide to travel to Scotland looking for adventure—and their very own Highland heroes…
McKenzie Taylor is high maintenance when it comes to fashion, but when it comes to travel, the socialite prefers privacy to parties, and her own space to hotels. After she and her friends arrive in Scotland and split up to pursue their own adventures, she rents a small cottage on the Isle of Skye. On day two, she crashes her rental car. But a hero emerges from the mist to rescue her. He's handsome, earthy, funny, and before long is making her feel desirable, not mention desirous. There's just one problem: McKenzie's Highland dreamboat is a motorcycle riding American.
Finley Craig knows his cute new tourist friend is stubbornly set on falling for a Scotsman. But he's just as set on her falling for him. So he plans to give her a taste of what she thinks she wants. Because Finley suspects McKenzie isn't as shallow as she appears. And in the process of surrounding her with his hand-picked suitors, she may just decide that American-made is best—especially when she and Finley are rained in together over one long, delicious, and very adventurous weekend…
Author Guest Post:
When my husband and I went to Scotland in 2014, I already knew I wanted to write a series of books set in the Highlands. Still, I wondered if the country I had read so much about could or would live up to the hype.
Most of us remember times in our lives when we were excited about anticipating a new experience, but then ended up feeling let down when reality couldn't match our imaginations. Fortunately, Scotland didn't disappoint. Even now I find myself thinking about the misty, gray days and the heather-covered hills that seemed barely touched by time.
I love the United States of America. We have so much diversity in the landscape that it can take a lifetime to see everything from coast to coast. But what we don't have are the centuries of history that are preserved and celebrated on the other side of the Atlantic.
Massive cathedrals, ancient stone circles, weathered ruins that beg to be explored. All those things and more make the British Isles fascinating and exciting. I don't believe in ghosts, but I have to admit that when I found myself standing amidst the remnants of a settlement that was active in 5000 B.C., I couldn't help but wonder if the wind carried faint remnants of forgotten voices.
Years ago Nora Roberts wrote a time travel duet for Silhouette Romance. What struck me when I dug out those books and re-read them is the underlying theme that the traits of humanity are basically the same in any time period. Clothing changes. Societal expectations change. Transportation and technology and medicine change. Yet in the midst of all that, men and women want what men and women have always wanted.
I'm a huge Outlander fan. You'll see that referenced in my Kilted Heroes series. The books, though, are more than that. NOT QUITE A SCOT is about expectations and self-awareness and being able to recognize love when it pops up unannounced.
I so enjoyed writing McKenzie and Finley's story. I hope you do, too!
As always, thanks for reading…
Janice Maynard
YOU CAN PURCHASE NOT QUITE A SCOT AT:
Kensington Books
ABOUT THE AUTHOR: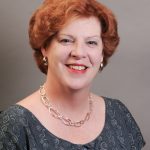 USA Today bestselling author Janice Maynard knew she loved books and writing by the time she was eight years old. But it took multiple rejections and many years of trying before she sold her first three novels. After teaching kindergarten and second grade for a number of years, Janice took a leap of faith and quit her day job. Since then she has written and sold over thirty-five books and novellas.
During a recent trip to Scotland, Janice enjoyed getting to know the "motherland". Her grandfather's parents emigrated from the home of bagpipes, heather, and kilts. Janice lives in east Tennessee with her husband, Charles. They love hiking, traveling, and spending time with family.
Author Website: http://www.janicemaynard.com/
Author Twitter: https://twitter.com/JaniceMaynard
Author Facebook: https://www.facebook.com/JaniceMaynardReaderPage