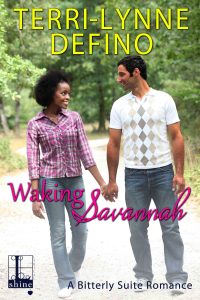 Terri-Lynne DeFino Shares a Sneak Peek of Waking Savannah and Foodie Goodies
Bitterly, Connecticut, has been a haven for a woman shattered by painful memories—until a handsome stranger appears and threatens to awaken the ghosts of her past…
For the last eleven years, Savannah Callowell has led a peaceful existence in Bitterly. As the owner of an old farm, she's mostly kept to herself, not daring to let anyone get too close. None of her neighbors know that she's haunted by tragedy, and she's done everything possible to escape her ghosts. She thinks she's succeeding, until her new foreman shows up—and he's far from being the college kid she was expecting…
A worldly former professor, Adelmo Gallegos has his own reasons for wanting to hide out on Savvy's farm, and he isn't about to share them with anyone, not even his enticing new boss. Still, Ade can't help himself, the more time he spends with Savannah, the more he longs to lure her out of her protective shell. But how can he convince her that opening her heart is the only way to heal? Especially since he too has secrets he's unwilling to share? Only when the past catches up with them may they be able to free themselves of it…
We're all foodies of a kind. It's part of being human and, you know, needing to eat for survival. For some, food is sustenance, nothing more. For others, like me, it's an art form. I eat with my eyes and my nose as well as my taste buds. Beautiful food is love expressed like any poem, a fragrant bouquet, or a tender embrace.
Author Guest Post:
There are a lot of foodies in Bitterly, Connecticut, the fictional setting for my Bitterly Suite. In the first book of the series, Seeking Carolina, you'll find not just Johanna Coco, baker of extraordinarily decadent cakes, but her sister Emma who puts out Italian feasts to rival the best restaurants in town. Head on over to the second book, Dreaming August, and you'll find a fictional restaurant in Brooklyn—On The Fire. It's my not-so-secret dream to have a restaurant that serves whatever's on the fire, just like they do in the Tuscan hills. I can't write and run a restaurant, so living vicariously through my story is close enough.
In the third of the suite, Waking Savannah, Savannah Callowell is a foodie of a different kind. She's an organic farmer in rural Connecticut. While she doesn't cook like the Coco sisters, she does have one specialty—Watermelon and Tomato salad.
Sound strange? Honestly, it's probably the greatest, simplest thing you'll ever put in your mouth. It has always been the joy of my summer. Now, with watermelon available all year, there's no saying it can't be the joy of every season. So if you need a little summer when the cold winds blow, try this simple masterpiece of salty-sweet-acidic joy.
Salad:
2 cups balled or cubed watermelon (reserve the juice)
2 heirloom tomatoes (it's the color contrast you want, so yellow or green work best, but any tomatoes will work) sliced into wedges
½ sweet onion, thinly sliced
½ cup watercress, pea sprouts, arugula (or any kind of green sprout you like)
Vinaigrette:
1 lemon, squeezed
2 parts olive oil to 1 part red wine vinegar (about ½ cup to ¼ cup)
Salt to taste
Granulated garlic to taste (less is better in this case)
Whisk ingredients together.
Optional:
Crumbled feta, dry ricotta, or crumbled goat cheese
When you are ready to serve, plate the colorful salad and drizzle the vinaigrette over it. Make sure you don't dress the salad more than 15 minutes before serving. The vinegar breaks down the watermelon rather quickly.
Sprinkle the cheese on top, if you like. Or leave it off. Personally, I like it better without. But it sure looks pretty. Happy eating! ~Terri-Lynne DeFino
YOU CAN PURCHASE WAKING SAVANNAH AT
Kensington Books
ABOUT THE AUTHOR:
Writer, cat-wrangler, sparklequeen. My first fantasy novel, Finder, was published by Hadley Rille Books in October, 2010, followed by: A Time Never Lived in 2012, and Beyond the Gate in 2013. October 2015 will see the release of Seeking Carolina (first in the Bitterly Suite Series) from Lyrical, an imprint of Kensington Publishing, and my first attempt at romantic women's fiction.
Author Website: https://modestyisforsuckers.com/
Author Twitter: https://twitter.com/TLDeFino
Author Facebook: https://www.facebook.com/terrilynne.defino