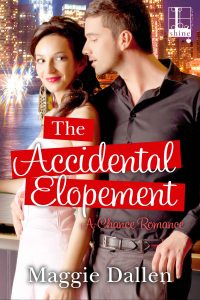 Shaken Not Stirred by Maggie Dallen
The third and final book in my Chance Romance series is set to release this month and what better way to celebrate than with a yummy cocktail? The hero of The Accidental Elopement is a bartender at a New York City restaurant, and I realized the other day that this is the fourth book I've written in which either the hero or heroine works in a NYC bar or restaurant. Why, you might ask? Probably because I worked as a waitress and bartender in NYC bars for more than a decade, and even though that feels like a lifetime ago, the experience is always there in the back of my mind.
One thing I always loved about working in NYC pubs was the eclectic mix of characters–some nights it felt like I worked in a mini United Nations, with coworkers and regulars hailing from all over the globe. Thanks to these experiences, I can now say "Happy Birthday" in Gaelic, curse like a sailor in Romanian, and complain quite eloquently in Spanish about how badly my feet hurt from standing all day. Though none of these skills has yet to come in handy, I'm holding out hope that I can put this knowledge to good use….most likely in my next book.
With the dead of winter quickly approaching, I thought it might be nice to share a recipe for my favorite winter drink, the Brandy Alexander. While it's not served hot, this drink always warms me up on a cold night and practically begs to be sipped in front of a fire. The best part is, with only three main ingredients, it's easy to remember and with equal portions of each ingredient, it's almost impossible to screw up.
1 oz. brandy
1 oz. creme de cacao
1 oz. heavy cream
Combine the three ingredients with ice and shake well. Strain and pour into a martini glass. Add a pinch of freshly grated nutmeg for garnish and enjoy!
THE ACCIDENTAL ELOPEMENT by Maggie Dallen
First comes love, then comes marriage—or is it the other way around?
Lucia is an Italian spitfire with big dreams like her billionaire grandfather. But she wants to become a top tier fashion designer, not the heir to the family business in Italy. Now is her only chance to forge her own path. And what better place to start than in New York City? But working behind a bar doesn't exactly pay the rent. Her trust fund would come in handy, but she needs to get married first. Luckily, she may have found the perfect husband candidate in her co-worker, who just happens to be the most charismatic and devastatingly gorgeous man she's ever met . . .
There's more to Ryan's charming smile than meets the eye—he's out for revenge and working for his enemy is his best bet at getting it. When Lucia comes to him with her crazy plan, he sees a perfect opportunity to make his move. But doing that could mean hurting his new wife. They say nothing's sweeter than revenge—but "they" never met a woman like Lucia . . .
ABOUT THE AUTHOR: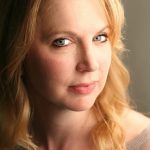 Maggie Dallen is a huge fan of happily-ever-afters. She writes contemporary and YA romance and has been known to rewrite the endings to classic love stories to ensure that they end on a happy note. In Maggie's version, Ingrid Bergman does not get on the plane. She lives in Northern California and works at a yarn store to support her knitting addiction. For more info please visit maggiedallen.com.
Author Links:
Website: http://www.maggiedallen.com/
Twitter: https://twitter.com/Mag_Dallen