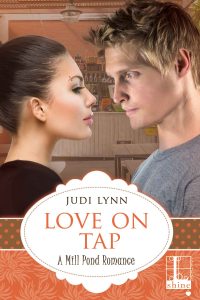 LOVE ON TAP by Judi Lynn
Hi, I'm Judi Lynn, and I write the Mill Pond romance series. 

In the first one, COOKING UP TROUBLE,  my protagonist—Tessa Lawrence—owns a small farm and runs a bakery and a farm stand.   She and her grandmother bake lots of cakes and pies, and they pickle lots of vegetables.
In my third Mill Pond romance, LOVE ON TAP, Paula's a chef and Chase owns a bar, so there's always food simmering somewhere in the story.
I love to cook, so I like a stocked pantry.  When I first got married, I followed in my mother's footsteps.  Growing up, we had a huge garden, and my mom canned and froze enough vegetables to last a year.  So, my husband and I made a decent-sized garden (we didn't have as big of a yard as my parents), and planted green beans, tomatoes, sugar snap peas, zucchini, Brussel sprouts, etc., and we bought a freezer.
In spring, we went to a strawberry patch and got a little carried away.  We picked and froze almost forty pounds of strawberries.  Don't ask.  We didn't know any better.  We drove to a blueberry farm and bought enough blueberries to make pies and muffins for a year, and we bought bushels of peaches and canned them.
I bought a canner and a pressure canner and put up fifty-two quarts of green beans (enough to have once a week) and fifty-two pints (to add to soups).  Besides canned tomatoes, I found a recipe for spaghetti sauce, and canned fifty-two quarts of sauce—a project, believe me.
Anyway, we canned and froze for years until we took our girls on a weekend getaway and came home to find sticky juices all over our basement floor.  The freezer had died, and we lost everything we'd stored in it.  That same fall, while a double stack of green beans rattled in the pressure cooker, I bent over to look at the coloring book my girls were working on while sprawled on the kitchen floor, and the lid of the pressure cooker sailed over my head, raising the hairs on the back of my head.  It was an old pressure cooker a friend had given me.  I'm assuming the seal didn't seal…or something.  But fourteen pints of green beans flew straight up into the air and imbedded shards of glass and green into our white kitchen ceiling.  I had to tweezer out the shards, and it took three coats of light blue paint to cover the stains.  And that was it for me.
No more canning.  No more freezing.
There's a different rhythm to life in small-town Mill Pond, Indiana. And with the easy pace come friendships that are built to last and love that starts out on a slow simmer…

Charming boutiques, picturesque farms, and a growing foodie scene have turned Mill Pond into a tourist destination. And thanks to the culinary skills of Paula Hull, its beautiful rural resort is leading the way. The widowed mom left behind the stress of the New York City restaurant world to spend more time with her two young children. And now she's ready to see if there's more out there for her than being a chef and single parent…
Chase Atwood is the local good guy with a bad reputation. He's a respected business owner and trusted friend, but the drop-dead gorgeous bar owner usually has women beating down his door—and Paula knows to keep her distance. His burgers and beer, on the other hand, are not off limits. But their mutual admiration is always on the back burner—until Chase turns up the heat. Soon he's determined to prove to Paula that he's the one key ingredient missing in her life…
You can purchase LOVE ON TAP at:
http://www.kensingtonbooks.com/book.aspx/34000
ABOUT THE AUTHOR: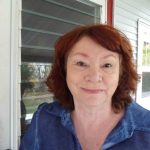 Judi Lynn received a Master's Degree from Indiana University as an elementary school teacher after attending the IPFW campus. She taught 1st, 2nd, and 4th grades for six years before having her two daughters. She loves gardening, cooking and trying new recipes. Readers can visit her website at judithpostswritingmusings.com and her blog writingmusings.com.
Author Links:                                                                            
Facebook: https://www.facebook.com/JudiLynnwrites/