Book Lights Host Debra Parmley chats with military romantic suspense author KaLyn Cooper about Christmas in Cancun!
KaLyn has a surprise for our listeners so be sure to tune in!
Listen here Tue. Dec 13th at 8:30 p.m. eastern!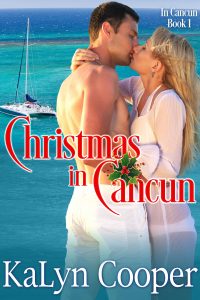 About Christmas in Cancun:
Busy building a new career with his catamaran company, former SEAL Jack Girard had all but forgotten about his grandfather's quest to find the golden Mayan goddess statues until his brother's beautiful widow, Jillian, and adorable daughter, Addison, arrive in Cancun with the research materials. His need to complete the family quest is almost as strong as his desire for Jillian.
Between raising her daughter alone and finishing her doctorate in Mayan anthropology, Jillian doesn't have time for a man in her life. Although, after mourning her husband's murder for two years, she's ready for a man her bed.
An underwater Virgin Mary statue and centuries-old manuscripts lead the two of them through the Mayan Riviera and directly into danger.
During steamy Caribbean nights together, will they develop the ability to move on and discover the real treasure isn't gold?
About KaLyn:
KaLyn Cooper writes sensual romantic suspense. Twenty-two years as a military wife has shown her the world and the men and women who protect it every day. Thirty years in PR taught her fact can be stranger than fiction, but leaves it up to the reader to separate truth from imagination. She and her husband live in Tennessee on their micro-plantation filled with gardens, cattle, and a puppy. When she's not writing, she's at the shooting range or on the river.
Note from KaLyn:
As KaLyn Cooper's Christmas Gift to all my listeners, you can get Christmas in Cancun FREE  BookHip.com/NBJQXC
Cancun Series:
Merry Christmas! Download FREE at:
Claimed by a SEAL (Novella 2.5 

Cancun Crossover 

/ 

Hot SEALs Kindle World)
Amazon
Explosive Combination  Amazon.com, iTunes/iBooks, KOBO, B&N
Smoke & Mirrors (Guardian Elite book #1 Crossover with Dallas Fire & Rescue Kindle World) Amazon.com
and for more about host Debra Parmley visit debraparmley.com
Book lights – shining a light on good books!