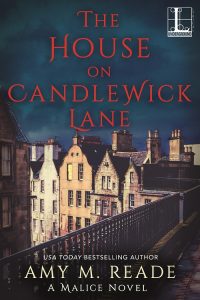 THE HOUSE ON CANDLEWICK LANE by Amy Reade
I love to travel. My books have all been based on places I've visited, and I like to incorporate some of my experiences into each book. (The House on Candlewick Lane was inspired by a trip I took to Scotland a few years ago. That country captivated me like no place has ever done.)
One of the things I love to do when I travel is take cooking classes. Cooking is more than just a daily chore for me—it's a favorite pastime. I think that's why, when I'm on vacation, I'm drawn to learning more about cooking and spending time in the kitchen (for a lot of people, cooking is the last thing they want to do on vacation!). Cooking classes give me a chance to get out and talk to locals, squeeze in a few hours of just-for-me time, and hopefully learn something new about one of my favorite activities.
My most memorable class took place in a centuries-old, privately-owned Norman castle in Howth (pronounced "Hoot"), a village outside Dublin, Ireland (psst…a similar castle may make an appearance in an upcoming book that takes place in Wales). The class was taught by Eleanor, a former embassy chef. She was fascinating and her knowledge of different kinds of cooking and foods from other cultures was vast. She planned a French dinner party menu for my class and I, along with five other students, learned to make a crispy duck salad, spiced pears, bouillabaisse with rouille, and strawberry jalousie. After creating the meal, we shared it at a long rustic table in the back of the kitchen and enjoyed a bottle of Viognier, which was also used in the bouillabaisse. I have been a fan of Viognier ever since that night.
I've recreated the meal, except for the jalousie, for my family. My favorite recipes are for the bouillabaisse and the accompanying rouille, so I'm going to share them with you. I've noted where I've made changes to the ingredients. Also, this is probably not something you'd make for an ordinary weeknight dinner- invite a couple friends over and make it a party!
Bon appetit!
Bouillabaisse
2 T. olive oil
1 onion, finely sliced
1 cured chorizo sausage, peeled and cubed
4 garlic cloves, crushed
1 t. finely-grated fresh ginger
1 red chili, seeds scraped out, finely chopped
A large pinch of saffron threads
½ t. paprika
1 T. fennel seeds, lightly crushed
½ c. white wine, such as Viognier
1 15-oz. can chopped tomatoes
1 ½ c. fish or vegetable stock
1 t. sugar
1 bay leaf
3 ½ c. white fish fillets, cut into small pieces
8 sea scallops, cut into quarters (the original recipe calls for 8 mussels, scrubbed, with beards removed)
8 large shrimp, peeled and deveined
1 T. fresh parsley, chopped
Lemon juice to taste
Heat the olive oil in a large pan over medium heat. The pan should have a heavy base.
Add the onion with a pinch of salt and cook until softened. Add the chorizo and cook for 2 minutes.
Add the garlic, ginger, chili, saffron, paprika, and fennel seeds; cook for 2 minutes or until fragrant. Pour in wine and scrape the bottom of the pan with a wooden spoon to deglaze. Add tomatoes, stock, sugar, bay leaf, and 1 c. water. Season with sea salt and black pepper and let simmer for 20-25 minutes.
Gently lower fish, scallops, and shrimp into the pan and cook for 2-3 minutes, or until they are just opaque.
Check the seasoning. Scatter with parsley and add lemon juice to taste. Serve with crusty bread and the rouille, if desired.
Rouille
2 egg yolks
4 garlic cloves, crushed
Pinch of saffron
¼ t. cayenne pepper
1 T. Dijon mustard
1 t. white wine vinegar
1 c. sunflower oil
2 t. lemon juice
Place egg yolks, garlic, saffron, cayenne, mustard, and vinegar into a food processor and mix until well combined and very creamy.
Continue to mix while very slowly adding the oil in a thin stream until the mayonnaise has thickened.
Season with lemon juice, salt, and pepper to taste.
Note: This recipe calls for uncooked eggs. Use care when using raw eggs, as they can cause illness. I have never had a problem with this recipe.
THE HOUSE ON CANDLEWICK LANE………..

It is every parent's worst nightmare. Greer Dobbins' daughter has been kidnapped—and spirited across the Atlantic to a hiding place in Scotland. Greer will do anything to find her, but the streets of Edinburgh hide a thousand secrets—including some she'd rather not face.
Art historian Dr. Greer Dobbins thought her ex-husband, Neill, had his gambling addiction under control. But in fact he was spiraling deeper and deeper into debt. When a group of shady lenders threatens to harm the divorced couple's five-year-old daughter if he doesn't pay up, a desperate Neill abducts the girl and flees to his native Scotland. Though the trail seems cold, Greer refuses to give up and embarks on a frantic search through the medieval alleys of Edinburgh—a city as beguiling as it is dangerous. But as the nightmare thickens with cryptic messages and a mysterious attack, Greer herself will become a target, along with everyone she holds dear.
You can purchase The House on Candlwick Lane at:
Kensington Books  
About The Author: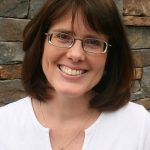 USA Today bestselling author Amy M. Reade is also the author of Secrets of Hallstead House and The Ghosts of Peppernell Manor. She grew up in northern New York, just south of the Canadian border, and spent her weekends and summers on the St. Lawrence River. She graduated from Cornell University and then went on to law school at Indiana University in Bloomington. She practiced law in New York City before moving to southern New Jersey, where, in addition to writing, she is a wife, a full-time mom and a volunteer in school, church and community groups. She lives just a stone's throw from the Atlantic Ocean with her husband and three children as well as a dog and two cats. She loves cooking and all things Hawaii and is currently at work on her next novel. Visit her on the web at www.amymreade.com or at www.amreade.wordpress.com.
Author Links:
Website: http://www.amymreade.com/
Twitter: https://twitter.com/readeandwrite
Facebook: http://www.facebook.com/readeandwrite