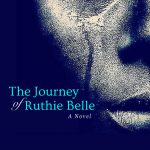 The Journey of Ruthie Belle
(Reprinted with permission from Black Pearls Magazine)
The meek, Ruthie Belle dreams of one day being free from her husband's constant mental and physical torment, until one day she finds the courage to break free from his bondage. Even though the plan goes without a hitch, Ruthie spends the rest of her life riddled in guilt and shame. Later at the ripe age of 103, Ruthie discovers forgiveness and redemption are a part of everyday journeys.
During her pilgrimage, she meets people from her past and makes new and important friends to help her heal and to find understanding. Yet the further into her journey, the darker it gets. Ruthie discovers things aren't the way it seems when her shame comes back for his revenge – her husband.
Will new revelations keep her from her pursuit to redemption? Or will the haunting of her past stop her cold in her tracks?
Excerpt (Chapter Three)
It was June 1, 1927, and I was babysittin' my five-year-old granddaughter, Georgia, while her parents attended a church meetin'. I was braidin' her hair at the kitchen table when I got a knock on the door that changed my life. When I opened it, I found a note sittin' on my porch, written as if someone tried to write it in the dark.
Miss Ruthie, I hate to do this, but I can't tell you this in person. Jacob and his buddies will have me killed if they saw me talking to you. Please meet me far back in the woods behind your barn. Please hurry!
Mary Beth
Although I couldn't make out what the note said, I understood bits and pieces of it: Jacob and his buddies and meetin' her in the woods. I remember askin' Mattie Jean, twenty-one at the time, to watch Georgia Raye.
I hurried through the woods, recallin' ev'ry word Gladys's childhood friend wrote. Walkin' through that area was sometimes frightenin'. There were wild dogs and mean white folks that wouldn't hesitate to hang a Colored person. I knocked down any hangin' branches or ignored little rustlin' sounds behind bushes. All I wanted to know was what was goin' on with Mary Beth. But what made me burst through the woods was a feelin' I had in the pit of my stomach. I knew somethin' was wrong, terribly wrong!
I saw a petite, white woman surrounded by a bunch of huge trees. Mary Beth was holdin' a shiny object close to her chest, and her eyes were blood shot red, as though she had been cryin' non-stop.
"Miss Ruthie," she sobbed. "I am so sorry."
Although words were floatin' from her mouth, I was fixated on that shiny object. It was the locket I'd givin' to Gladys as a weddin' present.
"Where did you get this from?" I yanked it from Mary Beth's hand, further inspectin' it to see if it was really Gladys's, and it was. "This is Gladys's locket. Where is she?"
With the moonlight sparklin' on her rich black hair, Mary Beth kept cryin'. Her body language was enough to tell me somethin' had happened to my daughter. She sobbed, as she stood stiff with her hands clasped together in front of her pelvis.
"Oh, Miss Ruthie, I am so-"
"Child, stop apologizin' and tell me where's Gladys!" I shouted.
She raised her head as though she was tryin' to look at the moonlight, but her eyes looked into a particular direction. I followed her blue eyes and saw a sight that ripped my heart out. My legs buckled from the shock. All I saw was a man's dress shoes suspended in the air. I looked up to see a shirtless and bloody man that was bounded and hanged. Ev'rytime I grabbed at his shoes to see his face, his body gently swung from one direction to another. I wrapped my arms around his ankle and glared straight up at the rope. It was Pastor George.
"OH SWEET JESUS! WHO DID THIS TO YOU?" I screamed.
I was heartbroken. A good man bein' hanged like this was disgustin'. What could a man of God do to deserve this? What? Then my daughter rushed into my mind. Gladys, I thought. I gave a stiff and angry expression to Mary Beth, took her by the shoulders and shook her, tryin' to shake the truth out of her.
"Where's Gladys!" I yelled.
"There!" she cried, pointin' to a freshly packed mound of dirt. Still holdin' her shoulders, I took a moment to stare at the earthly grains, tryin' not to believe Gladys was there. I finally let go of Mary Beth to come close to the pile of dirt.
"Lawd, no," I mumbled, tryin' to keep it together. But, my heart dropped to my feet when I saw a lifeless hand stickin' out from the dirt. "GLADYS!" I cried.
I hysterically unburied my daughter from the cold, pile of dirt. Then with all of my might, I pulled her to my breast, where I used to nourish her. I was beyond speechless, but angry! My daughter was covered with bullet wounds on her chest and one on her face. I could barely recognize my baby. That bullet took off half her face. I hugged my daughter's motionless body, hopin' she could still feel my love. After that, I thought of Mary Beth. I glanced at her while she still looked pitiful.
"Did Jacob do this?" I wept.
"Miss Ruthie, I…" she sobbed.
"Child, don't Miss Ruthie me, did your husband and his heathen friends do this?"
Mary Beth looked away from me to answer, "Yes, ma'am."
Oh dear Lord, I thought, my daughter's best friend's husband, brutally killed my daughter and her husband. And for what?
Back in the 1920s, there was no justice for white folks killin' a Colored. To them, that was one less nigger to worry about. But why my child? Gladys wouldn't hurt anybody. She even got along with ev'ry white folk in town. So I didn't understand this, not at all!
As tears streamed down my face, Mary Beth's tiny voice said, "Miss Ruthie, I'm really sorry. I loved Gladys, she was my-"
"Please go!" I said calmly, as I rocked and held my dead baby girl to my chest. "Leave me and my family be. I love you like a daughter, Miss Mary Beth, but you have to keep your distance from now on. Now go!"
Book Reviews
"This was an outstanding read. My emotions were all in. I was angry and sad at the treatment of this woman, a mother and wife. This story had me from the first page as it started out on high octane. I enjoyed the story how it took a twist to the after life. I felt the fear and pain and then the joy in the end. The story and how it was written reminded me of The Shack. Outstanding. Looking forward to reading more by Imani, her writing is clear and detailed."–Lynette Shelton
"Journey – an act of traveling from one place to another. That is exactly what Imani Wisdom takes you on in the book " The Journey of Ruthie Belle." From the first page to the last you are captivated by the one decision Ruthie makes that changes her life and takes you on her journey a somewhat spiritual journey. Of course, we all have a storied past; memories that we most certainly wish we could forget however In order for Ruthie to move forward, she must revisit those memories." –Amazon Customer
"A new favorite of mine. The journey of Ruthie Belle will take you on a personal journey as well. I laughed, I cried, and I prayed. A Journey of Redemption. This book will not disappoint." –Shirley Graham
Social Media
Facebook: www.facebook.com/imaniwisdom
Twitter: https://twitter.com/imani_wisdom
Instagram: https://www.instagram.com/imaniwisdom/