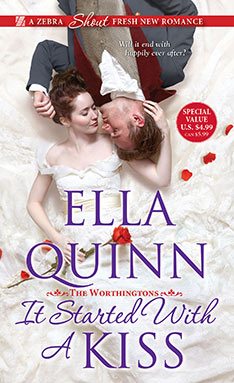 It Started With A Kiss by Ella Quinn
What is a young Worthington woman to do when the man of her dreams is not who she thinks he is?
 This season, all eyes are on the Earl of Worthington's spirited, beautiful sister, Lady Louisa Vivers. Many gentlemen are vying for her attention in and around the ton. Yet, Louisa longs for someone who can take her beyond the ballroom—a man who is worldly, adventurous, and passionate. She won't settle for just any suitor. She wants her true soul mate—and she'll know him when she sees him.
Is Gideon, the Duke of Rothwell, him? The moment he and Louisa meet, they share a powerful attraction. Rides at sunrise and waltzes at dusk follow. Finally, Gideon can no longer resist the urge to embrace her, and Louisa is sure he will ask for her hand. But Gideon believes he is in no position to marry. The Rothwell estate has gone bankrupt, a scandal simmers in its wake, and he has nothing left to offer. Now, he must decide if he will let pride stand in the way of true love—or if he will risk everything, and let the lady decide for herself…
EXCERPT
"Charlotte!" Louisa strode as fast as she could, short of running, and burst into their parlor. "I met him."
Her friend set down a pen and turned in the chair. "Met whom?"
"The gentleman I wish to marry." Her heart was crashing around in her chest making her breathless. "At least I think I do."
After studying her for several moments, Charlotte tugged the bell pull. "This is unexpected. Where was he?"
"With Matt. Speaking to him about estate improvements."
Her friend grinned. "I am surprised you did not stay and join them. I know how interested you are in the subject."
Louisa worried her bottom lip. "I would have liked to, but I did not know if I should."
"That's not like you." Charlotte moved to one of the sofas and patted the seat next to her. "I am agog. Tell me about him."
Unable to sit, Louisa paced. "You might think I am mad, but . . . but I saw him for the first time this morning during my ride, and our eyes met. It was almost as if I had known him all my life." She glanced at her sister, who nodded encouragingly. "Then when I found him in Matt's study it was if it was a sign of some sort. As if fate had planned the whole thing. I could barely stop looking at him, and I think he felt the same." The tea came and Charlotte poured, but when Louisa took her cup, her hands shook. "Dear me. First my knees and now my hands."
Charlotte raised a brow.
"I am acting like a silly widgeon. As I was merely going to see Matt, I did not put my gloves on again, and he, Rothwell, kissed my hand."
"Actually kissed your hand. Wait a moment. You said Rothwell?" Her other brow rose. "As in the Duke of Rothwell?"
"Yes." Louisa nodded. "Have you met him?"
"No, but . . . there was something." Charlotte drew her brows together. "Ah, yes, my aunt mentioned him once. His father died while the current duke was in Canada. No one has seen him since his return. She also commented that during the last two years or so, his father had been acting strangely." She shrugged. "That is all I know. I wonder if he will be at the ball this evening."
Louisa could not stop herself from smiling. "He will be, and I am engaged to stand up with him for the supper dance."
"Excellent!" Charlotte clapped her hands together. "I must say, this all sounds very promising."
"I agree." The sooner Louisa came to know him, the sooner she would know if she was right about him.
"If you have found your future husband, you must definitely settle Bentley."
"Oh, drat. I had almost forgot about him." Blowing out a frustrated breath, she said, "There is nothing for it. I must enact my scheme sooner rather than later."
"Scheme?"
"Yes, yes. The one to help him find a wife."
"I had forgot." Charlotte's eyes began to twinkle. "This does appear to make the matter more pressing. I only wish I knew of someone. Perhaps a thought will occur during morning visits."
"Yes." Her sister drew the word out. "You remember, normally we go visiting, but today is Grace's at-home." Charlotte cast a brief glance at the ceiling. "You have not been hit on the head have you?"
"No, no. I merely forgot that this afternoon was Grace's at-home." Louisa picked up her teacup again. Thankfully, her hands had stopped shaking. "If only a new lady would come to Town." One suitable for Bentley.
You can purchase It Started with a Kiss at:
Amazon http://amzn.to/2mhGv9C
B&N http://bit.ly/29Rf1NM
Apple http://apple.co/2acgFxC
Google http://bit.ly/29YpbPM
Kobo http://bit.ly/29Olqhg
About The Author: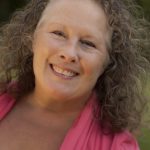 Bestselling author Ella Quinn's studies and other jobs have always been on the serious side. Reading historical romances, especially Regencies, were her escape. Eventually her love of historical novels led her to start writing them.
After living in the South Pacific, Central America, North Africa, England and Europe, she and her husband decided to make their dreams come true and are now living on a sailboat cruising the Caribbean and North America. Europe is next!
She loves having readers connect with her.
Website: www.ellaquinnauthor.com
Facebook: www.facebook.com/EllaQuinnAuthor
Twitter www.twitter.com/ellaquinnauthor
Blog http://ellaquinnauthor.wordpresscom