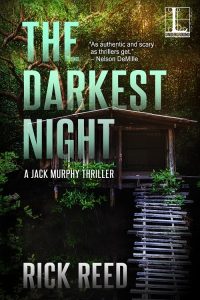 Why Writers are Different by Rick Reed
Writers see the world differently from normal people. Here is why. When I'm on vacation my wife is taking in the scenery because it's pleasantly different from home. I look at the scenery as background to a murder scene. Where she sees beautiful skies, I imagine threatening clouds and a fleeing victim mucking through ankle deep mud. Where she sees gentle waves along the beach, I see crashing waves, expelling a body onto the sand like a wet mouth spitting out a watermelon seed. She looks for unique places to eat. I look for unique places to stash a body or to kill.
I know. I agree with you. That's sick. Psychotic! You think similar to my wife when you travel.  Your vacation consists of sitting on the beach, big umbrella over your head and small one in your drink, soaking up the rays, listening to the gently shush of waves along the beach. You only pick up a book titled, THE DARKEST NIGHT for some mindless reading. If it gets wet, who cares? Right?
You tell yourself you'll only read a few pages to see what sadistic crime the writer has come up with this time. You tell yourself it's not real. People don't do that kind of thing to other people. Do they?
Those few pages have turned into sunset. You're alone on the beach before you realize it. You go home, book in hand, and sit in a chair by the window with your stupid book. You shut the blinds because you're a private person. You move to a chair across the room. Better light, right? Next thing you know its early morning and you're still reading that book. You laugh at your silliness. Reading all night only proves how mindless the reading was. You go through the house and turn the lights off because electricity isn't free. At least this is what you tell yourself.
While you're at it you check that the doors and windows are locked. You remember locking them last night but you are a prudent person, and it's prudent to make sure the closet doors are shut securely, too.
You put the stupid book on the coffee table, but change your mind and pick it up. You don't want anyone to think you read that kind of stuff.  You take the book into your bedroom and hide it under the mattress. For now.
But this doesn't sound like you, does it? You're laughing at my nonsensical ranting. You say to yourself "That guy needs to get back on his meds." You're glad you're not married to someone that could write that kind of stuff. In fact, you make up your mind to throw my book away because you can't give it away. No one else should have to suffer reading about stalking, torture, exquisitely painful deaths.
But you secretly hope I don't stop writing. For some odd reason it makes you feel safe. If it's happening to someone else then you're okay. Right? That kind of stuff never happens to people like you.
I tell you this because four more of my books will be published over the next two years. You won't want to read those either.
THE DARKEST NIGHT by RICK REED

It Takes A Cop Like Jack Murphy To Find Justice . . .
Jack Murphy knows a setup when he sees one. Proving it makes his day. Especially when it involves his own partner. Lured into a trap, Evansville P.D. Detective Liddell Blanchard is accused of murdering a cop who was investigating a shadowy voodoo cult. Justice is murky enough in the swamplands of Louisiana, but when a purported descendent of Marie Leveaux menaces a murder investigation, the gumbo really hits the fan. Corruption comes with the territory. But there are darker forces at play—and only Murphy can see the light . . .
Praise for Rick Reed and his novels
"A jaw-dropping thriller."—Gregg Olsen
"As authentic and scary as crime thrillers get."—Nelson DeMille
"Rick Reed knows the dark side as only a real life cop can, and his writing crackles with authenticity."—Shane Gericke
"Put this on your must-read list."—John Lutz
"Det. Jack Murphy tracks killers through a political maze of lies, deception and dishonor that leads to a violent, pulse-pounding climax."—Robert S. Levinson
"Reed thrusts the boundaries of his story forward to bring us along on a ride we won't soon forget!"—Suspense Magazine
"Reed gives the reader a genre story worth every minute and every penny spent."—Book Reporter

You can purchase THE DARKEST NIGHT at:
Kensington Books

About The Author: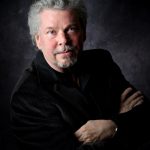 Sergeant Rick Reed (Ret.) is a twenty-plus-year veteran police detective. During his career he successfully investigated numerous high-profile criminal cases, including a serial killer who claimed thirteen victims before strangling and dismembering his fourteenth and last victim. He recounted that story in his acclaimed true-crime book, Blood Trail. Reed spent his last three years on the force as the Commander of the police department's Internal Affairs Section. He obtained a Masters Degree and upon retiring from the police force, took a fulltime teaching position with a community college. He currently teaches Criminal Justice and writes thrillers. He lives in Evansville, Indiana, with his dog, Belle, and his two cats, Hannibal and Clarice.
Author Links:
Website: https://www.rickreedbooks.com/
Facebook: https://www.facebook.com/rickreedbooks/?fref=ts
Twitter: https://twitter.com/rickreedbooks