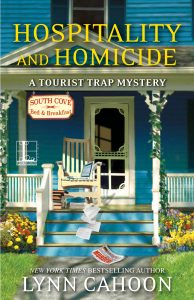 Traveling is Murder by Lynn Cahoon
It's my button slogan. A lot of times at signings, I get a chuckle, especially from people who travel a lot on their jobs. Today, as I sit in this hotel room, typing this post, I'm feeling the truth of the button.
I'm at the end of a three-week author tour, visiting Kentucky, Milwaukee, and now, Atlanta. I love getting out and meeting new and established readers.  But right now, I miss my dogs, my bed, and, oh, my husband. ?
When my husband and I played darts, we went to fun towns like Chicago and Las Vegas. Many of those trips, we drove to the hotel, went to the conference center, played hours of darts, slept, played more darts, and then drove home. All conference centers and hotel food start to be the same after a while.
It can be the same with writer/reader conferences.  The scheduling is so packed, you lose track of what city you're in or even what day it is. And I want to do it all! I want to learn new things, hear inspiring speakers talk about why they write, and meet all the cozy loving readers who come to these things. As well as convert a few who haven't read cozy's before to the dark side, I mean, to our cozy murder worlds.
There's a meme out there that says READ ALL THE BOOKS.  That's me, except, I want to WRITE ALL THE BOOKS. And be all the places.
I've come to realize, that's not healthy. So this year, I'm doing something just for me at each travel stop. It might be just a quiet hour in my room, a workout, or a swim in the pool. Or a good meal at a local restaurant that I might not choose at home.
Last night after the Kensington signing, I dealt with emails, called home, and then got dressed for dinner. I walked down the street to a bar and grill with an amazing menu. I fell in love with shrimp and grits a few years ago in Nashville, and Max's here in Atlanta didn't disappoint me.
If there's time on a trip, one thing I've done to make the travel more enjoyable, is to make sure I have a day for me. I'm going to the World of Coca Cola this afternoon and maybe the aquarium. Taking time away from the convention madness gives me perspective. Life isn't all about work. Or goals. Or careers.
Sometimes it's just about taking a breath and enjoying the day. I hope you take some time for you today. It could be reading a new cozy mystery like mine. Or just sitting on the porch with a glass of iced tea, watching the evening fall around your street.  Whatever you do, I hope you enjoy your moment.
It's not selfish. It's survival.
Lynn
TRAVELING IS MURDER……….
A visit to the serene coastal town of South Cove, California, could make anybody feel refreshed and inspired. But as Jill Gardner—owner of Coffee, Books, and More—discovers, some folks won't live to tell about it . . .
Mystery author Nathan Pike checked into South Cove Bed & Breakfast to compose a compelling novel, not commit murder. But things get real when a rival B&B owner ends up exactly like the victim in his draft—undeniably dead. As Nathan prepares to complete his magnum opus behind bars, Jill's the only one who can prove his innocence and deconstruct the plot of a twisted killer!
Buy links:
Amazon – https://www.amazon.com/gp/product/B01E2H1NKC/
NOOK – http://www.barnesandnoble.com/w/hospitality-and-homicide-lynn-cahoon/1123650597?ean=9781601836335
Kobo – https://www.kobo.com/us/en/ebook/hospitality-and-homicide
iBooks – https://itunes.apple.com/us/book/hospitality-and-homicide/id1173367972?mt=11
Google –
About The Author: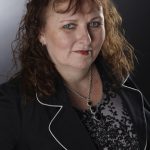 Lynn Cahoon is the author of the NYT and USA Today best-selling Tourist Trap cozy mystery series. GUIDEBOOK TO MURDER, book 1 of the series, won the Reader's Crown for Mystery Fiction in 2015. She also pens the Cat Latimer series. A STORY TO KILL, and FATALITY IN FIRELIGHT are available in mass market paperback. She lives in a small town like the ones she loves to write about with her husband and two fur babies. Sign up for her newsletter at www.lynncahoon.com
Author Links:
Website: www.lynncahoon.com
Twitter:  https://twitter.com/LynnCahoon
Facebook: https://www.facebook.com/LynnCahoonAuthor/