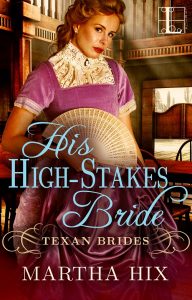 Mining the Family for Research by Martha Hix
Finishing a trilogy of long, salty-sweet novellas is such sweet sorrow. For two years, I've been in the thick of early 1900s High Plains Texans. I hate to wave good-bye, but must. HIS HIGH-STAKES BRIDE is last of the #TexanBrides. Truth to tell, this heroine, Patience Sweet, is my favorite of the Lubbock brides, even though Patty is the most flawed of all.
Out to locate her missing mining-engineer daddy, she'll do anything—yep, anything!—to pay for her long journey to find him. She's young, needs a steadying hand…big time. When her partner-in-crime double-crosses her in Lubbock before wagering away her favors in a card game to lawyer Grant Kincaid, her trip seems to be over, but…well, no.
Handsome and hot Grant is the quintessential Southern gentleman, not unlike the Mississippi and Alabama gents I admire. He decides to help the desperate damsel find her missing old pappy. He even escorts her on the final trail of discovery, which comes to both a crystalline and dark conclusion.
What Grant discovers is the smartest woman he's ever met, outside his own mama, his idea of perfection. Thank heavens Mama's back in Alabama. I wouldn't want Patty to have to put up with Mama Perfect all the time—would you?
People who've read my books know I don't write the typical romance. My characters look at life differently from the standard. I always have to have a big chunk of history. I usually grab something from my own family. This time it's mining. My grandmother had mining-engineer cousins; they're listed in the New Mexico census as thus. (They sailed to Argentina in 1895, but that's another story.) I heard about the great Chihuahuan crystal mines while researching WILD SIERRA ROGUE. I had to have all that for this story. Hey, this was the third tale about the High Plains before the High Plains got truly exciting. I thought I'd spice it up a bit, okay?
With Patty and Grant, I wanted her to have a man who'd provide solid ground beneath her slippers—stability. Handsome Grant hadn't wanted for much, save for cerebral challenge…and everlasting love. Why not give him a gal just like the gal who married dear old dad? The only way Patty resembled his mother was in smarts, which I think is enough, don't you?
Patty brought to their love match a keen understanding of mineral rights, thanks to her father's tutelage; she showed Grant how to help his clients protect their rights. That sort of thing is very handy, even today in places like Texas, where we make a habit of sucking natural resources from the earth so that people like me can drive our V8s to rallies and protest such sucking. Such as that isn't the point of Patty and Grant's story. They are two lonely people enriched and made whole by the melding of their hearts. Isn't that what romance is best about?
HIS HIGH-STAKES BRIDE….
Win, lose—or fall in love . . .
After losing her mama and all she has, vagabond Patience "Patty" Sweet dreams of reuniting with her father in the New Mexico territory. So she teams up with a no-good gambler whose winnings enable her to get her closer to her destination. Patty hates hanging around saloons and poker parlors, pulling dishonest deeds. But when a game of five-card draw goes wrong in Lubbock, Texas, Patty gets offered up as collateral—to a handsome stranger who's about to turn the tables . . .
Lawyer Grant Kincaid has no intention of claiming his prize—a nearly nineteen-year-old petite beauty with sweet eyes—who has a hold on him he can't deny. But as he tries to help Patty untangle herself from her shady partner, he discovers she's not as innocent as she seems. For starters, she's already stolen his hardened heart . . .
You can purchase HIS HIGH STAKES BRIDE at:
Amazon: http://www.amazon.com/s/?field-keywords=9781601839398
Apple: http://itunes.apple.com/us/book/isbn9781601839398?uo=8
B&N: http://www.barnesandnoble.com/s/9781601839398
Google: https://play.google.com/store/search?q=9781601839398&c=books
Kobo: http://www.kobobooks.com/search/search.html?q=9781601839398
Kensington: http://www.kensingtonbooks.com/book.aspx/35160
About the Author: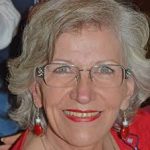 Martha Hix grew up in Texas and didn't mind listening to stories about how her ancestors had been in the place for a long, long time. Well, in Texas that just meant more than a hundred years. This weird kid soaked up the stories and became an ardent student of family and general history, which came in handy when she took to writing both fiction and non-fiction. Eventually, her romance novels were translated into many foreign languages, some of them very foreign, like Japanese, Greek, and Turkish. On the home front, she lives in the fabulous Texas Hill Country with her husband and their spoiled four-legged kids.

Website: http://marthahix.com/
Twitter: https://twitter.com/marthahixwriter