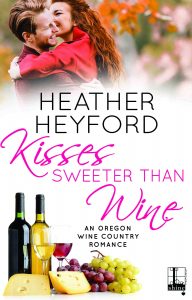 Kisses Sweeter Than Wine by Heather Heyford
Oregon Wine Country Romance #3
In the third book of Heather Heyford's series, set in Oregon's wine country, a returning war hero and his "friend with benefits" discover that some vintages only improve with time . . .
Uncorking the Truth
When the town of Clarkston, Oregon, welcomes Captain Sam Owens home from the service, Sophia "Red" McDonald is first in line. The sassy psychotherapist has known Sam since they were kids, and the grown-up Sam is darned near irresistible. With his abs of steel and those gorgeous hazel eyes, he could have any woman he wanted. Naturally, Red is thrilled when he takes her hand . . .
She's a modern woman, happy to canoodle with the sexy soldier, no strings attached—until her heart changes the rules. Suddenly, after months of casual hookups, Red finds she wants more. She longs to possess Sam body and soul. But his warrior's heart was wounded long before he joined the service. As a therapist, Red has ways of making him talk. Only if Sam opens up and spills his secrets can they finally have everything their hearts desire . . .
EXCERPT
Like the tide washing broken shells out to sea, her kisses washed away fragments of his past. It had been weeks since they'd made love, weeks of learning to live with the frustration of having her whenever he wanted and then, suddenly, not having her.
His need for her overwhelmed him. He craved her mouth, her hair, every inch of her skin, the entire measure of her. He wanted to take refuge inside her, to merge completely until there was no more him and her, only them.
"Doc."
Had he said that out loud? Usually, she was the vocal one.
It didn't matter. Nothing mattered except having her. He scooped up handfuls of her bottom and slid it toward him, blessing the guy who had designed the Impala's bench front seat.
"We're never trading this in," he rasped.
"We?"
Immediately, he reverted to form. "You, I meant. You're never trading it in."
She gazed unsmiling into his eyes, her breath coming in gasps, her lips wet in the moonlight. They shared a look that transcended time and space…a look he wouldn't forget if he lived another hundred years. But his hunger was a raging river and she'd let him get this far. He ruched her lower until he was lying fully across her. But when he parted her legs, she went limp.
"Tonight's just for kissing," she panted.
Sam looked down at her intact clothes, shocked to realize that kissing was all they had accomplished. He hadn't once fingered the silken skin that lay beneath her shirt.
Slowly, reluctantly, he sat up, freeing her to do the same.
But instead of getting back behind the wheel, she turned and burrowed her back up to his chest, drawing her knees up under her chin.
Sam reached out to pet her calf on top of her jeans before he realized that might be breaking one of her arbitrary rules, and instead settled for simply cupping her elbow.
"Thank you for sharing that story with me," she said. "I'm not doing this to hurt you. Just the opposite. I want to help you get free of whatever it is that's haunting you."
He stroked the crease in her elbow with his thumb. It wasn't as if he had bought into her plan lock, stock, and barrel. He was biding his time until he came up with a solution to this dilemma of his own making, without losing the best thing that had ever happened to him.
About the Author: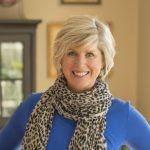 Heather Heyford is the author of contemporary romances set in the wine country. See what inspires her writing on her many Pinterest boards, read more about her on HeatherHeyford.com, and connect with her on Facebook and Instagram.
AUTHOR SOCIAL MEDIA LINKS
Website: http://heatherheyford.com/
Twitter: https://twitter.com/heatherheyford
Facebook: https://www.facebook.com/catherine.campbell.948
Instagram: https://www.instagram.com/heather_heyford
Pinterest:  https://www.pinterest.com/Heather_Heyford/
BOOK BUY LINKS