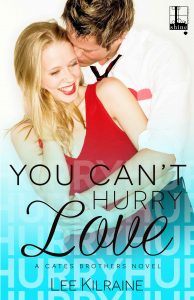 Speed Dating with the Cates Brothers by Lee Kilraine
My newest book in my Cates Brothers Series, YOU CAN'T HURRY LOVE, is about to release and I'm excited for readers to meet the last Cates brother, Paxton. The thing is, the five Cates brothers are close. They've got each other's backs. Whether it's to help, give advice, or even administer a good ass-kicking when necessary. And believe me it's been necessary a time or two. I thought you might like to get to know a bit about all the brothers. And what better way than a round of Speed Dating! So grab a drink, sit back, and meet the Cates brothers: Quinn, Sijan, Tynan, Kaz, and Paxton.
What do you do for a living?
Quinn: I'm a cop, but I co-own a gym in town with two buddies. I also coach lacrosse to a bunch of nine year olds. It's fun, but mostly trying to stop them from hitting each other on the head with their sticks.
Sijan: Make movies. My last three movies have done well at the box office, even scored an Oscar nomination, but being in the spotlight has its drawbacks. Rumors, lack of privacy, women who throw themselves at me to get their photo in the papers. It can get crazy.
Tynan: After a few tours in Iraq and Afghanistan in the Army, I came home and started my own construction business. Well, not right away. It took a few months and a one of those ass-kicking's from my brother Kaz, but I finally pulled it together. For the most part. After time in a warzone, I need to be in control. I like being in charge and not following orders.
Kaz: I'm a computer security consultant. A white-hat hacker, if you will. Corporations pay me to find their weak spots before a real hacker does. I love the challenge. And when they call me in to catch the hackers? That's when it gets really fun.
Paxton: I'm a lawyer for Clark, Hinders, and Pope. But I've got my eye on a judgeship.
What are your hobbies?
Kaz: Martial arts. Gaming. Virtual reality. Reading. Cooking. Homebrew beer. Meditation.
Tynan: Hiking and camping. After spending years in the Army deployed to war zones, I need to escape into the wilderness every so often to find myself. I also handcraft furniture. My newest hobby is trying to figure out how my dog, Houdini, keeps escaping from my house. I adopted Houdini after he was rescued from a dog fighting ring and the poor guy has separation anxiety.
Paxton: Hobbies? I don't have hobbies. Work keeps me busy. When I'm not working I'm networking or doing pro bono work.
Sijan: Fame can be fickle and crazy, so I'm trying my hand at writing a screenplay in my free time.
What's your favorite cuisine?
Kaz: Thai, the spicier the better. My brothers complain that I've got no junk food in my house. They'll eat the healthy food I cook but mostly because I serve my homebrew beer with it.
Tynan: Food. If it's edible, I'll eat it. Except for my ma's meatloaf. Don't ever eat our ma's meatloaf. I'm partial to the biscuits and raspberry jam over at Dave's diner.
Quinn: Any meal I can eat without having to abandon it in the middle for an emergency call from work is a good meal in my book.
Paxton: I'm usually too busy with work to cook. I eat at the local diner a lot. Or I'll drop by Kaz's for a meal. I'm happy to grab a meal at my parents too. As long as it's not meatloaf night. My brothers warned you about the meatloaf, right?
Cats or dogs?
Tynan: Both. I adopted a dog and my dog adopted a cat.
Quinn: I've got a Heinz-57 dog named Snot. Wait. Before you say anything, I did not name the dog. I made the mistake of letting my godchild, Henry Lee, name him. Lesson learned.
Kaz: Neither. Don't get me wrong, I love animals. I'm happy to take care of my brothers' pets. But sometimes I get so involved in work that I don't resurface for days. I'm a computer security expert and going after hackers can get intense. I barely manage to feed myself on those days. I'd be afraid I'd forget to feed a dog when that happens.
Sijan: I'm partial to dogs, only not those dogs people dress in clothes. No. Just no.
What's the last song you listened to?
Quinn: George Strait's "Check Yes Or No."
Tynan: Country? That's why I don't let Quinn be in charge of the music on road trips. No. It's classic rock all the way. That's all I've got on my iPod and programmed in my truck's radio.
Kaz: Tchaikovsky's "Serenade for Strings" followed by Led Zeppelin's "Ramble On." I've also got a whale song CD that actually can lower your blood pressure.
Sijan: I listened to latest film score by Tyler Bates. I'm trying to talk him into scoring my next film. The man is a genius.
Paxton: I'm with Tynan on classic rock, but I've been into listening to audiobooks when I'm in the car. Just finished Agatha Christie's The Murder of Roger Ackroyd. I like a good mystery.
How often do you do your laundry?
Paxton: Every Saturday morning I make a run to the dry cleaners. I like my shirts lightly starched and pressed.
Tynan: When I'm a day away from running out of work clothes, I'll throw a load into the washer. I own my own small construction company so it's pretty much jeans and tees. Flannels in winter.
Sijan: No idea. I pay my housekeeper good money to take care of that for me. She handles the laundry and dry cleaning. I've got clean clothes in my closet and my suits and tuxes lined up and ready for TV appearances or red carpet events.
Describe your heroine…
Quinn: Delaney is tough, a smart-ass, and can cuss like a sailor. I know from experience she's got a great right jab. She's also funny and smart and I'm pretty sure I've been in love with her forever. Thank God she's a fighter because she's got demons to conquer and I'm ready to help if she'll only stop being so stubborn and let me.
Sijan: She's generous and kind. Sweet and sincere. Avery's about the easiest person to love. Lord knows I fought it. Especially when I thought for sure she was using me. Oh, and don't ever let her near an animal shelter. Don't. Because you and everyone you know will end up adopting some pitiful creature needing a home. My brothers still laugh about it, but I've got a farm so adopting two dogs, three kittens, two rabbits, and a ferret weren't a big deal.
Tynan: Damn crazy, that's what Lu is. But I have to admire a woman who goes after what she needs–what she wants. I wasn't thrilled when what she wanted messed with my life, but turns out her need for closure might just save me too.
Kaz: It's the most illogical thing, but I was drawn to Mira the day she showed up in her blue suede shoes to deliver a singing Elvis-gram. Who knew what a VR gaming, Elvis-impersonating, math whiz could do to my ordered life?
Paxton: Jolene Joyner and I have been sworn enemies since I cut off her pigtail in preschool. Jo found a way to annoy me almost every day in high school like she'd put it on her "to-do" list. Just because we'd grown up doesn't mean that's changed. She grew up into a beautiful, sexy, smart woman. She still uses those big gray eyes to suck guys in and hypnotize them. I'd avoided that sad fate my whole life—I'm not about to fall for it now just because she's in trouble and needs my services. Heck no. In fact, with Jolene's perfect reputation around town, I decide we can help each other out. I'll act as her lawyer if she'll act as my pretend girlfriend. Only that old saying about love and hate being two sides of the same coin? Yeah, there's some truth there that is about to complicate everything.
Time's up! Thanks for Speed Dating with the Cates brothers. Maybe you've even found a new book boyfriend you'd like to get to know better…
YOU CAN'T HURRY LOVE by Lee Kilraine
In Climax, North Carolina, climbing the professional ladder means making the right connections. And Paxton Cates is about to form a partnership he never expected . . .
While his brothers have found their true loves, Paxton remains stubbornly single, and it's not helping his career. Sure, he's a successful lawyer, but to become a judge you've got to mingle with the right crowds—and without a partner at his side, he's not getting enough invitations. He needs someone, and soon. Someone like Jolene Joyner . . .
Jolene, a local high school English teacher, has a history of driving Paxton crazy. She's just too perfect—and she's never let him forget it. But now Ms. Goody Two-Shoes is in trouble for the first time in her life, and she needs a lawyer. He'll take her case—if she'll play by his rules. Six months of socializing should do the trick—if they can convince everyone they've put aside their animosity and fallen madly in love. Then they can go their separate ways.
The only problem is that Jolene seems to have developed a taste for bad behavior . . . especially where Paxton is concerned. And instead of just a pretty partner in deception, he's got himself a new client who's anything but innocent . . .
YOU CAN PURCHASE YOU CAN'T HURRY LOVE at:
Amazon       http://amzn.to/2sVB533
iBooks          http://apple.co/2u0teGi
Google         http://bit.ly/2uSOmL2
Amazon CA http://amzn.to/2tyDl27
Amazon AU http://amzn.to/2tR62Kl
Amazon UK http://amzn.to/2u0v6z6
ABOUT THE AUTHOR: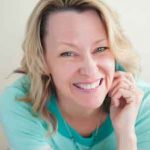 Lee Kilraine lives in the pine woods of North Carolina. She writes contemporary romance with a touch of humor. When she isn't typing away on her computer with her golden retriever, Harley, destroying something at her feet, you might find her on her front porch swing plotting her next book while guarding her garden from the local gang of deer. Lee loves dogs, salted caramel, walks in the woods, and happy endings.
Author Links:
Lee's website:  www.leekilraine.com/
Facebook   www.facebook.com/LeeKilraineAuthor
Twitter        www.twitter.com/LeeKilraine
Instagram   www.instagram.com/leekilraine
Amazon      http://amzn.to/2u2HeMU
BookBub     http://bit.ly/2xqL0RT