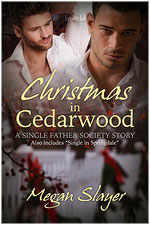 Christmas in Cedarwood by Megan Slayer
with Bonus Story ~ Single in Springdale
A Single Father Society novella
Christmas in Cedarwood
Two men, one kid, and the frayed nerves that come with the holidays… Can they make it through to Christmas without a blow-up?
Colt Harrison knew when he met Ashley Willis that he'd found the one man for him. He loves Ashley's son, Wyatt, as if he were his own. But the stress of living together, compounded with buying a home and adopting pets, has worn him down…not to mention the aggravation that comes with the diner he owns. He wants to make Christmas special for his family, but how can they have a great holiday when Colt's never home?
Ashley's got a two-week vacation from his job at the elementary school teaching art. All he wants is time with Colt and Wyatt. He loves Colt, but not the long hours spent at the diner, especially around the holidays. Can he be honest about what he wants from Colt and keep the man he loves?
Anything is possible if they embrace the magic of Christmas.
Bonus story included!
Single in Springdale
Can two lonely hearts find their way to each other despite the odds?
Dr. Isaac McLean knows he's not supposed to lust after a patient, but there's something about Len Connor that he can't forget. His laugh? His strong will? His sexy body. But will Len want to be with his former doctor?
Len Connor wasn't looking to get back into the dating scene, but a chance meeting with Isaac at the animal shelter has him thinking otherwise. Isaac is sweet, funny and oh, so handsome. But he's also at least twenty years younger than Len. Will this cougar get his cub and have a happy ending? Or will the relationship fall apart before it gets started?
You can purchase Christmas in Cedarwood at:
http://www.loose-id.com/christmas-in-cedarwood.html
About the Author: 
I've always wanted to write. I love storytelling and weaving images with words. There's something magical about a happily-ever-after that draws me to a story. Be it spicy and suspense-filled or lusty hot and bothered, I'm game for a good book. I'm still learning and growing and I hope you'll join me. It's been a crazy ride, but it's totally worth it. You'll see.
I've always dreamt of writing the stories in my head. Tall, dark, and handsome heroes are my favorites, as long as he has an independent woman keeping him in line.  I love playing with words and letting the characters run wild.
NASCAR, Ohio farmland, dirt racing, animals and second chance romance  all feature prominently in my books.  I also write under the pen name of Megan Slayer. I'm published with Total-E-Bound, Changeling Press, Liquid Silver Books, Shara Azod Publishing, Turquoise Morning Press, Decadent Publishing and The Wild Rose Press. Come join me for this fantastic journey!