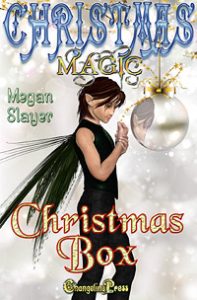 Christmas Box (Christmas Magic) by Megan Slayer
Christmas Magic Series #4
https://www.changelingpress.com/product.php?&upt=book&ubid=2658
Hayes Carter knows what he wants out of life—to be the best lawyer he can, to balance his work and home life and to please his Sir. This Christmas, he wants to belong to Sir for good.
Ford Rogan loves his boy, Hayes, but he's not sure he's relationship material. Hayes, though, makes him think otherwise. Then there's that naughty Santa at the club…submit and your wish will come true.
Can Santa, even a naughty one, grant they're wishes? Will the magic of the season be enough or will they end up with nothing more than a lump of coal?
YOU CAN READ AN EXCERPT AT: https://www.changelingpress.com/content.php?utype=note&uid=8232
About the Author:
I've always wanted to write. I love storytelling and weaving images with words. There's something magical about a happily-ever-after that draws me to a story. Be it spicy and suspense-filled or lusty hot and bothered, I'm game for a good book. I'm still learning and growing and I hope you'll join me. It's been a crazy ride, but it's totally worth it.
I've always dreamt of writing the stories in my head. Tall, dark, and handsome heroes are my favorites, as long as he has an independent woman keeping him in line.  I love playing with words and letting the characters run wild.
NASCAR, Ohio farmland, dirt racing, animals and second chance romance  all feature prominently in my books.  I also write under the pen name of Megan Slayer. I'm published with Total-E-Bound, Changeling Press, Liquid Silver Books, Shara Azod Publishing, Turquoise Morning Press, Decadent Publishing and The Wild Rose Press. Come join me for this fantastic journey!  http://www.wendizwaduk.com/indexMegan.htm