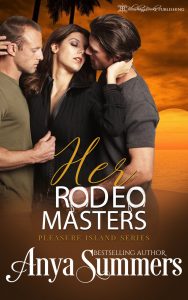 Her Rodeo Masters by Anya Summers
Ivy Phillips is on a mission. She's an investigative reporter for the Pasadena Tribune, and is hoping to write the story of the century by infiltrating Pleasure Island claiming to be a submissive. Except, when she gets there, she inadvertently finds herself auctioned off for charity and now has two hunky cowboys who want to own her body and soul.
Dax Johnson and Nate Banks have been a rodeo team – and lovers – for years. But they've yearned to add a sweet submissive to their union. When they meet Ivy, Dax knows she is the one for them, and the duo set out on a seductive campaign to win Ivy's affection.
But when the truth is revealed, will their newfound relationship survive? Or will the two cowboys ride off into the sunset without her?
Publisher's Note: This is the ninth – and final – instalment of Anya Summers' bestselling Pleasure Island series. While we recommend all the books, it can be enjoyed on its own.
Available at: Amazon https://goo.gl/HDZw6v
EXCERPT:
"The bull pen meeting is about to start. You planning to attend?" Kevin Donnelly asked, looking every inch like he'd just stepped off the pages of Vogue magazine. He had movie star good looks, and fashionably cut, beach blond hair. He was wearing the latest skinny jeans and a hipster dress shirt in a silver gray. It was too bad the five foot seven, moderately buff and toned man was gay. Otherwise they'd be perfect for each other.
"Yeah, just give me a minute," Ivy replied, refolding the paper in her hands. She shoved the letter and envelope into her massive tan leather shoulder bag that was essentially her life. There was room enough for her iPad, her makeup, tampons, condoms—although she hadn't needed any of those in a while—wallet, keys, even a small yappy dog if she were so inclined. She carried everything in it. You name it, she carried it with her. Which worked out well for Ivy since she always seemed to be on the move.
"So, how did the other night go? You never mentioned your date, and I live to hear about my co-workers' love lives," Kevin simpered, giving her his full attention. This was one of the reasons Ivy loved him. The man was a consummate flirt, and knew just how to get a girl to spill all her secrets. How many times over the years had they done yoga and brunch on Sundays, where he would magically get her to tell him all her troubles? They were the best therapy sessions in the world.
"You and Chad are still not talking to one another, I take it," she replied.
Kevin put his hands on his hips and did the gay male equivalent of tossing his hair back. "Please, honey, the man wishes he still had me. Nope, I'm moving on and into the market. Which means I don't currently have a sex life and must live vicariously through you. So, no deflecting. I want all the juicy tidbits."
She removed her iPad from her bag and said, "Yeah, well, good luck with that."
"So the date the other night was a no go?" Kevin asked, his light ice blue eyes twinkling with interest.
"It's fair to say I left as early as I could. When the crying started, there was really no point to saving the night," she said. And wasn't that just the kicker. Every single date she'd been on over the last eight months had been an absolute dud. She was in a relationship—just with her vibrator and her favorite Chardonnay.
"You cried?" Kevin asked aghast, a hand against his chest and his eyes wide with horror at her perceived faux pas.
"Nope. My date did. Going on and on about his ex. Clearly the guy wasn't ready to get back out into the meat market. After listening for two hours about how much he loved Kelli with an 'i,' I was done," she replied.
About the Author:
Anya Summers – Born in St. Louis, Missouri, Anya grew up listening to Cardinals baseball and reading anything she could get her hands on. She remembers her mother saying if only she would read the right type of books instead binging her way through the romance aisles at the bookstore, she'd have been a doctor. While Anya never did get that doctorate, she graduated cum laude from the University of Missouri-St. Louis with an M.A. in History.
Anya is a bestselling and award-winning author published in multiple fiction genres. She also writes urban fantasy and paranormal romance under the name Maggie Mae Gallagher. A total geek at her core, when she is not writing, she adores attending the latest comic con or spending time with her family. She currently lives in the Midwest with her two furry felines.
Visit her website here:
Visit her on social media here:
http://www.facebook.com/AnyaSummersAuthor
Twitter: @AnyaBSummers
Goodreads: https://www.goodreads.com/author/show/15183606.Anya_Summers
Sign-up for Anya Summers Newsletter
Amazon Author Page https://www.amazon.com/Anya-Summers/e/B01EGTVRKC/
Bookbub https://www.bookbub.com/authors/anya-summers
Instagram https://www.instagram.com/anyasummersauthor/
Don't miss these exciting titles by Anya Summers and Blushing Books!
Dungeon Fantasy Club Series
Pleasure Island Series
Her Master & Commander, Book 1
Her Music Masters, Book 2
Their Shy Submissive, Book 3
Her Lawful Master, Book 4
Her Rockstar Dom, Book 5
Duets & Dominance, Book 6
Her Undercover Dom, Book 7
Ménage In Paradise, Book 8
Her Rodeo Masters, Book 9
Cuffs & Spurs Series
His Scandalous Love releasing March 8, 2018
His Wicked Love releasing May 8, 2018
His Untamed Love releasing July 9, 2018
His Tempting Love releasing September 6, 2018
His Seductive Love releasing November 8, 2018
His Secret Love releasing January 8, 2019
His Cherished Love releasing March 8, 2019