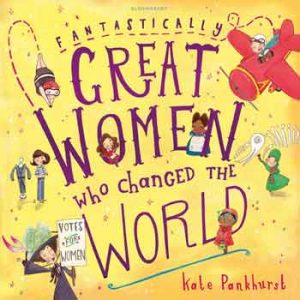 Pankhurst is an illustrator and children's book author noted for her young detective books Mystery & Mayhem, and Mariella Mystery. She has just released a penned a new book that is a 'guide to fantastic women'.
"Fantastically Great Women Who Changed the World" is a follow-up book to her wildly successful "Fantastically Great Women Who Made History". In the process of writing these books, she learned that she was a direct descendant of Emmeline Pankhurst a suffragette. "I was in my 20s when I found out about our family connection, but because of my surname, Emmeline's story has followed me all my life, and my awareness of her struggle and what she stood for has been an influence on my work."
Her latest release pays tribute to her relative Emmeline and, other women who impacted the world like: Amelia Earhart, Mary Anning, Marie Curie and Rosa Parks.
Pankhurst said in a press release: "There's such a need to tell these stories and celebrate these women. It offers a way for parents to talk about gender equality – quite a hard subject to discuss with young children – and how, although we are moving towards more equality, there are still differences out there and challenges girls in particular may face. At the end, it asks the reader: how will you change the world?"
Liz Skelly from publisher Bloomsbury said: "From comments on social media and mixed gender attendance at school and public events, it has been great to see that parents are buying the book for boys as well as girls."
The books are aimed at young readers between the ages of 5 – 10. You can find more details, and purchase links on Pankhurst's website.