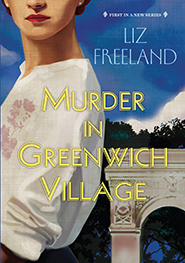 MURDER IN GREENWICH VILLAGE by Liz Freeland
Available for pre-order- releases May
A year before World War I breaks out, the sidewalks of Manhattan are crowded with restless newcomers chasing the fabled American Dream, including a sharp-witted young woman who discovers a talent for investigating murder . . .
New York City, 1913. Twenty-year-old Louise Faulk has fled Altoona, Pennsylvania, to start a life under dizzying lights. In a city of endless possibilities, it's not long before the young ingénue befriends a witty aspiring model and makes a splash at the liveliest parties on the Upper East Side. But glitter fades to grit when Louise's Greenwich Village apartment becomes the scene of a violent murder and a former suitor hustling for Tin Pan Alley fame hits front-page headlines as the prime suspect . . .
Driven to investigate the crime, Louise finds herself stepping into the seediest corners of the burgeoning metropolis—where she soon discovers that failed dreams can turn dark and deadly . . .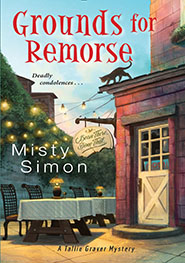 GROUNDS FOR REMORSE by Misty Simon
No more cheating . . .
Best friends Tallie Graver and Gina Laudermilch both seem to spend a lot of time around urns. For Tallie, they're part and parcel of the family business, Graver's Funeral Home. Even though she's traded ashes for dusting with her own cleaning business, she still works part-time for her folks and lives above the funeral parlor. For Gina, they're the vessels that con-tain her heavenly brew at her coffee shop, Bean There, Done That. And both women are learning that owning a business can make finding time for romance challenging.
But when Gina's new beau turns out to have a wife, who barges into the coffee shop to take him home, she can't contain her bitterness and loudly threatens to poison his cup or boil him in a vat of coffee. So when Mr. Wrong turns up dead at the bottom of a staircase inside Gina's locked home, she finds herself at the top of the police's suspect list. Tallie needs to sweep in to save her friend. But she'll need to watch her step, or she may go from being a funeral home employee to becoming their next client . . .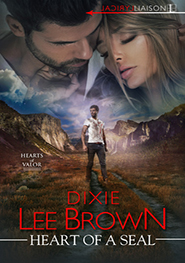 HEART OF A SEAL: Hearts of Valor #1 by Dixie Lee Brown
They're brothers in arms, Navy SEALS risking their lives for their country . . . and the women they love.
This is Luke Harding's story.
Six months in a desert hellhole taught Navy SEAL Luke Harding things he never wanted to learn about life and death. Only tender memories of the beautiful brunette he met a few weeks before his deployment helped get him through the torturous days and nights. Back in the States after a perilous rescue, physically and emotionally damaged, Luke's about to plunge into a new kind of war. In a seemingly bucolic Idaho town, Sally Duncan faces real—and unpredictable—danger.
All Sally ever wanted was a safe place to raise her nine-year-old daughter. Her identity hidden behind a façade of secrets and lies, can she trust Luke—a man she barely knows—with the truth? Even as they give in to long-denied passion, a killer with a personal vendetta is setting an ambush that will leave them praying for a miracle and fighting for the future they may not live to see.
Praise for Dixie Lee Brown
"Dixie Lee Brown delivers all the goods in high style: romance, adventure and suspense-with a generous helping of sexy that will leave readers clamoring for more. The talented Ms. Brown writes the kind of story romance readers crave: sexy, fun and filled with adventure and suspense." —Linda Castillo, New York Times bestselling author of The Dead Will Tell
"Brown will thrill readers who enjoy some spice." —Library Journal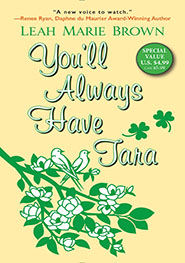 YOU'LL ALWAYS HAVE TARA by Leah Marie Brown
A spoiled Southern belle loses her lavish lifestyle—and finds an unexpected new beginning . . .
Tara Maxwell seems to have been born under a lucky star, enjoying a life of leisure in beautiful, historic Charleston, South Carolina. But luck, and family fortunes, have a way of running out. Suddenly Tara is left with only one place to turn—her late aunt's country home in north-west Ireland. The catch: to claim her inheritance Tara must agree to live in Castle Tásúildun for three months. With two other potential heirs. And choose one to be co-owner of the estate.
Tara sees right through her aunt's matchmaking scheme, and she's not willing to share Castle Tásúildun with anyone. If charm doesn't get rid of her rivals, she'll find some other way to drive Aidan Gallagher and Rhys Burroughes away. But as God is her witness, both men are infernally stubborn. Aidan, once her carefree childhood friend, is now an army veteran desperate for the peace the castle offers. Rhys, a smooth-talking businessman, plans to preserve the ramshackle property by transforming it into a luxury hotel. Tara, for the first time, is realizing that frankly, she does give a damn—about others' happiness as well as her own. But is she ready to open her home—not to mention her heart—to the possibility of an epic adventure?
Praise for Leah Marie Brown and her It Girls novels
"Leah Marie Brown has a wily way of bringing her stories to life with sharp dialogue and drop-dead sexy characters." —Cindy Miles, National Bestselling Author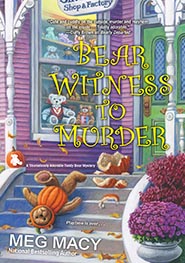 BEAR WITNESS TO MURDER – A Teddy Bear Mystery #2 by Meg Macy
"Cute and cuddly on the outside, murder and mayhem on the inside . . . Totally adorable." —Duffy Brown on Bearly Departed
As autumn air settles into the quaint small town of Silver Hollow, there's nothing more popular than Sasha's teddy bears—and murder in cold blood . . .
Silver Bear Shop and Factory manager Sasha Silverman is cozying up to the fall season by hosting Silver Hollow's Cranbeary Tea Party, the opening event of the village's Oktobear Fest—a too-cute celebration themed around teddy bears. She barely has a moment to agonize over the return of her former high school rival, Holly Parker, whose new toy and bookstore in town could spell big trouble for the Silver Bear Shop and her cousin's small bookstore . . .
But when Sasha discovers Holly's shop assistant dead with a knife plunged in her body, the unpleasant woman suddenly looks like a real backstabber. So does Sasha's ex-husband, rumored to have rekindled the fiery extramarital affair he once had with the victim. Now, before a gruesome homicide case takes the fun out of both the Fest and her personal life, Sasha must identify the true culprit from a daunting suspect list—or risk becoming as lifeless as one of her stuffed bears . . .
Praise For Bearly Departed
"You'll fall in love with this delightful debut mystery." —Victoria Thompson, bestselling author of Murder in Morningside Heights
"The first in a new series features a complex plot awash in red herrings, a perky heroine . . . and everything you ever wanted to know about teddy bears."—Kirkus Reviews
"The appealing, impulsive amateur sleuth, dedicated to the family business, will appeal to fans of character-driven cozies." —Library Journal
"Entertaining . . . inhabited by quirky, fully developed characters and good dogs and cats." —Publishers Weekly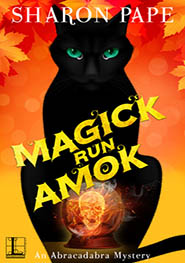 MAGICK RUN AMOK – An Abracadabra Mystery #3 by Sharon Pape
The answer to whodunit may lie beyond the veil . . .
November in upstate New York can be chilly, but Kailyn Wilde's shop, Abracadabra, is a cozy respite where you can find lotions, potions, and plenty of warm, feline company. But what customers don't know is that the proprietor has some unusual powers—and unusual friends, including the renowned magician Merlin, who's been transported into the modern world. All of which comes in handy when there's a murder to be solved . . .
Investigative journalist Ryan Cutler has perished in a car accident in New Camel, and his friend, Travis, suspects foul play—especially when the reporter's notes reveal a mysterious list of dead men's names. Kailyn wants to help, but she's also got her hands full with the curmudgeonly Merlin, who's not exactly maintaining a low profile. Between keeping the wizard under wraps and mixing up cold remedies that work like magic, she'll have to tap into her many talents to figure out a killer's fatal formula . . .
"A charming, must-read mystery with enchanting characters. A fun and entertaining page turner."—Rose Pressey, USA Today bestselling author
BEFORE DAYLIGHT – One Night in South Beach #4 by Andie J. Christopher
Perfect Strangers
Ballerina Laura Delgado is just one solo away from a dream job with the New York City Ballet. Then a drunken pas de deux at her cousin's wedding results in the one thing she never wanted—a husband. TV producer Charlie Laughlin may be deliciously kissable, but she needs him offstage now, and out of her life.
Perfect Disaster
Charlie's ready for marriage and kids, and on the lookout for just the right woman. Laura doesn't fit the bill at all—but Charlie can't stop thinking about the sultry way they moved together. And he can't help but wonder if he can change the gorgeous dancer's mind about leaving Miami with heated kisses that promise as much as they demand . . .
Perfect Partners
Annulling their sham marriage is all Laura wants—until she gets to New York and realizes that leaving Charlie behind is easier said than done. Can a relationship that began as a hot mistake become the kind of love that will last forever?
"Andie J. Christopher is a great storyteller. The story flows well with great interactions between the main characters and their families and friends." —RT Book Reviews, 4 Stars