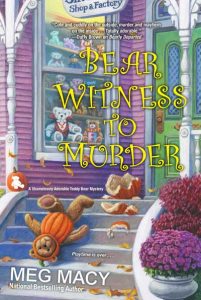 ONE TEDDY BEAR, TWO TEDDY BEARS  . . . Meg Macy Author of BEAR WITNESS TO MURDER
Growing up, I never had a teddy bear. I had a stuffed animal, like all kids do, Pixie (or Dixie) from the TV cartoon. Maybe Mom never had the extra money to get me one. So as an adult, on a trip to England with my sister, I was hooked the minute I saw Paddington Bear at Harrods, wearing his blue mackintosh with its wooden toggles, red hat, and beige fur. "Please look after this bear, thank you," read the tag, and his eyes begged me to take him home to America. Done.
From there, my collection grew into an avalanche of teddies. Mom and other family members and friends gave me ceramic statues, all sizes of stuffed teddy bears, wooden carvings, etc. I had to winnow them out after my daughter was born, to make room for her toys and books, so I donated plenty to charity causes or churches, hospitals, and foster kids. I still have numerous bears for every season, though. They do brighten up my décor and mood.
A friend and I both wanted to write cozy contemporary mysteries after we launched our historical mysteries (writing under the D.E. Ireland pseudonym and featuring Pygmalion/My Fair Lady's Eliza Doolittle & Henry Higgins as amateur sleuths). Sharon Farrow chose a Berry Basket shop on the coast of Lake Michigan for her series, and then suggested teddy bears for mine. Since a teddy bear toy factory was located in Chelsea, Michigan, near enough to me in Southeastern Michigan, I pounced on that idea. Unfortunately, I soon discovered the company had relocated to Missouri. Rats! I'd always wanted to tour the plant. The best laid plans. . .
Instead, I created my own "small town" of Silver Hollow (based on Chelsea, Plymouth, Ann Arbor, Ypsilanti) and chose a renovated Victorian mansion to serve as the Silver Bear Shop. A former carriage house was expanded as the factory, supervised by my protagonist's uncle. Sasha Silverman, divorced, manages the family business while her sister runs the office. In Book 1, Bearly Departed, they discover the company sales rep's body. And in Book 2, Bear Witness to Murder, Sasha and her teddy bear dog stumble on a second corpse – an old high school nemesis. While the books' colorful covers look innocent and sweet, the mysteries definitely have an edge.
In each book, a bear-themed event or two is highlighted: a teddy bear picnic, a tea party, the Parade of Bears – an "around the village" display of decorated, painted fiberglass statues – a "Find the Bears" in an apple orchard, and a region-wide Oktobear Fest. It's so much fun to dream up these events and wish they were real! Plus, they give Sasha and her friends the chance to question people, uncover secrets, and find out who killed the victim and why.
Cozy mysteries are never too graphic – murders occur "off the page". While intrigue and danger play a big part, justice is always served in the end. Unlike in real life! Cozy mysteries have been popular since Agatha Christie, Dorothy Sayers, Josephine Tey, and other authors began writing them in the early 1900s, and continue to be popular with readers today.
You can find links to my "Shamelessly Adorable" Teddy Bear cozy mysteries on my website and subscribe to my newsletter at the bottom of the home page. Check out my Facebook page also. Hug a teddy bear, and happy reading!
Be sure to check out Meg's latest release BEAR WITNESS TO MURDER at:
Kensington Books
BEAR WITNESS TO MURDER………..
As autumn air settles into the quaint small town of Silver Hollow, there's nothing more popular than Sasha's teddy bears—and murder in cold blood . . .
Silver Bear Shop and Factory manager Sasha Silverman is cozying up to the fall season by hosting Silver Hollow's Cranbeary Tea Party, the opening event of the village's Oktobear Fest—a too-cute celebration themed around teddy bears. She barely has a moment to agonize over the return of her former high school rival, Holly Parker, whose new toy and bookstore in town could spell big trouble for the Silver Bear Shop and her cousin's small bookstore . . .
But when Sasha discovers Holly's shop assistant dead with a knife plunged in her body, the unpleasant woman suddenly looks like a real backstabber. So does Sasha's ex-husband, rumored to have rekindled the fiery extramarital affair he once had with the victim. Now, before a gruesome homicide case takes the fun out of both the Fest and her personal life, Sasha must identify the true culprit from a daunting suspect list—or risk becoming as lifeless as one of her stuffed bears . . .
ABOUT THE AUTHOR:
Award-winning mystery author Meg Macy lives in Southeast Michigan, close enough to Ann Arbor, Chelsea, and Dexter — the area she chose for the setting of her new "Shamelessly Adorable Teddy Bear" cozy mystery series for Kensington.
 She is also one-half of the writing team of D.E. Ireland for the Eliza Doolittle & Henry Higgins Mystery series; two books have been named Agatha Award finalists. Meg's first published book, Double Crossing, won the 2012 Best First Novel Spur Award from Western Writers of America. She's a graduate of Seton Hill University's Writing Popular Fiction program.
​Meg is a member of WWA, Western Fictioneers and Sisters in Crime. Born and raised in Michigan, Meg lives with her husband and enjoys gardening, crafts, and reading mysteries, historical fiction, and adding more books to her Kindle.