When a break-in at the Pet Palace robs Sue Patrick of more than her beauty sleep, she intends to tidy her ransacked doggy daycare and spa before making any rash decisions. But after Sue abandons her better instincts to rescue a petrified pug stranded at a lighthouse in the Delaware Bay later that morning, she's lured off mainland Lewes long enough for a freshly murdered body to get dumped in her driveway . . .
Aided by Lady Anthea Fitzwalter, her practically royal business partner from across the pond, Sue sniffs out clues about the yappy pug with a complicated history and the old car spotted at both crime scenes in hopes of IDing the culprit. As the investigation leads them back to the bay, the ladies soon find themselves immersed in a case trickier than a canine agility course—and chasing after a well-groomed killer who will do anything to maintain a perfect reputation . . .
You can purchase Support Your Local Pug at:
Kensington Books
Trying to balance her hectic family life with her growing business—including a coveted contract with the local organic food store—leaves Colbie scrambling to keep all her balls in the air. But when a Sunnyside resident is found dead in his garage, she takes on a new role: harboring a suspected killer.
The eighteen-year-old murder suspect, a former foster kid and Colbie's part-time chef, had a powerful motive to snuff out the high-profile businessman. The real question is, who didn't? Sifting through the victim's sordid history unearths a cat's cradle of crimes, including money laundering and abuse. Now, to clear an innocent girl's name, Colbie must sniff out the truth before a killer who smells trouble goes on the attack again.
You can purchase The Trouble With Truth at:
Kensington Books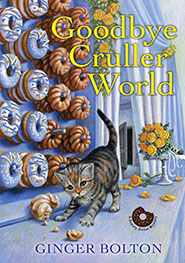 Goodbye Cruller World: A Deputy Donut Mystery #2 Ginger Bolton
Normally, Emily's eyes tend to glaze over when prospective brides go on about their wedding plans. But when the owner of the clothing shop, Dressed to Kill, asks Emily to design a donut wall for her reception, she's immediately sweet on the idea. With the help of her father-in-law and business partner—the former police chief of Fallingbrook—she hangs the treats from dowels on the wall so guests can help themselves.
But that night, when the groom ends up on the floor with signs of poisoning, Emily suspects someone has tampered with her treats. When the groom dies, there's no way to sugarcoat it: she's got a murder on her hands. Despite a list of suspects as long as the guest list, Emily vows to find out who created the killer confection to save her shop's reputation and keep the killer confection to save her shop's reputation and keep the bride out of handcuffs. She'll have to move fast . . . before the poisoner takes a powder.
You can purchase Goodbye Cruller World at:
Kensington Books
Halloween is coming, and Darius Witherspoon isn't giving up on his plan for a catered costume party—despite the recent disappearance of his wife, Penelope. He may be heartbroken, but perhaps throwing a big shindig in her honor will boost his spirits. He's going to hold it at his stylish new co-op apartment at the Berkshire Arms, where the couple had dreamed of moving in.
Darius hires Bernie and Libby to provide the treats. They'd prefer to avoid the festivities altogether. As far as they're concerned, the Berkshire Arms is a haunted house—or at least haunted by the memory of the murder that happened on the site, when it used to be The Peabody School. But as always, there are bills to be paid, so they accept the job. And in the midst of the celebration, Darius is discovered hanging from a noose outside one of the ballroom's French doors . . .
Was it suicide, induced by despair over his missing spouse? Bernie and Libby think not, once they read the note he left—which includes a sum of money and a request for them to "do something" if anything should happen to him. Now, once the serving trays have been cleared and the decorations taken down, it's time for the sisters to unmask a killer . . .
Includes Original Recipes for You to Try!
Delicious Praise For Isis Crawford And Her Mouth-Watering Mysteries!
You can purchase a Catered Costume Party at:
Kensington Books