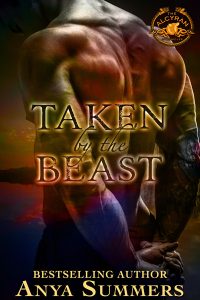 Taken by the Beast by Anya Summers
Gemma's life was nearly perfect. She's just graduated from college and is heading off to graduate school in the fall. She and her best friends are taking a trip she's always dreamed about. Only, nothing goes as planned. After being chased on the streets of Dublin by a freaking monster, they get sucked into a portal and wind up on another world. As in, not Earth. Now she can't find her friends, but there is this really hot, naked guy who calls himself a king and is offering her aid.
There's only one teensy little problem: He says she's his mate and is planning on keeping her—forever. Oh, and there's one more thing: He's a beast most of the time. And Gemma has to decide if she's willing to give up everything for the one man she's meant to be with in the universe.
EXCERPT:
Their footsteps clicked against the pavement. Gemma wasn't normally overly dramatic or prone to hysterics, but the deserted lane had her riding the edge of panic. Her senses were on high alert, and she was hyperaware of every sound. She was ready to call a halt and get an Uber.
As they meandered farther down the unfamiliar lane that made her think they had entered a Charles Dickens novel, with the cobbled streets and turn-of-the-century architecture, Gemma fretted that they had taken the wrong street. And there was something in the air. It was quiet. Too quiet. Not even crickets hummed.
It was then that she heard it. A great swooshing noise. The va-woop-woop-woop made her think of helicopter blades, but there was no engine motor thrumming with it.
"Do you guys hear that?" Gemma asked, glancing behind them, trying to discern where the unnatural sound was coming from.
"I thought that was just me," Moira said. "What do you suppose it is?"
"I don't hear anything," Anna said, looking up and down the street, her brow furrowed in concentration. "Clearly, this is not the way to the hotel. Sorry, guys. Maybe we should take that street coming up on the right. It should take us in the general direction of the hotel." Then she raised her head, peering up at the darkness beyond the streetlamps.
At Anna's bloodcurdling scream, Gemma jerked and followed her gaze up to the black, starry sky above. Gemma shook her head as she stared, trying to clear it. What had been in that Guinness? Had someone slipped a drug into her beer and roofied her? Her mind was playing tricks on her. Or it was the light and an overactive imagination.
Moira's scream joined Anna's. It wasn't a hallucination. It was a fucking monster, its wingspan wider than the street as it hovered above their heads. Great charcoal leathery wings flapped, generating enough wind to power a turbine. Its body was large, at least seven feet tall, its chest wider than a doorframe and completely bare. Its arms were muscular and thickly formed; she could imagine the thing benching tractor trailers as if they were toy cars. Its legs were hewn like tree trunks and covered by some sort of black material. But it was its hands that drew her attention. They were huge and tipped with claws. Its face appeared hard as granite, with two black horns curling at its temples. The thing's eyes flashed with an inhuman silver.
It wasn't human.
Well, duh? Score one point for the scientist.
It took every ounce of self-preservation inside Gemma not to upchuck. The Guinness still swimming in her veins, which had been warming her from the inside out, turned to frost. She shook. Fear unlike anything she had ever known settled over her. What the fuck was this thing? Why was it hovering over their heads?
"Run," Gemma cried. She grabbed Moira's and Anna's hands when they didn't move, too frightened by what they saw. Not that she blamed them. Gemma was terrified. Wanted to pee in her pants, she was so scared. But her survival instinct kicked into overdrive.
Perhaps it was the fact that Gemma had always been on her own. As an orphan, she'd had to rely on herself for the first half of her life. If Anna's parents hadn't fostered her and brought her into their home her freshman year of high school, she wouldn't have known what a real family was supposed to be like.
She gripped her friends' hands, tugging them with her. Their cries shuddered on weak gasps as they followed. Gemma took the right turn Anna had suggested moments before, hoping it would lead them in the direction of their hotel and safety.
Panic gripped her. The street they'd taken, that she had dragged her best friends down, wasn't an escape. It was a trap.
The big beast followed them from above. Its great wings stirred air currents and created a wind tunnel in the alley. Dust and rocks pelted them. She searched for an escape, a doorway or a window they could climb through to safety. But the windows were too high up for them to reach. Their footsteps slowed as they reached the gray brick wall. A dead end. Their dead end.
"What are we going to do?" Moira gasped, frantically searching for a way out of their situation.
Anna whimpered. "I'm not seeing this. We're not here. We just had something put in our drinks, and we're back at the hotel. This is just a nightmare."
Gemma glanced down the alley, attempting to divine their odds of making it back out the way they'd run. And then the thing, for she couldn't call it anything else, landed in the alley and blocked off their escape route. They were fucked.
They flattened themselves against the brick wall. Gemma searched for a way out, a way to survive.
Moira and Anna flanked her. She wished she could cry like they were doing. Anna was hysterical, telling herself to wake up. Moira was whimpering, her fearful moans guttural, sounding more like they were coming from a wounded animal than a human. But for Gemma, the night had taken on a surreal bent.
The creature approached. Its booted feet crunched over the pavement. What kind of monster wore leather boots? Her scientific brain tried to make sense of the tableau. The thing appeared to be male, judging by the lines of its chest on down to its groin. His large wings, even at rest behind him as he crept toward them, spanned the width of the alley and cut off any chance of escape. The pointed tips of his wings dragged along the brick, scraping the stone. The sound was like nails down a chalkboard.
That's when things got really weird.
As if their entire night hadn't become completely FUBAR. They awaited their fate. Pressed against brick. Gemma had always wondered how she would feel at the end of her days, and now she knew. Thoroughly livid. She was incensed that this thing thought to screw up her well-laid plans.
His glowing silver, otherworldly gaze stoked her fury. Anna and Moira were devolving into fear. Their choked sobs filled her with dread. She was the one who had suggested this trip to celebrate their graduation. Her best friends, her sisters of the heart—their deaths would be on her. Anna had wanted to go to the Bahamas. But Gemma had swayed them, persuaded them to go to Ireland instead.
Before she could apologize and tell them she loved them, the wall they were backed up against, awaiting their fates and most likely their final moments, dissolved. Although, maybe that was too simple a term. It melted. The bricks liquefied into nothingness. Instead of stone at their backs, a swirling black mass that reminded Gemma of clouds spiraling inside a tornado, took the brick wall's place.
The monster was close. Too close now. And he—it—picked up its pace to capture them. She didn't want to know what the creature had in store for them. 
"Go," Gemma cried, urging her friends to step into the swirling black mist.
YOU CAN PURCHASE TAKEN BY THE BEAST AT:
Amazon Kindle https://www.amazon.com/dp/B07FYNT21L
Nook https://www.barnesandnoble.com/w/books/1129299444;jsessionid=C9649FCB9932EA5DD4035CA038AC073A.prodny_store01-va04?ean=2940155680574
Kobo https://www.kobo.com/us/en/ebook/taken-by-the-beast-4
iBooks https://itunes.apple.com/us/book/id1426028194
Bookbub https://www.bookbub.com/books/taken-by-the-beast-the-alcyran-chronicles-book-1-by-anya-summers
Goodreads https://www.goodreads.com/book/show/40964664-taken-by-the-beast

ABOUT THE AUTHOR:
Born in St. Louis, Missouri, Anya grew up listening to Cardinals baseball and reading anything she could get her hands on. She remembers her mother saying if only she would read the right type of books instead binging her way through the romance aisles at the bookstore, she'd have been a doctor. While Anya never did get that doctorate, she graduated cum laude from the University of Missouri-St. Louis with an M.A. in History.
Anya is a bestselling and award-winning author published in multiple fiction genres. She also writes urban fantasy and paranormal romance under the name Maggie Mae Gallagher. A total geek at her core, when she is not writing, she adores attending the latest comic con or spending time with her family. She currently lives in the Midwest with her two furry felines.
Visit her website here:
Visit her on social media here:
http://www.facebook.com/AnyaSummersAuthor   
Twitter: @AnyaBSummers https://twitter.com/anyabsummers?lang=en
Goodreads: https://www.goodreads.com/author/show/15183606.Anya_Summers 
Amazon Author Page https://www.amazon.com/Anya-Summers/e/B01EGTVRKC/
Bookbub https://www.bookbub.com/authors/anya-summers
Instagram https://www.instagram.com/anyasummersauthor/
Don't miss these exciting titles by Anya Summers!
Dungeon Fantasy Club Series
Pleasure Island Series
Her Master & Commander, Book 1
Her Music Masters, Book 2
Their Shy Submissive, Book 3
Her Lawful Master, Book 4
Her Rockstar Dom, Book 5
Duets & Dominance, Book 6
Her Undercover Dom, Book 7
Ménage In Paradise, Book 8
Her Rodeo Masters, Book 9

Cuffs & Spurs Series
His Tempting Love releasing September 17, 2018
His Seductive Love releasing November 8, 2018
His Secret Love releasing January 8, 2019
His Cherished Love releasing March 8, 2019
The Alcyran Chronicles
Taken by the Beast
Claimed by the Beast releasing Fall 2018
Loved by the Beast releasing Winter 2019