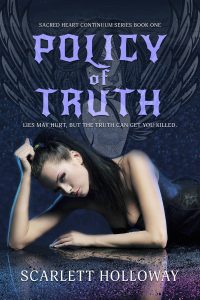 POLICY OF TRUTH by Scarlett Holloway
"One of the first rules of Fight Club is that you don't talk about Fight Club." The same goes for most, if not all, motorcycle clubs.
Hattiesburg, MS: MC (Motorcycle Club) Romance has been a hot commodity in the entertainment world due to popular TV shows like Sons of Anarchy. Local Mississippi author, Scarlett Holloway took acknowledgement of that and spun her own version of what a MC Romance truly is. The difference in what she is doing that other authors are not: she actually lived the MC Life.
Her life in the MC world started with a close member of her family who held an officer status in an outlaw club. Holloway herself created an all-female club, and held high positions in this group, including the presidency. The result of Holloway's experience is a riveting romantic thriller titled "Policy Of Truth" that delves deep into what it all means to be part of a motorcycle club novel.
Published by Kingston Publishing and being released on October 31st  (yes Halloween Night), Holloway's new series will show you what life in a motorcycle club is really about. Realism is the key with this series, touched with romance and the thrill of the mystery. She also touches on subjects which many authors refuse to broach: domestic violence, drug abuse and even suicide. The kicker? Every character in the series is a member of her own street team or friends that have helped her in some way. Holloway does not hide the fact that she was once a victim of domestic violence and wants awareness to reach women out there, that there is help for them.
When asked what her experience in the MC world, Holloway says, "It was rewarding and punishing at the same time. Always on the road having things you had to do, away from your family, tired and sore. At the same time, you are with extended family, making new friends, helping with charities." Knowing the ins and outs of club bylaws, and life in general, she wanted to erase popular fiction about stereotypical bikers, and give readers something fresh, and new. In the media, motorcyclists are looked at to be abusive and sexist, and often times, this is perceived to be "sexy." They are also stereotyped as shameless adulterers. Holloway says, "Most of the men I've come across in motorcycle clubs cherish their women. Sure, there are a few bad apples, but it isn't representative of the culture as a whole."
The truth and attitude definitely show through in Holloway's writing and every reader would be wise to reach out and get familiar with Holloway's work. So, grab your favorite blanket, a cup of coffee (or wine) and kick back with her first book in the series, Policy of Truth, and let yourself get lured into the thrill of an all-female MC and the men who desire them.
After ending an abusive relationship, all Tamra 'Durty' Simons wanted was to reinvent herself and meeting Lace Beck gave her the opportunity to do just that. However, a long journey of picking up the pieces didn't prepare her for Sting's appearance in her life. Brett 'Sting' Jackson, was on a mission. Infiltrate the Death Angel MC and keep an eye on them. It was supposed to be simple─until Durty. Trying to gather intel was harder when falling for Durty seemed inevitable.
A foundation based on lies is sure to crumble, but when a rival club attacks the Angels, Sting and the Muerte Roja put their lives on the line to ensure Durty and the club is kept safe. When the truth surfaces and passions ignite, will love be the only thing that survives.
ABOUT THE AUTHOR: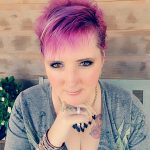 Growing up on the Central Coast, Scarlett Holloway always dreamed of seeing her name on the cover of a book and on the New York Times Best Seller List. What better way than to bring part of her past onto the pages of a novel, as well as writing about issues that women face on a daily basis? When she is not in her bunny hole writing, she is a massage therapist, trying to help people through therapeutic healing. Scarlett is hopelessly devoted to her husband, who she lovingly calls her plot bunny, and is active in her teenage son's life.
Scarlett is available for interviews, media appearances, speaking engagements, and/or book review requests – please contact mickey.creativeedge@gmail.com by email or by phone at 403.464.6925.