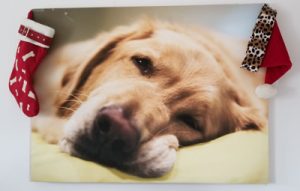 Authors' Holiday Office By Marcia James
I love the holiday season, as well as reading and writing Christmas romances! Inspiration for my plots come from a variety of places, including the festive decorations I put up in my office. All of my novels feature rescue dogs (as well as rescue cats, parrots, and the occasional pot-belly pig!), so my office is dog-themed—from the stuffed dogs that sit on most of the surfaces in the room to my 3-foot by 4-foot canvas print of a Golden Retriever I bought at an estate sale. This year I'm decorating the Golden with a Santa hat and a doggie stocking, which make me smile as I work on my latest manuscript.
My Christmas novella work-in-progress, "My Kind of Trouble," is the fifth in my Klein's K-9s Service Dogs series. The second novella, "8 Hounds a-Howling," and the fourth, "Scrooge & the Secret Santa," are also Christmas stories.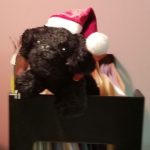 In addition, I have a standalone novella titled, "Heating Up the Holidays."
There is something magical about this season, from Thanksgiving all the way to New Year's Day. I love writing about people finding their soulmates during the holidays. And sometimes those soulmates can be of the four-legged variety. I'm a supporter of local animal shelters, and there are thousands of homeless pets around the country just waiting for a special person to give them a home. Please consider saving a furry friend this season.
Merry Christmas and Happy Holidays! — Marcia James
Check out Marcia's latest release:
Scrooge & the Secret Santa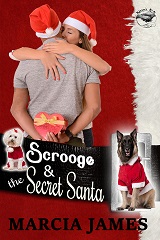 Police dog trainer, Patton Carter, has nothing but bad memories of holidays spent in foster homes as a child. When a car crash lands him in the hospital and a knee replacement requires rehab, he hires physical therapist, Faith Harmon, to live in his house over the holidays as a combination therapist, caretaker, and dog-sitter.
Patton Carter is a thorn the size of a tree branch in Faith Harman's side. In addition to her physical therapist day job, Faith teaches therapy dog classes, which Patton dismisses as unimportant. She never anticipates that their biggest conflict will be Christmas.
Fate intervenes, and he's sidelined with an injury. He never expects to fall for her and her Maltese, Snowball. Will spending time with Faith and her therapy dog open his eyes and his heart?
You can purchase SCROOGE AND THE SECRET SANTA at:
Amazon
B&N
Kobo
Apple
ABOUT THE AUTHOR: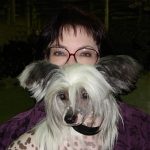 A national and international ebook bestseller, Marcia James writes hot, humorous romances featuring heroines you can root for, heroes to die for, and funny dogs. She finaled in 11 Romance Writers of America contests before selling her first novel. In her eclectic career, she has shot submarine training videos, organized celebrity-filled nonprofit events, and had her wedding covered by People Magazine. After years of dealing with such sexy topics as how to safely install traffic lights, she is enjoying "researching" and plotting her novels' steamy love scenes with her husband and hero of many years.
Online Links:
Website: https://marciajames.net/
Facebook: https://www.facebook.com/MarciaJamesAuthor
Twitter: http://twitter.com/Marcia_James
Instagram: https://www.instagram.com/marciajamesauthor/
Pinterest: http://pinterest.com/marciajames/
Amazon Author Central page: www.amazon.com/author/marciajames