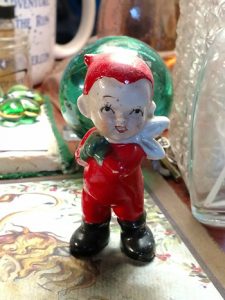 Today, we get to peek into the holiday office of author C.H. ADMIRAND. 
We live in a 900 square foot lake-style cottage in the wilds of northern NJ—no street lights or sidewalks. Space is at a premium. We've had to make good use of every bit of it. Thank goodness for the cathedral ceiling in the living room, it makes our home feel spacious.
We converted the front screen porch into two rooms and an entryway twenty some odd years ago. One of those rooms became my office—my haven where I could surround myself with inspiration: bookshelves, faeries, a tabletop fountain, river rocks,  and my favorite print of Sir Frank Dicksee's La Belle Dame Sans Merci hanging on the wall. He was one of my favorite Pre-Raphaelite painters. Six years ago I realized it was more important to have a safe place for our oldest grandson to play. He spent the days with me while our daughter and son-in-law were at work. So we did a mini-rehab turning my office into a playroom.  Our grandsons are now 7 and almost 5—and I'm lucky to still be needed as their babysitter while their parents are at work. Time flies, and I'm predicting the playroom may change yet again into a library/media room sometime down the road.
Although I no longer have a designated office all to myself that I can decorate for the holidays, I am lucky enough to share an office space with my darling hubby. At times, it's over-run with boxes of books for contests and reader events. While not as inspiring as when I had a space all to myself, my husband reminds me—camper's motto: What you don't have, you won't use.
In the 36 years we've lived here, I've developed a system for holiday decorating. It's always in three parts. The first or second week of December, I decorate the mantelpiece over our fieldstone fireplace with holly, elves, faery Santas and my Grandfather Purcell's Teddy Bear.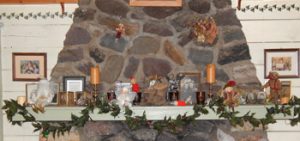 I inherited Grandpop's Teddy Bear from my Mom years ago. He stands on our mantelpiece every Christmas. My grandfather was born in 1903, so his childhood bear is a bit ragged looking. I remember the year my grandmother pinned red ribbon suspenders on him, giving him a holiday look before placing him on the branches of their Christmas tree where he sat every year. And every year she'd remind us Grandpop's bear was one of the first Teddy Bears invented in honor of President Theodore Roosevelt. To read about the history of the Teddy Bear, here's a link to an article on the National Park Service's website The Story of the Teddy Bear .
Next, weather-permitting, we put up the outside lights, and I wrap the staircase to the loft with holly garland. Mom always decorated our bluestone fireplace and staircase to the second floor with holly.  If I have the extra in the budget, I decorate the beams across the living room with pine bough garland and red bows.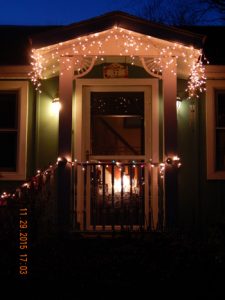 Lastly I put up the tree. It used to be a family event, putting up the tree and decorating it while listening to Christmas music my Dad put on cassette tapes for me—favorite records from growing up: Fred Waring and the Pennsylvanians' The Meaning of Christmas; Nat King Cole's The Christmas Song; and The Harry Simone Chorale's Little Drummer Boy. Unfortunately after playing those tapes for over 20 years, they've stretched out and don't work anymore.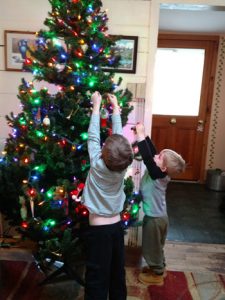 My guys have been so busy these last years that the tree decorating chore has fallen to me. It is a chore without the family helping. But for the last two years our daughter and grandsons came over to help me decorate. Wow what a difference it made! With the 1964 TV classic, Rudolph the Red-Nosed Reindeer and Dr. Seuss's 1966 TV classic, How the Grinch Stole Christmas on the DVD player, I let the boys put the decorations wherever they want to and could reach without standing on a chair. They love being trusted with decorations their mom and uncles made as kids and the fragile glass decorations we've collected over the years.
There are decorations that hold a special place in my heart. My little ceramic elf—dressed in a red snowsuit with green gloves—he sits on my desk year round. My younger sisters each had one and my older brother had a snowman with sparkling blue eyes. Mom would set them out at our places at the dining room table on the first Sunday of Advent every year.  Another favorite is the ceramic candy house my youngest sister made for me years ago—it lights up and sits on our piano every year.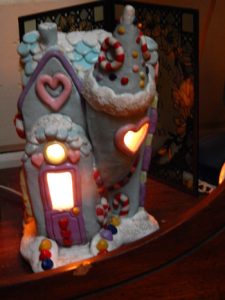 Holidays are bittersweet, remembering the loved ones who are no longer with us and the traditions we loved growing up. But as times, circumstances, and our lives change, we make room for new traditions, and the blessings of family—immediate and extended. And while I'm certain that our grandsons would rather watch Ant Man and the Wasp while decorating our tree, I know they'll let me watch Rudolph and the Grinch first, knowing I'll let them have a Marvel Movie Marathon afterward. Family…it's the glue!
Happy Holidays from my house to yours!
Sláinte!
C.H. Admirand
Check out the latest release from C.H. Admirand. . .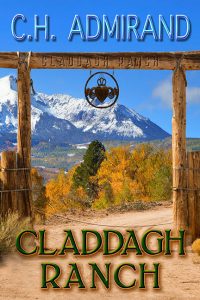 Claddagh Ranch
Book 1: Contemporary Irish Westerns
"C.H. Admirand pours heart and soul into her stories making her characters so real that they come to life on the page." Carolyn Brown, NY Times Bestselling Author
A huge thank-you goes out to the totally fabulous Carolyn Brown, who generously agreed to let me publish a different version of Second Chance Ranch…which I moved from Texas to Colorado and invited my fictional Irish Ancestors to join in the fun.
Welcome back to Emerson, Colorado and the Claddagh Ranch. C.H.'s bestselling historical Irish Western Series continues in the present beginning with a contemporary novella, introducing a new generation with ties to the past and a 150 year old promise.
Tom McNally, was a mean son-of-a-bitch when riled. Widowmaker, the last bull he drew, tossed him at seven and a half seconds, them stomped him into the dirt. His broken ribs and sprained wrist need time and a place to heal—the Claddagh Ranch—run by his cousin and former bull-rider Seamus Flaherty who still upholds his great, great-grandfather's promise never to turn away anyone in need of a hot meal and a place to stay.
Emily Griffith is looking for a new start after the death of her mother, and finds it in Emerson, Colorado at the Emerson Diner when her car dies right in front of their help wanted sign. Chance walks through the door in the form of Tom McNally, a tall, dark and handsome cowboy. Small minded gossips and a hard-headed cowboy threaten Emily's new life in Emerson, but love will triumph in this sweet tale from C.H. Admirand.
YOU CAN PURCHASE CLADDAGH RANCH AT:
Amazon
Barnes & Noble
Kobo
Apple iTunes 
About The Author: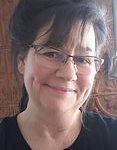 C.H. writes about the things she loves most: Family, her Irish Ancestry, Baking and Gardening. Take a trip back in time to the Old West with her Irish Western Series, then fast-forward to the present, stopping at the Circle G Ranch in Pleasure, Texas before finally landing in Apple Grove, Ohio–Small Town USA–for a slice of Peggy McCormack's Buttermilk Pie!
C.H. was born in Aiken, South Carolina, but her parents moved back to northern New Jersey where she grew up, which if you've met her would explain a lot. She's always had her nose in a book, has traveled the world over, and even tested the time-space continuum, thanks to the awesome power of the written word. One of her writing quirks is that she loves to include bits and pieces of her ancestors and ancestry in all of her books. Her family centers her and keeps her sane, which is why she enjoys adding elements of family, hearth, and home in all of her romances.
C.H. is an active member in RWA, NINC and WWA. C.H. is a former member of RWA/NYC, PASIC, and NJRW where C.H. held numerous jobs including Treasurer, Assistant Conference Chair, and PAN Liaison.
With 13 short stories and 16 novels to her credit, this award-winning, multi-published author's books are available in paperback, hardcover, trade paperback, magazine, e-book, large print, and audio book.
Social Media Links:
https://www.chadmirand.com/
https://www.facebook.com/Author.CHAdmirand/