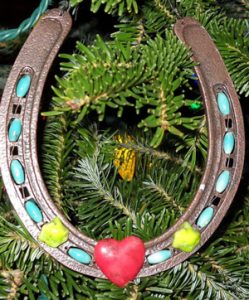 I used to have an office and at Christmas I would place a few ornaments on my desk and replace pictures with pretty wreaths, but I never wrote in it. So, when I moved into the new house in Advance, NC I created a space to store swag and paperwork, but where I work is in the den in my favorite old leather recliner. The den is at the back of the house, and has a row of seven windows that overlook the pool. It's got the best light in the place making it my favorite room in the house. It's the perfect spot for my favorite chair. I've had this recliner for probably twelve years. It's made out of that good thick leather that just gets better as it ages. It's a good thing too, because I put some serious hours on this chair!
I went crazy decorating this year since two of my books were airing as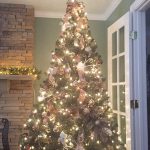 Hallmark movies. Christmas Joy premiered on November 3rd, so I was the crazy lady on the block who had lights and three Christmas trees fully decorated on the front porch along with three trees in the house on Halloween! I know…it was early. I've always been a decorate-after-Thanksgiving girl, but I have to tell you that I'm REALLY enjoying all of these decorations. Having them done before the hustle of Thanksgiving has given me a real chance to enjoy them and there's no pressure to decorate now that shopping days are dwindling.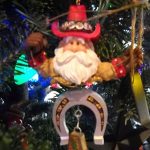 Since I work in the den, I consider the tree in this room my office tree.  My saddle lives inside during the winter so I figured a western theme was perfectly fitting. The whole tree is done in western ornaments: boots, spurs, saddles, horses, stars, boots and barbwire galore. I've been collecting western ornaments for about fifteen years. One of my favorite ornaments is a spur with turquoise stones on it. My stepdaughter gave it to me and I cherish it. I fashioned a homemade garland out of bandanas in red, white, green and burgundy. I think it turned out really pretty with just the perfect touch of whimsy.
I wish I'd had the time to make the book tree like I'd written in Hope at Christmas but seeing it come alive on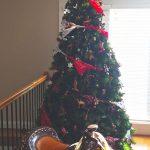 Hallmark was lots of fun. They really got it right.  Since I was having a premiere night party here at the house I also decorated trees in my living room and dining room.
The dining room tree is based on two of my favorite Hallmark movies. It's all done in red and white with lots of the red truck ornaments from Christmas in Evergreen and a mitten garland from the movie The Christmas Ornament. Remember that one? He gives her a wreath of handmade mittens and gloves because she's always losing hers. It was so sweet.
The living room tree is very fancy. I've never done a tree like that before. I decorated in all metallic shades of silver, gold, and rose gold. I added some pretty pearl clips and made the tree look super full by using three of those teardrop wreaths in champagne colors and tucked them right into the tree. Wow, it made a huge difference. Then I bought shimmery ribbon in that same color, and put a big, fluffy bow on top with long streamers tucked in and out down the tree. It's very fancy. Something new and different for us.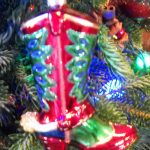 Outside the three 8' Christmas trees (two green and a white one in the middle) are all decorated with red, green and gold unbreakable balls. Mom wrapped boxes in colored plastic tablecloths to place beneath them. I'm pretty sure the squirrels and deer have been shaking them at night hoping to figure out what's in them. 😉
Thanks for letting me share what's going on in my house this holiday season. I'd love to hear which of these trees you'd pick for your house. What's your style?
Merry Christmas and happy holiday reading.
Nancy
Here's a look at Nancy's latest release DEAR SANTA: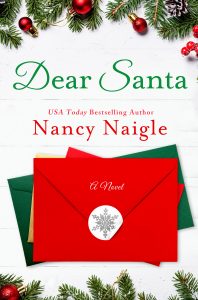 Angela Carson wants nothing more than to be the third-generation to run her family's holiday store, Heart of Christmas, successfully. They've weathered over sixty tourist seasons, major hurricanes, and urban sprawl, in their old decommissioned lighthouse. But the national chain that set up shop in their small North Carolina town of Pleasant Sands may be more than Heart of Christmas can survive.
Encouraged by her niece to ask Santa for help through the Dear Santa app, Angela gives in and lets the words fly in a way that, if Santa were real, would no doubt land her on the naughty list. What's the harm when it's just a computer-generated response?
Geoff Paisley has been at his mother's side running the mega-chain Christmas Galore for the last ten years. When his mother falls ill, Geoff promises to answer the Dear Santa letters in her stead. Soon he realizes the woman he's been corresponding with on Dear Santa is Angela. How could the woman that grates his every last nerve in person have intrigued him so deeply through those letters?
When Geoff reveals that he's her Dear Santa, will Angela be able to set aside their very public feud to embrace the magic of the holiday and possibly find true love?
You can purchase DEAR SANTA at:
Amazon
B&N
Target
Walmart
IndieBound
Ibooks
Kobo
ALSO AVAILABLE IN AUDIO
ABOUT THE AUTHOR: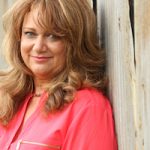 USA Today bestselling author Nancy Naigle whips up small-town love stories with a whole lot of heart. She began her popular contemporary romance series Adams Grove while juggling a successful career in finance and life on a seventy-six-acre goat farm. Along with the Adams Grove series, she is also the author of the Boot Creek Novels, G Team Mysteries, and several standalone novels, including Christmas Joy, a heartwarming holiday story coming to the Hallmark Channel this fall as part of their holiday programming. Now happily retired from a career in the financial industry, she devotes her time to writing, horseback riding, and enjoying the occasional spa day. A Virginia girl at heart, Nancy now calls North Carolina home.
You can learn more about Nancy online at:
Facebook – https://www.facebook.com/NancyNaigleAuthor/
Twitter –  https://twitter.com/nancynaigle
Instagram – https://www.instagram.com/nancynaigle/
Pinterest –  https://www.pinterest.com/nancynaigle/