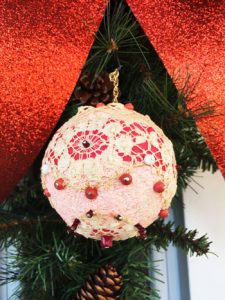 Pink, Lacy, and Victorian—This is not a Novus Packmember's Christmas.
For the second year in a row, I find myself writing about my Lycans during what is usually my happiest time of year. I love everything Christmas; The cold weather, the greenery, and the sweet smell of cinnamon. The very thought of carrying boxes downstairs and opening them to see my favorite decorations again makes my heart beat faster. On the other hand, the Novus world and  cheery holidays do not mix well. My Lycans are violent, and the poor human thrust into that life does not have an easy time. Last year, I felt like I was simply going through the motions. I didn't have the spirit and so far I'm feeling the same about this holiday season. Note to self—Do not do this in 2019!  I am hoping that by writing about a memory, it will ignite my Christmas spirit.
The adjectives in the title above are not the first to come to mind when I describe myself. However, my favorite Christmas ornament is all of those things.
My grandparents had a huge effect on my life. Their old farmhouse was a mile away and they were my default babysitters, but best of all they had a house filled with books and a whole lot of love. They were both writers for magazines and newspapers. One of my earliest memories is while sitting on the floor, my grandfather reading his copy and my grandmother telling, not suggesting, what changes should be made. They taught me to read as soon as I could sit down long enough to learn and cultivated my love of stories.
They also loved antiques, the most primitive sorts—tools, mortar and pestles, and other useful items.  On the other hand, I loved the crystal goblets, decanters, and silver trays. During the holiday season when I was eight, we went on a shopping trip and of course had to stop in an antique store. As soon as the door swung open, I saw the tree immediately. It was covered in Victorian styled ornaments decorated with feathers, sequins, and lace…it was so pretty. I immediately fell in love with one particular ball. It was a Styrofoam ball painted pastel pink, with a white lace overlay. The artist decorated the ball with stacked cranberries and shimmering red beads stacked onto pins. I fell in love instantly. I remember clutching the bag gently in my hands on the ride home anticipating hanging it on the tree.
To this day, the pink lacy ball always has a position of importance on our tree. When I open the storage box of ornaments, I always search for it first. As I hang it, I recall my beloved grandparents and the one night, after I had a dinner-time final exam in college, I drove home in the snow for my holiday break. My mom greeted me in the doorway to our darkened house, with the only illumination from the Christmas tree lights and candles. We drank wine, snacked on cheese and crackers, and decorated the tree, with me hanging the pink lacy bulb first. It was a special night for our relationship, the transition from childhood to adult.
The years have faded the lace and compared to the glittery, neon balls available on Etsy today, my Victorian ball is plain, but it is filled with my precious memories.
From my house to yours, I wish you a Very Merry Happy Holiday Season.
Here's a look at the latest release from Melanie Jayne: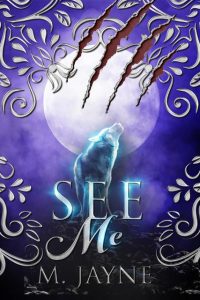 SEE ME – The Novus Pack Book 1
Throughout history, The Lady, Goddess of the Lycan world, has gifted werewolf packs with humans who carry her mark. Theodora Morrissey's plans to return to college for her graduate degree are ended when she is awakened by an otherworldly voice on a rarely used airstrip in Nebraska. Injured and disoriented, she has no idea the discoloration on her back has marked her as a Seer, and that she is now a possession—and the prisoner—of the Novus Pack of Lycans.
To the Novus pack, the word of their leader, their Laird, is the law. With compelling gray eyes and long dark hair, Raider Black rules his pack with intelligence and ruthlessness. To cement the security of his pack, Black has committed to mate another Packleader's daughter. But he's finding it impossible to fight his attraction to the pack's alluring new Seer, claiming her as his own.
Sweet, fearless, and unintentionally funny, Theo upends Black's world and pushes the boundaries of his rules. How far is Raider willing to go, and what will he sacrifice, to save both his pack and the human Seer who's found a way not only into his bed, but his heart?
You can purchase SEE ME at:
ABOUT THE AUTHOR: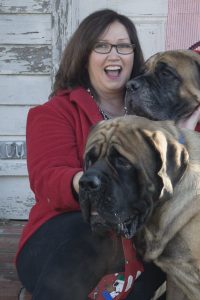 Melanie Jayne has the best life. She spends her days chatting with feisty females, waking up to sexy men, eating chocolate and wearing pajamas. Her books predominantly feature characters over the age of thirty-five, facing life head-on. They are woman-positive and advocate empowerment. She lives a quiet life on a grain farm in central Indiana with her very patient husband and their two mastiffs, Ginger and Duncan Keith. By her own admission, she has an inquisitive mind and gets bored easily. She loves to meet readers and discuss books.
Learn more about Melanie Jayne:
https://www.facebook.com/MelanieJayneAuthor
@1MelanieJayne
Learn more about Melanie Jayne:
https://www.facebook.com/MelanieJayneAuthor
@1MelanieJayne