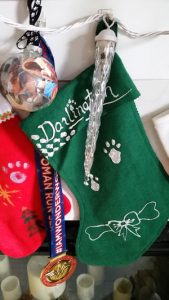 Christmas in My Writing Space
I tend to be a crazy writing fool during the months of October and November. I tackle National Novel Writing Month, in November, with zeal. This year, it's been a little tougher. I should look forward to Christmas and in some ways I am. But in others, I'm not. A year ago, right before Christmas, we had to put my cat down. Not the family pet, but my cat. Christmas was rough. Then this year in October, we had to put my dog down. Again, not the family dog. The dog that chose me, who followed me, rode in the car with me, went for walkies whenever I did. I miss her and having her around for Christmas.
So this year when I started writing my Christmas stories, my pets weren't too far from my mine. I decorated part of my office with Sister's stocking (although I call it her Christmas sock and that name drives my husband nuts) and one of my race medals. I used to dress Sister in her Wonder Woman dress, so that race, the Wonder Woman race, was for her. I make ornaments for each of my pets and yes, that's hers. I have the cat's Christmas sock and ornament not far away and in my office. His sock is to the left of Sister's. I miss them and wish they hadn't gotten sick.
When I see their Christmas socks and the Christmas tree, made by my grandmother-in-law, I think about time passing and experience. I think about the good times with these individuals. My grandmother-in-law lived in a nursing home. I liked to bring her artwork and take the dogs to visit because it made her smile. Sister visited her and she loved it. So when I see her sock and the tree, I think of them.
I like to keep my writing area cozy, but I also like to be reminded of my experiences. I like to write characters who are deeper than just two people falling love. By having those items, the tree, the socks…oh and that snowman without a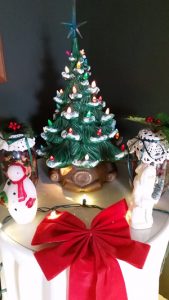 face, to remind me of what I've gone through, too.
Were you wondering about that snowman? I keep him around, even though he's a candle and his face is missing, because I bought him back when my tot was a totlet. He thought the snowman was a toy and he wanted to play with him. When he played, the snowman inevitably fell. You guessed it, his nose fell off. I tried to melt it back on, but it didn't work. After two years, it was gone. But the snowman still looked like a snowman. Just without a face. The snowman reminds me that little things, in the hands of little people, can bring the most wonder.
So while I'm writing this year, I have these reminders. I don't know how much of my work you've read, but I try to work dogs into the stories. I have a series involving parents. Why? Parents fall in love, too. Grin.
This is how I decorate my writing cave. How do you decorate at your house? I'd love to know. Share!
Check out Wendi's latest release Pick Me Up (Christmas Spirits, book 1)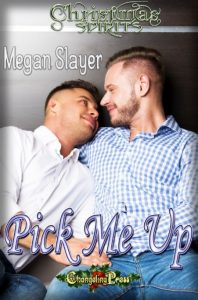 Nic Kristol wants one thing for Christmas — a second chance. Being dead makes second chances hard, but the moment he sees Jon, he's determined to meet the handsome man.
Jon Ruhle thought he'd given up on romance, but along came Nic. He's drawn to the mysterious man and would love to spend the holidays together. There's just one problem — Nic's a spirit. Will he and Nic find their forever together or apart?
You can purchase PICK ME UP at:
Changeling Press
Amazon
BN
Kobo
iTunes
Universal Link
ABOUT THE AUTHOR: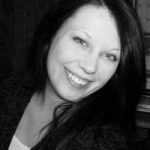 Megan Slayer, aka Wendi Zwaduk, is a multi-published, award-winning author of more than one-hundred short stories and novels. She's been writing since 2008 and published since 2009. Her stories range from the contemporary and paranormal to LGBTQ and white hot themes. No matter what the length, her works are always hot, but with a lot of heart. She enjoys giving her characters a second chance at love, no matter what the form. She's been nominated at the LRC for best author, best contemporary, best ménage and best anthology. Her books have made it to the bestseller lists on Amazon.com.
When she's not writing, Megan spends time with her husband and son as well as three dogs and three cats. She enjoys art, music and racing, but football is her sport of choice. She's an active member of the Friends of the Keystone-LaGrange Public library.
Find out more about Megan and Wendi at: http://wendizwaduk.com/indexMegan.htm Sign up for the newsletter here: http://ymlp.com/xgjmjumygmgj
Website, Blog, Fan Page, Amazon Author Page, Bookbub, Instagram, Goodreads, and Twitter