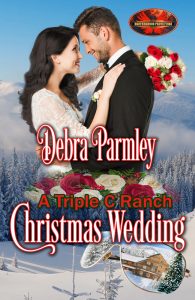 A Triple C Ranch Wedding from Debra Parmley
Lucy Woods has dreamed of her perfect wedding since she was a young girl. A designer of jewelry and dresses, she designs her own dress and will marry the man of her dreams in a Christmas wedding at the Triple C Ranch. She worries something will go wrong to ruin the wedding.
Jack Barr will marry the woman he loves in just two days. The rehearsal dinner is tonight. But after the ranch foreman is hospitalized with a stroke, horse thieves have stolen all ten horses from the ranch and he's the one man close enough to chase them.
With the help of the Brotherhood Protectors and the state police, will they catch the thieves? Will Jack make it to the rehearsal dinner on time? Will Lucy's fear that something will go wrong and ruin the wedding come true?
You can purchase A TRIPLE C RANCH WEDDING at:
Amazon
About The Author: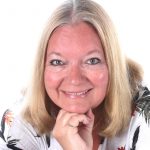 Author Debra Parmley believes "Every day we are alive is a beautiful day," and she likes to give her readers and her story people a story with a happy ending.
A hybrid, multi-genre author, Debra's first romance, A Desperate Journey, a gritty western historical, was published in 2008 in eBook and 2009 in print after being selected as one of ten novels to compete in the American Title II contest put on by Dorchester Publishing and Romantic Times Book Lovers magazine. Her agent sold the book to Samhain Publishing one year later. 
An Air Force veteran's wife, Debra enjoys writing military romantic suspense. She married her high sweetheart and after living in five states, has lived for over 20 years near Memphis, TN.
Founder of Shimmy Mob Memphis, a chapter of Shimmy Mob international, an organization which raises funds for local domestic abuse shelters around the world, Debra is a retired belly dancer. Several of her books feature belly dancer heroines.
Debra writes romantic suspense, historical romance, contemporary romance, fairy tale romance, dystopian romance and holiday romance. All of her stories contain some element of suspense.
A world traveler, Debra often brings home folk tales and music from countries she has visited and has set foot in over thirteen countries.
Her five favorite things are shooting primitive archery with her Mongolian horse bow, shooting long guns, shooting pool, walking on the beach, and hearing from her readers. Each card and letter is a joyful treasure, like finding that perfect shell on the beach.
Visit www.debraparmley.com
Other places you'll find Debra::::
Website: www.debraparmley.com
FB personal page https://www.facebook.com/debra.parmley.7
FB fan group (run by my PA/sister): Debra's Beautiful Day Dreamers:
https://www.facebook.com/groups/debraparmley/
FB fan page(run by my PA/sister): https://www.facebook.com/authordebraparmley/
To Catch An Elf: Debra Parmley's Creepy Shelf Elf Group! Every Dec I host a 12 days of creepy elf party and have SO much fun doing it! To be notified of when the party starts, join this group, which is mostly quiet the rest of the year https://www.facebook.com/groups/793115644206381/
Instagram: https://www.instagram.com/debraparmley/
Twitter: https://twitter.com/DebraParmley
Pinterest: https://www.pinterest.com/debraparmley/
Book Bub: https://www.bookbub.com/ebook-deals/latest
Amazon author page: https://www.amazon.com/Debra-Parmley/e/B002BM9H4A%3Fref=dbs_a_mng_rwt_scns_share
Goodreads: https://www.goodreads.com/debraparmley
Newsletter sign up: https://landing.mailerlite.com/webforms/landing/w9s9h0
YouTube: Debra's Beautiful Day YouTube Channel (for contests, first chapter reads, and more):
https://www.youtube.com/channel/UC27hTWse4gLJxTETQw6i7xw/
Be sure to subscribe and watch for the live giveaways!