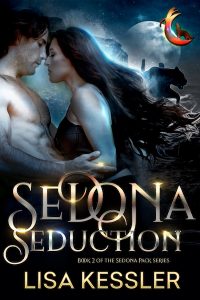 Sedona Seduction by Lisa Kessler
Jaguar shifter, Vance Park used to be one of the Nero Organization's top assassins, but today he calls the Sedona Pack his family, and Sedona, Arizona, his home. He's no longer a hired gun, but a new senate candidate with insider secrets into Nero's shifter experiments, may change all that. Campaign promises could put targets on the backs of all the people Vance cares about, especially Kaya. He may have one last job after all.
Kaya Blackwing has always been a loner, but through a twist of fate, she's finally found her Pack, and a place to belong. When she discovers her one true mate is a man with a deathwish, and more secrets than she can count, she struggles to redirect her wolf's primal instincts, but one kiss from Vance seduces her to dream of a future together, and she won't give it up without a fight.
You can purchase SEDONA SEDUCTION at:
I stared through the glass, taking in Kaya's every move, and even though I had no right to it, pride swelled in my chest. She was a force of nature.
"I'll grab your drinks." Brody hustled back inside while I patted the chair to my right. Abigail hopped up and sat like the lady she was, her ears up, ready for her close up.
I stroked her forehead until the glass door opened.
"Hey, stranger." Kaya had a dimple in her right cheek that made me ache to keep her smiling.
"Hi. Didn't mean to intrude. Brody told me you're entertaining the press inside." I tipped my head toward the main dining room. "How's it going?"
She shrugged. "They seem to like the food so far, but you never know how they'll edit the segment." Her dark eyes met mine. "Is everything all right?"
Since the Sedona Pack had finally gotten behind Asher as their new Alpha, he had brought me into the fold, too. It was a bumpy beginning since everyone in the pack, including Kaya, knew I had spent most of my life working for Nero, which also meant killing for them. But I earned their trust, walked away from being a hired gun, and bought a gem and rock shop . I also stepped into my role as Asher's right hand when it came to protecting the pack which meant every time I showed up, the others tended to think there was trouble on the horizon.
"Yeah, I have a rugby scrimmage with the Black Sheep tonight. Just wanted to get some food first." All true, I had just left out the main reason for my visit: Kaya herself.
She knelt down beside my chair, massaging Abby's ears and kissing the top of her head. Damn, I'd never been so jealous of a dog.
Abby ate up the attention, giving Kaya a wet kiss on the chin. Kaya laughed, and her eyes sparkled as she looked up at me. "Carnitas de Coyote and pollo for the puppy?"
"Sounds like heaven." And I meant it. Kaya's food meshed traditional Mexican cuisine with her Navajo roots in a perfect harmony of flavor. It was tough to go back to a flat tortilla after you had carnitas with her freshly made fry bread.
"I better get back to the team inside. Brody will bring your food right out."
"Thanks, Kaya." We stared at each other for a second longer than we should have. It was our usual awkward pause. I took responsibility for it. Although I yearned to touch her, to tell her how much of my day I spent imagining kissing her full lips, one secret held me back.
It was torture. But I couldn't keep myself away, either.
She finally smiled and opened the door, leaving me and Abby behind. I turned to my date and sighed. "Abigail, what the fuck am I doing?"
Abby chuffed and resumed sniffing the table for any crumbs that had been left behind.
Everyone in the pack believed their previous Alpha hadn't known that Kaya had been a skin walker before she was bitten. She became a rare hybrid of shifter species, able to shift into her lynx at will, and into a werewolf during the full moon.
They also had no idea that she was not the only one.
One of my final missions for Nero was to sniff out skin walkers—men and women born with the genetic ability to shift into animal form at will. Nero scientists wanted to perform experiments on them—just another step in their constant mission to create super soldiers who could shapeshift and heal quickly.
If we ever found proof of vampires, I had no doubt Nero would've been injecting us in the hopes we'd become immortal super soldiers.
Kaya had been my final assignment. Three years ago, I'd been the one to deliver Nero's command for Caldwell to have her bitten during the full moon . But something had happened while I watched her from a distance, and when the time had come for her to be shipped to Nero for experiments, I wasn't able to do it. Instead, I helped my friend Sebastian destroy Nero.
I was no hero, but she had reminded me of what it felt like to care about someone other than myself. But if she ever discovered my secret, my betrayal, she'd have every reason to hate me. The whole pack would disown me, and I was so fucking sick of being alone, of being on the run. For once, I'd found a home and a family, and I wanted to keep it.
So as much as I ached for more, Kaya was off-limits. I could keep secrets, but I couldn't lie to her.
Not to Kaya.
About the Author: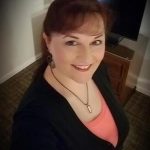 If we've never met before, I write dark, passionate, paranormal tales that I hope will help you leave the real world behind.I also host the Book Lights podcast for Reader's Entertainment Radio, and I have such a blast chatting about books of all genres. Be sure to click the Book Lights tab to hear some of your favorite authors, and maybe find a few new favorites.My book list and blog are updated and ready for visitors too… My next release is coming in February, 
SEDONA SEDUCTION
, book 2 in the Sedona Pack series. Can't wait for you to read it! You can 
subscribe
 to my newsletter here for more information and sneak peeks into upcoming books.
Find out more about Lisa at: