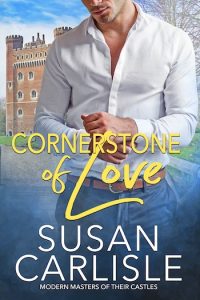 Cornerstone of Love by Susan Carlisle
Ian Chalmers's dream life didn't include becoming the Earl of Hartley or the CEO of Hartley International Shipping, but he obediently accepted the responsibilities when his father and older brother are killed. Duty to the Hartley title and business reputation becomes his all-consuming focus. Ian's world revolves around unending work and doing what's expected of him. Then a nerve-wracking, albeit completely fascinating, free-spirited female enters his structured life and turns it upside down.    
Allison Moore is the American constructional engineer hired to direct the repairs on Hartley castle. Despite their instant attraction, Allison doesn't appreciate Ian's high-handed control of everything in his sphere of influence. Still she's determined to placate the vexing 'master of the castle' in order to get the job done, bringing her another step closer to achieving her life's goal of having a home of her own. Her strategy is complicated then frustrated when Ian's kisses prove so delicious her treacherous heart undermines her immunity to his charm. 
With the project almost complete and their sizzling interlude ending, Ian and Allison must decide what they want most in life. Is it possible they've each been laboring towards the wrong goals? Could what they have with each other be the cornerstone of true love?    
You can purchase CORNERSTONE OF LOVE at:
AMAZON
Barnes & Noble
KOBO
iTunes/Apple Books
:::::::::EXCERPT::::::
"What are you doing?" A deep British male voice barked from behind Allison Moore. "Have you lost your mind? Get down from there."
She gasped as powerful hands encircled her waist. Her feet cleared the hip-high stone battlement at the top of the fourteenth-century castle located in the Midlands of England.
"Don't you have better sense than to stand on this wall? It's already crumbling. You could fall." The words were said close to her ear.
Allison looked around struggling to see who had grabbed her. Her feet dangled a moment before her work boots came to rest on the slate roof of the fortress. She didn't like being manhandled or being told what to do.
"I have no intention of falling. Let me go." Allison worked to keep her words even as she made a useless effort to get a good look at the deranged man stopping her from doing her job. Just as quickly as she had been seized she was released. The air at her back cooled. Allison swiftly turned.
Tall and lean, the man stood a head above her. A gust of wind whipped at the toffee-colored locks on his forehead despite his effort to push them back into place. He wore a business suit that appeared to have been tailor made from the way it fit across his broad shoulders. Everything about him exuded authority.
To make matters worse he was the most striking male she'd ever seen, and quite possibly the most intense. Allison retreated a step. What was wrong with him?
Putting out an upturned hand he said, "Don't move. You're not far from the edge."
She glanced over her shoulder, past the wall to the gravel circular drive sixty feet below. A gray roadster was now parked next to her blue rental car. Used to climbing high places in and around buildings, the elevation posed no issue for her, but he was correct, she did stand too close to the side. Moving to her left, she took a securer position.
His forceful expression eased making him even more handsome. His full mouth quirked upward on one side. "I understand you are the new contractor. My estate manager said I would find you up here. I'm Ian Hartley, Earl of Stilesbough."
So here was the owner of Hartley Castle. She'd seen pictures of him in the newspapers but he was immeasurably more impressive in person. She'd never trust a picture in the media again. No way had any of them done him justice.
Allison straightened her shoulders and extended her hand. "I'm Allison Moore, with Historic Restoration and Designs. My company has been retained to restore your tower."
He took her fingers in a firm grasp. When he released it she had a fleeting sensation of disappointment.
"Surely you know it's unsafe to walk on the walls." 
"I'm well experienced at doing so. I do it all the time for my job."
"That may be true but still please be careful." He gave her a pointed look. "Accidents do happen. I'd like one not to happen from the top of my castle. With that settled, what exactly do you do at uh…"
"Historic Restoration and Designs. I'm the structural engineer in charge. I'll handle overseeing the construction portion of the restoration. It's my job to see it's done properly and per the guidelines."
"Is that so?" His forehead wrinkled, as he studied her. "You aren't at all what I had expected."
Allison stopped herself from rolling her eyes. That wasn't the first time she'd heard something like that.
He continued to watch her. "You don't fit the stereotypical contractor."
"Is that so?" Allison knew full well he was referring to her gender. Men generally made up the world of historical reconstruction. She and her partners were working hard to change that perception.
His lips twisted up slightly, not quiet becoming a smile. "For one thing you're a woman. And since you are from America where there are no ancient keeps I'm not sure how knowable you can be about mine."
Allison nodded then swallowed the words that begged to bubble out. She met his chauvinistic remark with a bold one of her own. "Lord Hartley, I can assure you that I'm more than capable of handling this job despite being a woman and an American."
He held up his hand. "I didn't mean to insult you. I was merely making an observation. As the head of the Hartley family I'm responsible for seeing our heritage is maintained and restored in the most skilled and historical accurate manner possible. I take my duty very seriously."
Allison lowered her chin. His questioning of her skills graded on her nerves but she would let that go for now. She would prove him wrong. "I understand your concerns." She waited until his beautiful ice blue eyes met hers again before she said slowly, "Lord Hartley, I assure you I'm capable of overseeing this reconstruction."
"You have experience repairing medieval keeps?"
"I do. Years' worth." She was tempted to stomp her foot in frustration. "Before I started my company I worked with a number of well-respected historical architectural firms all over the world. I've been a partner and founder in my own business for the last six years. And by the way, you don't need to live in or own a castle to appreciate how they were built."
The lord's expression turned thoughtful. "That was quite an impassioned speech but I'm still not convinced your company is the right one for the job."
"Is that based on our resume or on my appearance? I understood when I arrived that my company had already been retained for the job. Otherwise I wouldn't be here." A drop of moisture hit her cheek and she wiped it away. Another late spring time rain. It was something she'd have to contend with if she managed to keep this project. 
The lord's intent look shifted to the sky. "Let's get out of the wet. We can finish this discussion in my office."
Allison glanced around the castle roof then brought her eyes back to him. "By the way," she tilted her head to the side, "do you regularly rescue people from the top of castle?"
A charming grin curved his lips.
Her stomach flipped.   
"No, but I don't usually have woman climbing on my castle wall. In that, you are unique."
She rather liked that compliment. The man could charm when he put his mind to it.
Lord Hartley ducked through the arched opening and descended the winding stone stairway. Allison followed mindful of the damp, steep, and narrow steps. Even with rubber soled shoe she was careful. No doubt Lord Hartley wouldn't be impressed if she fall. She lagged a little behind him. When she came out of the passage, he waited in the hall. His lips had formed a thin line. She suspected he didn't make a habit of waiting on anyone.
"Ms. Moore, this way." He turned, his legs making long strides down the carpeted hall.
Allison remained where she was for a moment. She needed one to collect herself before she entered into a discussion with Lord Hartley again. Temped to shout, "Who died and made you king?" she reminded herself the HRC couldn't afford to antagonize a client, especially one as important as he. She had to settle for mouthing the words at his back. He might run his world but he didn't run hers.
"Yes." Allison hurried to catch up. She didn't appreciate being spoken to as if he were the schoolmaster and she the disobedient child. Still she couldn't help but find Lord Hartley's soft burr of an accent pulling at her. It made her think of warm nights by a fire.
She watched as his strong loose-hipped strides took him along the stone corridor past enormous portraits that hung on either side of the walls. His ancestors, no doubt. As he walked, the slit in his finely tailored suit coat flipped open giving her a glimpse of his behind. A nice one it was. But a good backside didn't negate his distrust of her abilities.
With effort she matched her pace to his. He took quick sure steps down the main stone staircase into the great hall, then disappeared though a doorway.
Lord Hartley already stood behind an enormous desk, holding his mobile phone by the time Allison entered a small room lined with books. The space suited him. She had the feeling she was in the presence of importance, or was it intimidation he wanted to exude. Everything about Lord Hartley implied he was used to getting his way.
With a nod of his head he motioned her toward one of the two burgundy leather chairs facing the desk. Settling comfortably into one, she crossed one leg over the other. She was just as confident in her abilities as he was in his position.
She wasn't sure she liked him or wanted to work for him. He'd already irritated her with his assumptions of who she was and her skills. Would he always be making her prove herself? Question her decisions? While growing up her father had done that pushing her into his ideas instead of letting her decide. Years ago she'd promised herself she wouldn't live under anyone else's expectations. This was her job, her life and she was fully capable of running it. 
If she couldn't work with Lord Hartley could HRC take the financial hit if they lost him as a client? Or the poor publicity Lord Hartley might give them? She, Mallory and Jordon had worked too hard to get to where they were for Allison to destroy their reputation because of her inability to get along with one self-important earl.      
Allison took a cleansing breath, letting it out slowly as she watch Lord Hartley. On second thought, she'd have to figure out some way to make this work. It was too vital to her life plan and the future of the company.
Still some jobs, some clients just weren't worth the trouble. Lord Hartley and his castle might fall into that category. On other jobs she'd had difficult clients. Her position throw her into the world of rich and entitled often. One that she hadn't come from and wasn't comfortable in. Yet something about Lord Hartley made him seem a little more exacting than others. Would he second guess every move she made?    
The repair presented a challenge and she did enjoy one of those. She would hear him out and see if she couldn't convince him she was the man, person, for the job.
About The Author: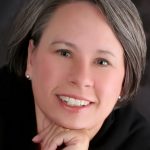 Susan Carlisle's love affair with books began when she made a bad grade in math in the sixth grade. Not allowed to watch TV until she brought the grade up, Susan filled her time with books. She turned her love of reading into a love of writing romance. Susan has currently authored more than thirty books for the HarperCollins Harlequin medical imprint. Her Modern Masters of Their Castles trilogy is under her own imprint. Her heroes are strong, vibrant man and the women that challenge them.
In her past life Susan has been a full time mother to four children, a high school substitute teacher and now when she isn't writing she is busy being a fun grandmother. She lives near Atlanta, Georgia, with her husband of over thirty-five years. Susan loves castles, traveling, sewing and reads voraciously. Visit her at www.SusanCarlisle.com